About 4,000 people a year download 
TrendsWatch
—
CFM's annual forecasting report–
as a free PDF. But we print a couple thousand physical copies each year as well. Some people prefer to go off-line for their reading, enjoy scribbling in the margins, or suspect that their board (or staff or donors) are more likely to dip in and sample the contents if it is literally put in their hands. 
When the Alliance offices moved to Crystal City last fall, we consolidated scattered stashes of the first five years' worth of reports, and managed to assemble 80 complete sets which are now for sale through the AAM Bookstore. 
At $9.95, I think its a pretty good deal.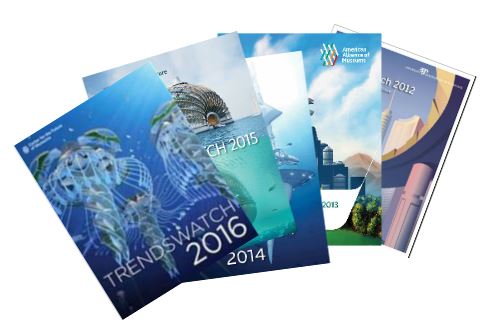 If there are any left by the annual meeting in May, we will have them for sale in the popup Bookstore in MuseumExpo. (I'll be close at hand if you want them autographed :P.) 
Looking back, I'm pretty happy with our track record. All 30 trends covered since 2012 continue to be important to our field:  
TrendsWatch 2013: Trends in Philanthropy | 3-D Printing | Microcredentialing | The Internet of Things | Disconnecting from Digital Experiences | The Urban Renaissance
Skip over related stories to continue reading article
TrendsWatch 2014: Social Entrepreneurship | Multisensory Experiences | Big Data | Privacy | The Sharing Economy | Robots
TrendsWatch 2015: Open Data | Ethical Consumerism | Personalization | Rising Sea Levels | Wearable Technology | Slow Culture
TrendsWatch 2016: Labor 3.0 | The Spectrum of Ability | Virtual Reality & Augmented Reality | The Struggle over Representation & Identity | Happiness
I'd be interested to hear which of these trends you've found to have the greatest impact on your work. Also, what trends you would like to see covered in future reports.
Drop me a line
or jot a note in the comments section, below. And those bundled sets? (I've always wanted to say this)–get them while supplies last!