CFM's 2014 report Building the Future of Education (Museums and the Learning Ecosystem), shared a vision in which all children draw on a vibrant learning grid of educational resources. In this future, "school" isn't just a building where kids go to sit in a classroom—it's a function distributed throughout the community in museums, libraries, makerspaces, parks, public gardens, private companies and community centers. Pittsburgh is farther along the path to this future than much of the US—thanks to that city's high concentration of museums, foundations, institutions of higher education and companies dedicated to improving education. Today Suzanne McCaffrey, director of new media at the Children's Museum of Pittsburgh maps the connections that form the learning grid in her city, and the Museum's role as a key node in that emerging network.
When the day begins for the Remake Learning Network, it begins for more than 200 organizations and 3,000 individuals in Southwestern Pennsylvania who use education technology and digital media resources in the region to advance a new model for educating children. The many participants include educators, youth counselors, museum staff, librarians, game designers, artists and more. The paths they take are numerous too-found in programs, curricula and spaces all across the region, from school districts to libraries and museums, afterschool programs to community housing for young adults.
The Children's Museum of Pittsburgh has been a part of the Remake Learning Network since its early days, recognizing the need to integrate new technologies and media into its core philosophies of experiences based on "Play with Real Stuff", and a reliance on research to understand how children and families learn in informal spaces such as museums and libraries. The Museum created its tinkering space MAKESHOP in 2011 with the help of the University of Pittsburgh Center for Learning in Out-of-School Environments (UPCLOSE) and Carnegie Mellon University's Entertainment Technology Center. Here, children and families create with and explore old and new technologies such as an old-school loom and 3D printer, hammers, saws and wood, green screen animation, sewing and soldering. The space has become a model for family and community maker programs across the country.
Soon museum staff recognized we could make a wider impact by bringing the experiences of MAKESHOP into schools and the community. By meeting children and families where they were, we began helping design and create makerspaces, train staff, and bring programs to children and youth in a wide variety of places (from the Hosanna House community center to local schools, YouthPlaces teen hubs, and Gwen's Girls afterschool programs with post foster-care young adults of Action Housing). Partnering with schools and organizations is a core philosophy of the Children's Museum, and being a member of the Remake Learning Network is conducive to facilitating these types of relationships.
Skip over related stories to continue reading article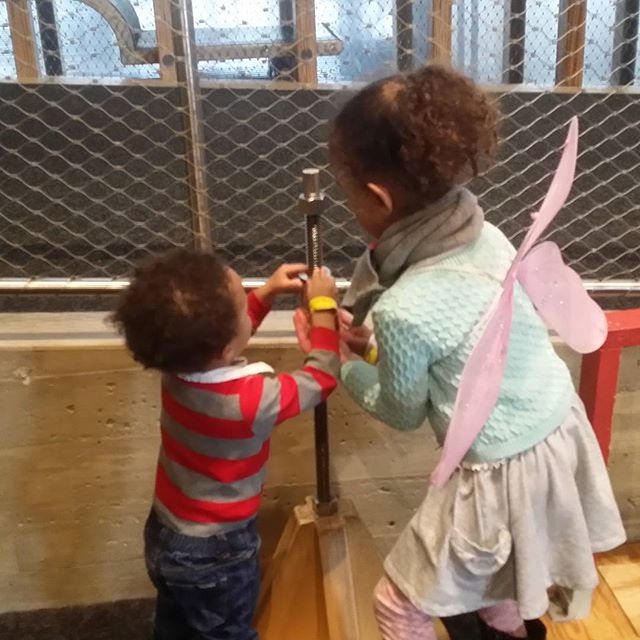 Through a more formal partnership with UPCLOSE, the Museum also values the importance of knowing how, where and why learning in informal, non-school spaces happens. Being able to understand the learning strategies and approaches taken through making, and training other educators in the process, have become core strengths of MAKESHOP and its educators. To help educators across the region embrace "making" as a way to educate, the Museum offers Maker Educator Boot Camps, we helped to create the West Virginia Maker Network and launched the "Kickstarting Making" project last year. Through this program we helped 10 local schools establish makerspaces and programs through their own crowd-funding efforts. This program will scale to a national level at five pilot locations this year.
Through the Making + Learning framework, the Museum and the Institute of Museum and Library Services, along with partners from across the country (Exploratorium, the Chicago Public Library, North Carolina State University Library and the Maker Education Initiative) are also helping museums and libraries create and sustain effective makerspaces and programs. A publication and website to support this work will be released this May.
Next week the Remake Learning Network will present "Remake Learning Days." From May 9 – 15 we will use these events to showcase, share, and further their endeavors toward the future of learning. More than 200 events across Southwestern Pennsylvania and West Virginia (many of them free) will present work and offer activities for students of all ages. Attendees will be able to explore circuitry, build trebuchets, record with youth media reporters, and tour places such as schools, Fab Labs and the game company Schell Games. Many schools are taking a day or evening to immerse students in STEAM activities such as building and programming robots, rockets and light sabers, coding, screen printing and making cardboard arcade games using Scratch and Legos.
For Remake Learning Days, the Children's Museum will host families from its school outreach projects for making activities; welcome the PNC Grow Up Great Mobile Learning Adventure; host MAKEnight, a 21+ night of making and mingling; and announce the dates for this fall's Maker Faire Pittsburgh. It will also hold a charrette or planning session with community stakeholders, many from the Remake Learning Network, to brainstorm ideas for renovating a nearby historic library and the future role it will play in informal and formal learning.
Remake Learning Days also includes 35 opportunities for professional development, with educator training on topics such as design thinking in the classroom, formative assessment tools for technology, computer instruction, digital literacy and educational standards. The Pittsburgh Association for the Education of Young Children will hold the UnConference: Maker Tots, to focus on instructing early learners in making processes.
Remake Learning Network provides its members many unique opportunities and connections for collaboration, inspiration and funding in the region. As an active participant, Children's Museum of Pittsburgh strives to continue to develop creative, curious and joyful avenues of informal education for children, youth and families that will play an important role in the future of education.