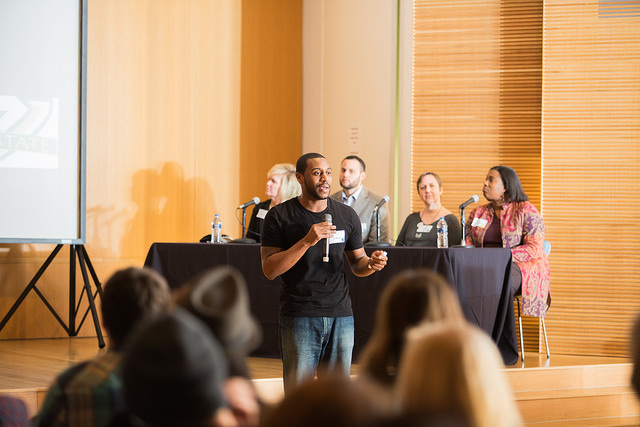 One of the themes explored in
Trendswatch
2014
is the rise of social entrepreneurship—the practice of linking profitable business models with socially beneficial outcomes. In the report, I pointed to the
New Museum's incubator space
as an example of how art museums can themselves become entrepreneurs that "do well by doing good," by serving as catalysts for the creative economy. In today's post,
Jon Carfagno (@jcarfagno25), Director of Learning and Audience Engagement at
Grand Rapids Art Museum
, shares another such example. GRAM's
Design Briefs
,
a pioneering collaboration with
AIGA West Michigan's Design For Good
initiative, helps emerging, mission-driven start-ups work through challenges in their operating models and helps the museum achieve its strategic goals. Could the platform Jon describes be a model for how other museums can connect with social entrepreneurs?
A Human Centered Museum in West Michigan
Local entrepreneurs present their challenges
for feedback from a panel of experts.
Photo Courtesy of Adam Bird Photography
As the world's first LEED Gold Certified art museum, the Grand Rapids Art Museum (GRAM) can claim that innovation is literally built into the brick and mortar of our spectacular permanent home. When planning began in 2000, many questioned whether the unique constraints that define care and preservation of works of art could support an environmentally sustainable building. However, over the course of a seven-year construction project, West Michigan's thought leadership applied its characteristic approach of design thinking and collaborative solution finding, to add GRAM to its ever-growing list of green architecture. Nestled in the heart of a vibrant creative economy fueled by giants like

Steelcase

and

Amway

, as well as a rich tech and start up community, it is not surprising that museum staff called on our forward thinking local friends for assistance in developing our

Human Centered Strategic Plan

. This document, adopted in 2013, was designed to position the museum for success today and in the future. It is available for review on

GRAM's website

and in AAM's online Sample Document Library (available to Tier 3 museum members.)
Putting the Strategic Plan into Action: Creating Design Briefs
Our examination of the strategic plan's "stakeholder map" confirmed what we already knew: Given the strengths of our local community, the museum had a great opportunity to connect the themes in our exhibitions with the region's flourishing creative class. Our charrette work for the plan sparked a groundbreaking partnership with

AIGA West Michigan

which resulted in the launch of Design Briefs in the summer of 2013. This first enactment of what is now a long-standing successful program coincided with the museum's presentation of Michigan Modern: Design that Shaped America. The show told the story of our state's proud history of innovation by assembling artifacts that illustrated how empathy, iteration, and creative problem solving are drivers of successful enterprise. Our mission with Design Briefs was to position GRAM as a stage that would inspire application of these methods in a large-scale sharing of creative capital. Initially conceived as a one-off experiment, the program platform has scaled to repeat five times. It was also the subject of a global webinar, which inspired a presentation of

Design Briefs by the Toledo Museum of Art

and their local branch of AIGA.
Design Briefs consistently draws over 100
creative professionals to the Grand Rapids Art Museum.
Photo Courtesy of Adam Bird Photography
How Does it Work?
For each iteration of Design Briefs, AIGA West Michigan and GRAM explore the museum's upcoming exhibitions and look for content strands that relate to aspects of the innovation economy. For instance, the ecological focus of Edward Burtynsky's Water exhibition afforded the chance to explore

West Michigan's growing B-Corp movement

. Working together we put out a call to local entrepreneurs in our networks who were interested in the triple bottom line business model. Through a series of conversations we helped the selected business owners identify a problem or choke point within their current operations that could be examined by a panel of experts. After this public event, the entire assembled crowd poured into the museum's east court gallery to participate in design thinking mini-workshops led by

Visual Hero

, a well-respected strategy firm.
Design Briefs works because it creates financial and mission-related benefits for both AIGA West Michigan and GRAM. An initiative of AIGA's Design For Good Committee, whose purpose is "to unite creative professionals and empower them to give their time and talents to solve foundational challenges within our own community," the program consistently brings together upwards of 100 creative professionals to catalyze the local economy by helping start-ups work through challenges. Fortunately our community has a wealth of entrepreneurs whose interests have supported progressive themes such as "Diversity in Technology," "Innovation for Kids," and the aforementioned "Focus on B-Corps." The pitches have ranged from

MegaMind Academy

, a Khan Academy-inspired website where students teach their classmates to solve complex math problems, to a co-working space for textile artists called

Blue Marble Threads,

and their strengths have led to rich dialogue around socially motivated ideas.
Kim Wolting, AIGA West Michigan's Design for Good Director, notes that Design Briefs resonates so directly with the community that fundraising is not a problem. At each event, we find that the opportunity for people to experience the power of design thinking while helping others activates intrinsic motivation. As a result, people want to support and be associated with the program. Some vendors, such as

Brewery Vivant

and

Malamiah Juice Bar

, have even donated their products to fuel the innovation. Through sponsorship and profit-sharing AIGA West Michigan and GRAM have cultivated a modest income stream from Design Briefs, with the income channeled into sustaining the platform and bringing in internationally recognized thought leaders for select programs.
The museum has benefited in terms of staff development as well. A cross-functional group of GRAM employees (ranging from Guest Services, Marketing, and the Learning and Audience Engagement divisions) has worked with the committee members from AIGA to introduced new skill-sets and competencies that align directly with the institution's strategic plan objective to "Integrate Innovation Skills." The GRAM team has learned about everything from meeting management to digital marketing,, while creating a successful new program that engages an up-and-coming segment of our community at a time when audience diversification has never been more needed.
The museum's galleries are transformed into an
incubator space where participants collaborate to
solve problems using Human Centered Design methods.
Photo Courtesy of Adam Bird Photography
"One aspect that is so unique about Design Briefs," Wolting remarks, "Is that it's at the GRAM. Our audience did not know how to engage with an art museum before. Design Briefs opens up the space for us to do our thing in an environment that we could have never imagined." Design Briefs, New Museum's New Inc, and the Australian Centre for the Moving Image's ACMIX all capitalize on the "cool" that comes with being a museum—an asset our field should leverage to the max as we seek new business models.
The mechanics of Design Briefs

have been outlined in

several places.

A playbook from our webinar can be

downloaded here.

I encourage any museum worker who is trying to increase participation and community impact to experiment with the Design Briefs platform. Hopefully, the resources and links provided here give enough information to try this out on your own. Twitter commentary from our events is tagged #DFGBriefs. Our team would be happy to help by answering your questions. And if enough interest is expressed, I'd be happy to organize a Design Briefs event in conjunction with the 2017 Annual Meeting in St. Louis—wade in using the comments section, below, if you would like to see this happen.
Skip over related stories to continue reading article