Last week I blogged about the "unbiased hiring" process that we used to fill a recent CFM position here at AAM. Today I wanted to follow up with a few related thoughts sparked by conversations at the Labor 3.0 encounters that CFM coordinated at the annual meeting last May.

As I remarked in my debrief, integrating tactics to reduce hiring bias made the search much longer and labor intensive than traditional practices, but AAM staff felt it was worth the extra work. However, I'm also trying to understand what a process like this looks like from an applicant's point of view. Here are two comments that I heard during the labor discussions that I'm struggling to reconcile:
It's not fair to discount people with non-traditional backgrounds. Employer should develop "cross walks" that connect diverse experiences with a job's requirements.

Challenge-based hiring may be great for the employer, but it's more work for applicants. (And some people felt there have been instances where the work they've submitted for "challenges" has been expropriated by the institution, even though they weren't hired.)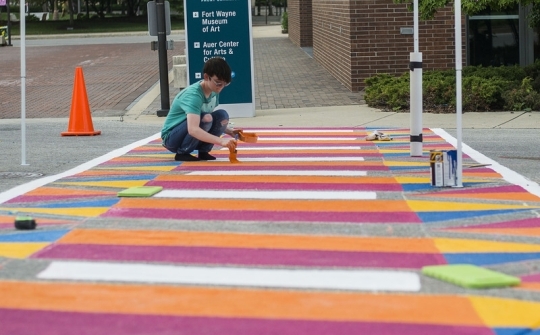 On cross-walks: I think it would be great to have a shared resource that helped employers understand how experience in one field might relate to another. I now have it on my radar to look for existing models mapping such "transferable skills." (Like this document addressing "what do I do with my art degree?" Readers—do you have any other museum-related examples you can share?) A crosswalk could also help job seekers expand their thinking about where they might find work if their primary career goal—like working in a museum—isn't panning out. Even when we have created a crosswalk, though, it's in an applicant's interest to explain to a potential employer how their experience is a good fit. After all, aren't you (as a job seeker) in the best position to know what you know, and what you can do? I'm a long-time advocate of hiring from outside the traditional pipeline, but if I don't know what skills are involved in your work, you may have to spell it out for me. (I know military veterans often face this barrier, and job councilors working with vets help employers understand how military experience, including specialized training, can "translate" to civilian jobs.)

On challenges: they are a lot of work! On the other hand, they are intended to address the "non-standard resume" issue by giving applicants the opportunity to show what they can do. I'm troubled to hear that some people feel they've had work, or ideas, expropriated in the process. My advice to employers would be to think out what you intend to do with work submitted through the challenge, and disclose that to applicants. Our somewhat elaborate "Education Future Fiction Challenge" was designed to address exactly these issues. By making the entries public, we hoped to create "value added" for the applicants, some of whom won cash and additional recognition, all of whom could point to their stories, published on line, as examples of their work. And by making the Challenge open to anyone, we avoided "outing" applicants who might not want to let their current employer know they were job seeking.

And frankly, as the hiring manager, I didn't mind at all that the Challenge might deter some applicants. I'm usually prepared, when I post a position, to be deluged with one or two hundred resumes. It takes a lot of time to suss out the few applicants who really care about this job, specifically, not just any job. (I've actually read cover letters in which the applicant forgot to swap out the position and organization name from a letter written to a different employer.) In our "unbiased hiring" experiment, I was very happy to receive forty resumes, the majority of which were clearly competitive. So yes, it's more work (at both ends), but I hope applicants could see the value of applying to fewer positions, and putting more work into each, with the knowledge that they are less likely to get lost in a huge pile of paperwork.

I'd love to hear from staff at any museum (or any organization, for that matter) who have tried challenged-based or other tactics to improve the hiring process—whether in the interest of reducing bias, attracting a broader applicant pool or otherwise improving the selection process. I would love for you to share any leads: use the comment section, below, tweet to the attention of @futureofmuseums, or email me at emerritt at aam-us.org.




Skip over related stories to continue reading article