This is Nicole with a bit of field reporting about futurist work in practice. Last week, I traveled to Philadelphia, PA to visit the Community Futures Lab, a project of the Black Quantum Futurism collective. Co-founder Rasheedah Phillips was kind enough to talk with me at the end of her day about the work that she and her partner, Camae Ayewa, are doing to highlight the stories and knowledge of residents in one rapidly-gentrifying North Philadelphia neighborhood.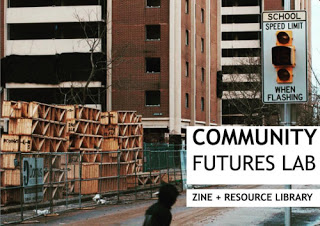 The 

Community Futures Lab

 is a project that actively rehearses a vision of what is possible by bringing an Afrofuturist perspective to socially engaged art. Located in the Sharswood/Blumberg neighborhood of North Philadelphia, the storefront space is at once a community hub, resource center, safe space, free library, and quantum time capsule.
Ayewa (l) and Phillips (r)
It was founded by Rasheedah Phillips and Camae Ayewa, two young women activist-artists whose work bridges science fiction, sound, and quantum physics principles. Camae is a musician who performs and tours widely as 

Moor Mother

. Her music combines punk, rap, and experimental electronic production with black vernacular sounds. Rasheedah is a public interest attorney, science fiction author, philosopher, and essayist whose creative efforts explore pre-colonial African concepts of time and space. She is also the founder of the 

AfroFuturistAffair

, a grassroots futurist community with a vibrant online presence.
The Community Futures Lab re-thinks traditional oral history by collecting what Rasheedah and Camae call "oral futures," or stories that honor the past and privilege community members' visions of the futures they might create together. It grounds its work in Afrofuturism, a culture and philosophy based on African and African-diasporic conceptions of time in which the past, present, and future collide with–and collapse on—each other in a cyclical way.
Rasheedah, Camae and their collective apply Afrofuturist theory to tackle urgent issues surrounding competing visions of the community's future. The Community Futures Lab currently operates in the shadow of a major $500 million redevelopment effort by the Philadelphia Housing Authority, which has uprooted dozens of residents through eminent domain. The city has razed condemned properties in the neighborhood, sending rats and mice fleeing into nearby homes and streets. Those who have not yet been relocated are frustrated by vermin and by the lack of clear information about the process. In the midst of this, the Community Futures Lab engages residents in articulating a future of the Sharswood neighborhood that honors their shared histories and reflects their collective imaginings.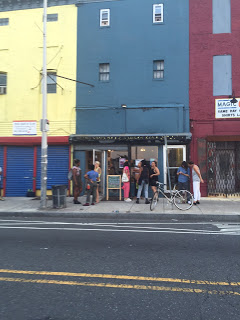 A crowd outside of the space
When we met, Rasheedah talked at length about the power of grassroots future-visioning work, about how Afrofuturism informs her artistic and political practice, and about her role as a futurist. She discussed her organization's relationship to history and art, and expanded on Afrofuturist ideas of time. You can read more about Black Quantum Futurism in her book, Space-Time Collapse I: From the Congo to the Carolinas.
I'll be following the Community Futures Lab online and blogging more about them here. In the meantime, I'm excited to share some of Rasheedah's generous responses to my many (many) questions. (Full disclosure: I've condensed and edited the following excerpts for continuity and clarity.)
Rasheedah Phillips:  We call them oral futures, people gaining access to the future of the community in contrast to the major redevelopment project that has uprooted [people]. In contrast to that idea, this is a space for the people to have their own futures.
Mapping project inside the Lab
On not being a non-profit organization
RP: I started the AfroFuturist Affair as a  grassroots community. I didn't want the bureaucracy, I didn't want the reporting, I didn't want someone scrutinizing the tactics and the things we were going to do. I found that how I did things worked for me.
When I first started the organization in 2011, every event that we did, we would take the money and put it into this community fund where people could [apply through] a short application process. I was actually able to give out a lot of money over the years through that process. I wanted to be able to do that and not have to go through all of these things to provide service to people and put the money back into the community. It's worked…I do have a sole proprietorship so that I can publish my books.
[Note: Rasheedah also mentioned that the Community Futures Lab is funded through the a blade of grass fellowship for socially engaged art.]
Skip over related stories to continue reading article
On the Lab as a Quantum Space Capsule
RP: [The project] troubles the notion of space-time in that it doesn't have a specific location. Even this space. We're also conceiving of it as what I call a "quantum time capsule" […] Usually a time capsule is something that you bury and leave for the future, the future has access to it. But when you think about a time capsule that is of a quantum nature, it's not any particular space or time. It does open itself up to these other temporal dimensions; it does open itself up to these other types of spaces.
Art on view in the Lab
On Being an Afro/Futurist
RP: My place as a futurist is to embrace the tensions of what that means. The future doesn't mean one thing, it could mean tomorrow, it could mean five seconds from now. It doesn't define any particular point of time, it defines a relationship.
I don't define futurism in the same way that western traditions do, or as Italian futurists. My definition embraces the tension of the fact that we can't reverse time en masse, [we can't] "go back" to an indigenous African way of thinking. Black Quantum Futurism  reconciles the fact that we do have to remain in this reality as part of this linear timescape, but we can alternatively honor our communal temporalities and they can coexist [in the same way that light is] both a wave and a particle at the same time.
How might museums help craft shared visions of the future in your communities? Share your thoughts in the comments section below! You can follow Rasheeda and Camae's work online and visit the lab at 2204 Ridge Ave, Philadelphia, PA 19121.