Dr. Jay Xu is Director of the Asian Art Museum of San Francisco and a member of the Association of Art Museum Directors. As a passionate champion of Asian art and culture, Dr. Xu is committed to sharing his extensive knowledge of Asian art with a wide audience, and to promoting art and culture as an essential platform for cross-cultural understanding, diplomacy, and political and business developments.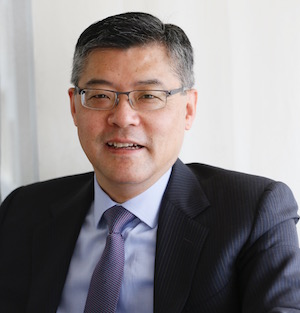 What else can one say about this year's presidential election? Last week, I sent the following message to staff of the Asian Art Museum, reminding them—no matter what happens on Election Day—that our museum's purpose and role in the community is probably more relevant and essential than ever.
Dear Colleagues,

Allow to me share an idea with you, something inspired by my desire to find a silver lining of meaning in the current maelstrom of the presidential campaign.

I am deeply troubled by the messages of exclusion and prejudice surfaced across the country over recent months. Regardless of who wins next week, the echo of those deeply hurtful messages will remain.

As a museum of Asian art, representing art and cultures of 60% of the world's population, what role can we play in this pivotal moment for human relations? How can this museum best serve fellow Americans and citizens of the world in the face of this standoff between exclusion and prejudice, and inclusion and acceptance?

FOR ALL

For one, we should make it clear that the Asian Art Museum stands firmly on the side of inclusion, global consciousness, and cultural empathy. We are a museum for all. We don't deny entry to those who don't look like us, think like us, or act like us. Not only are our doors open to all, but we actively pursue ways to make our museum more accessible to more people. In our October staff meeting, I shared examples of these "inclusive innovations," from wayfinding signs featuring universal symbols to digital tools offering information in multiple languages.

CULTURAL EMPATHY

We offer a safe place for discovery, insight and greater understanding of people; of their influences, beliefs and values. We do this through the lens of Asian art and culture. We invite all to explore the differences and the similarities between people, and between cultures, and to celebrate how these values are reflected in art from ancient times to today. Exposure and knowledge are empowering tools in countering fear of the unfamiliar or different.

A STEP FORWARD

Can an art museum engender kinder and more respectful human interactions? Can it foster empathy and reduce hate? I believe our museum absolutely can. I'd like to hear what you think.

Jay

Jay Xu, PhD
Director and Chief Executive Officer
Asian Art Museum
Chong-Moon Lee Center for Asian Art & Culture
San Francisco, California
The Asian Art Museum staff have shared heartfelt responses to my message.
From a museum educator: "Your thoughts brought tears to my eyes and I am so happy to be working for an institution that does place such a high value on inclusion and acceptance and recognizes how important the values you mention are. At my previous job, I had an African American friend who I invited to walk into the museum with me one day and he asked, "Are you sure I'm allowed to go in there?" It broke my heart. This hateful rhetoric that is going around is so harmful to all of us; I'm going to share your message with others OUTSIDE our museum, if it's okay with you."
From a marketing & communications staff member: "This message was a reminder of why I love to come to work here every single day, no matter how stressed out or busy we might get from time to time. I don't think this is a mission shared by every museum, nor could it/should it be, and I'm going to save this note as a touchstone."
From a colleague on the development team: "In my work with our members, I am consistently blown away by their passion – not only for the museum and the artworks we present, but their passion for sharing Asian art and culture with others. Our mission of inclusivity and cultural empathy is so deeply meaningful; it's what keeps members proudly returning year after year, often with new friends and family members in tow."
From a social media manager: "I am PROUD that the museum authentically brings these words to life through our work–the comments on this post are proof."
Is there an opportunity for your organization to shape (healing, helping, informing, inspiring, demystifying) the national/global discussion starting on November 9? How?