In the US in 2015, 17.5 percent of persons with a disability were employed–compared to a 65 percent employment rate for people without a disability: a troubling statistic that should influence our discussions of museum labor and museum internships. This week on the Blog, Holly M. Crawford, education specialist at the El Segundo Museum of Art (ESMoA) shares how her museum, and others, are helping create employment pathways for people with disabilities. I hope you have other such stories to share–please chime in using the comments section, below.
ESMoA had been open less than a year in September 2013 when Chelsea Hogan and I met with Ed Lynch, founder and Executive Director of Mychal's Learning Place, to brainstorm ways our two organizations could work together. Established in 2002, Mychal's provides opportunities for children and adults with developmental disabilities to build self-esteem and independence. Ed was describing Mychal's Path to Independence Program (P2I), a new program designed to equip Mychal's adult students with the tools and support to live independently when Chelsea suggested we could have an internship for Mychal's students at ESMoA. By October we had started the pilot internship with two students from Mychal's P2I.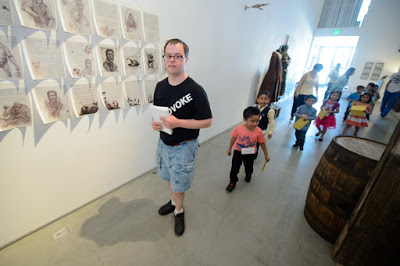 Leading Students in the Gallery, Photo Credit: Adam Kissick
For four amazing years ESMoA and Mychal's Learning Place in Hawthorne, CA have collaborated on the Mychal's/ESMoA Internship Program.  Each year Mychal's and ESMoA nominate two interns from P2I to participate in a seven-month-long internship that runs from October – May overlapping with ESMoA's School Visits program. This internship gives participants exposure to the inner-workings of our art laboratory, as interns work closely with the ESMoA team. Interns receive a weekly agenda outlining their roles and responsibilities at ESMoA which include but are not limited to greeting students, organizing art materials, and conducting research about artwork currently on view for ESMoA Experiences.  Additionally, interns tour arts and cultural institutions in and around Los Angeles and learn about Visual Thinking Strategies to facilitate gallery discussions with school groups about an artwork. 
The internship program complements Mychal's P2I goals: Mychal's students are challenged and empowered at ESMoA. They are part of a supportive team and learn skills to help them find gainful employment. As a program mentor, my appreciation for different learning styles has broadened as a result of working with our interns. One memorable intern with a diagnosis of Down syndrome would sometimes arrive for work feeling lethargic. As we worked with him to develop an energy-building routine, I noticed that our classes also tended to get tired or antsy during studio-to-gallery transitions during their visit. Our intern thought stretching would be a great way to help students transition between these two activities and help ground them for focused discussion. Because of his insight, I now build time into my lesson for a stretching exercise.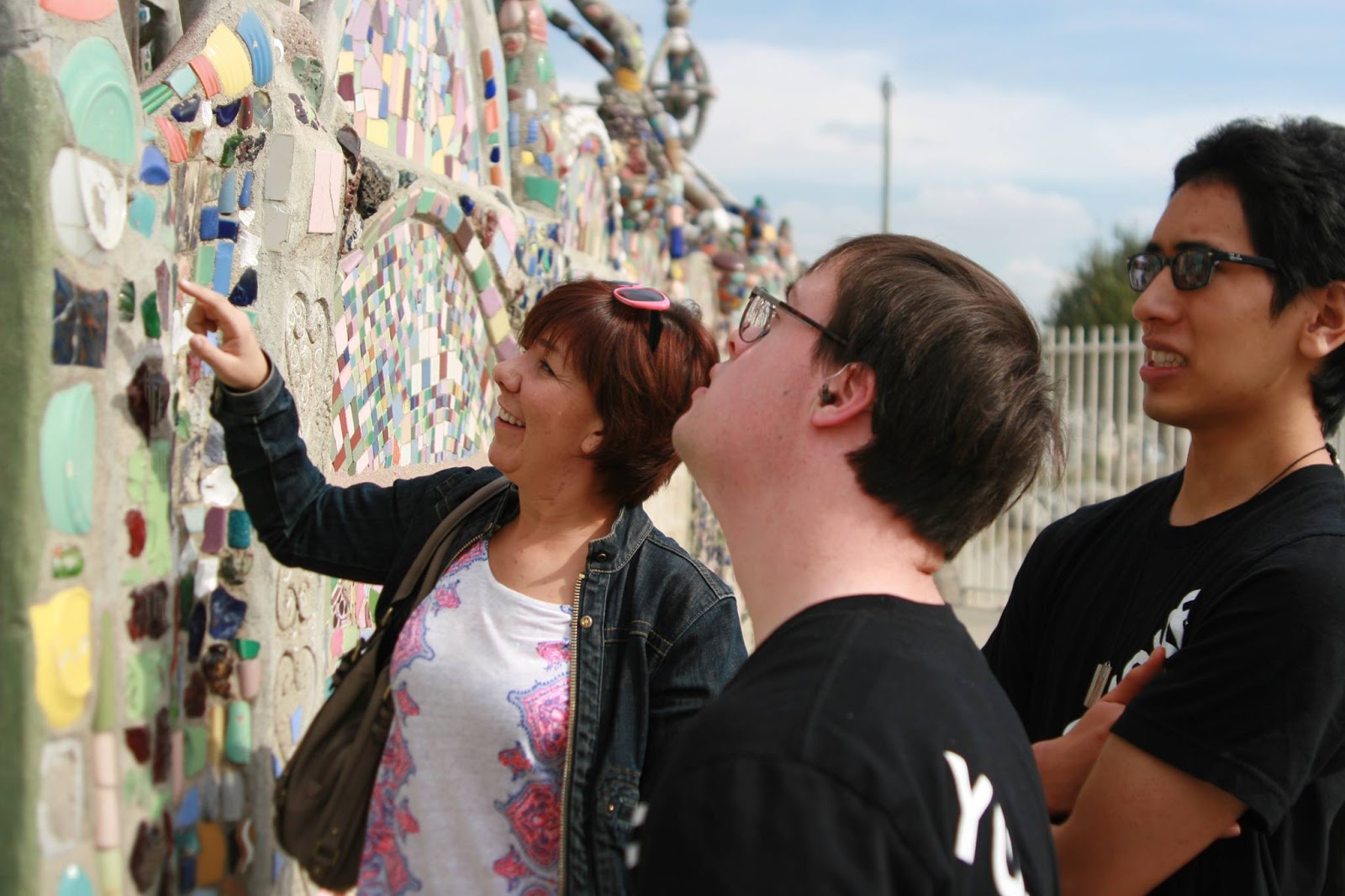 Interns Visiting Watts Towers
I have also observed that student visitors tend to be more patient and attentive during gallery discussions led by Mychal's interns. As educators, we often say that our programs build empathy, and watching students engage with Mychal's interns is empathy in action. 
This summer ESMoA was awarded a SPARKS! Ignition Grant from the Institute of Museum and Library Services to fund the creation of

ESMoA Academy

, a free e-learning platform where we have developed our

featured course: Spreading the SPARK of Creativity , a flexible blueprint intended for museum educators who are interested in developing an internship program that serves special needs populations. Delivered in concise video tutorials and supplemental materials, after completing this online course, participants will be better able to:
Implement successful strategies for creating internship opportunities for adults with developmental delays.

 

Create a sustainable partnership model with a non-museum organization.

 

Advocate for access and resources for adults with disabilities seeking employment in cultural institutions.                                                                  

 
We are in the final editing stages with the website and anticipate a release date in early December 2016. Users will be able to follow the program in real time as video lessons become available each month through May 2017.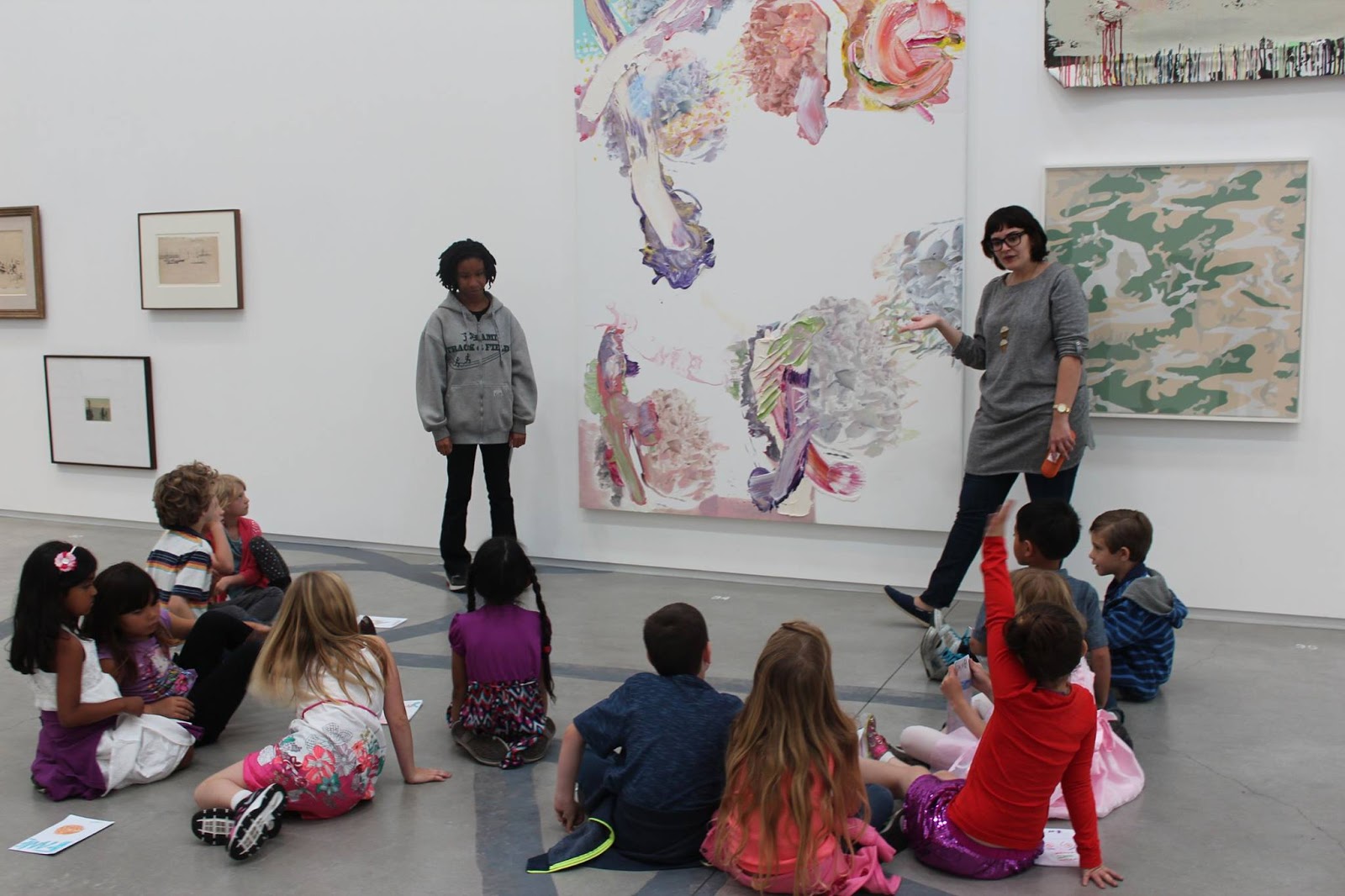 Team Teaching in the Gallery at ESMoA
Skip over related stories to continue reading article
This year we are also celebrating the fact that we are finally able to pay our Mychal's/ESMoA interns. Previous iterations of the internship have been 'experience only.'  Working with ESMoA's Executive Board, we were able to secure a generous donation from the SKECHERS Foundation for stipends for our 2016-2017 interns. Since researching funding streams, I have learned about the Ticket to Work program, a federal program that helps individuals with disabilities achieve their employment goals and found opportunities through the California Arts Council and University of California system.
When we first started the internship program four years ago, it seemed like it was the first of its kind. This past summer, however, I was excited to learn (via the NY-based Museum Access Consortium) about Lincoln Center's inclusive hiring initiative, Access Ambassador Initiative.  And my colleague Cecile Puretz (Contemporary Jewish Museum, San Francisco) told me about an exciting project between AccessSFUSDand the California Academy of Sciences. As these learning opportunities grow in numbers and recognition, museums are on the forefront of a learning revolution.
Holly M. Crawford is an artist, educator and arts advocate based in Los Angeles. She is also a 2016 – 2017 ACTIVATE Cultural Policy Fellow. Holly has been an Education Specialist at the El Segundo Museum of Art (ESMoA) since 2013 and designs and facilitates programming for school, family, and adult audiences. As coordinator of the Mychal's/ESMoA Internship Program, Holly provides museum internship opportunities to adults with developmental disabilities.  Follow her on twitter at @artlab21 and @CallMeHawford.