Hi, Nicole here! We are excited to begin this new year with a new project at CFM. My colleague, Sage Morgan-Hubbard (Ford W. Bell Fellow in Museums and P-12 Education) and I are preparing to start the first leg of the Future of Education Road Trip—in the Southeastern US. Our trip kicks off in Washington DC this Saturday, January 7. We'll be heading first to Raleigh, NC then to Charlotte, NC and will conclude our trip in New Orleans, LA on January 20. The primary purpose of this road-trip is to think locally with educators, museum professionals, students, artists, and community leaders about how they are envisioning—and creating–the future of education. In doing so, we also seek to engage the field around their visions for how museum work will change and to highlight the innovations that Southeastern museums are making around labor practices.
We will be hosting round-table discussions along the way in Charleston, SC and New Orleans, LA to involve the broadest audience possible in exploring these connections. Be sure to follow Sage (@Museumsp12) and me (@nicotron3000) on Twitter for more details about these meet-ups and for updates from the road in real-time (We make no promises that there won't be car karaoke)! As museum professionals, Sage and I are both deeply interested in the connections communities make between teaching, learning, and the power of their local stories. Also, follow us on Twitter and Facebook at #AAMroadtrip and share your thoughts, questions, and recommendations of must-see things to see and do and eat!
Our Itinerary
Southern states are large, and broad, and storied. We cannot possibly capture the diversity of the Southeast in one fell swoop. Our travel plans are necessarily limited by our own capacity as drivers and by the sheer amount of time it takes to travel across the region. With that in mind, we've put together a travel plan that brings us to major cities and smaller towns that also maps onto histories of African-American migration and civil rights activism. We will be on the road as many museums across the country are gearing up for celebrations of the life of Martin Luther King, Jr. For many of the places we'll visit, these busy King Day events will roll into February programming around Black History Month. Sage and I and our collaborators have kept this top-of-mind as we developed our itinerary: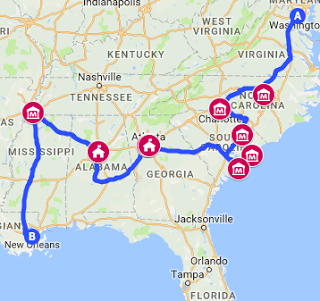 Map of Our Road Trip








A Collaborative Effort
This roster of stops on our trip was made possible with the help of so many people who modeled this traveling work for us—and who offered their on-the-ground connections and expertise so generously to us. Many of you reached out to us via phone, social media, and email to invite us to your cities. And the invitations are still coming! For this, we are deeply grateful and honored. Today, we want to highlight a few of the collaborators who each gave us a different perspective around labor, education, civil rights and social justice as we prepared for this trip.  Dr. fari nzinga, Dr. Alexis Pauline Gumbs, and Porchia Moore of New Orleans, Raleigh-Durham, and Columbia, SC, respectively, each helped shape our thinking on museums, public engagement and art as social practice. We learned, too, from Mia Henry, Executive Director of the Arcus Center for Social Justice Leadership at Kalamazoo College, whose FreedomLifted initiative hosts personalized, affordable Civil RIghts tours, with particular focus on Alabama and Mississippi.
Dr. fari nzinga, cultural anthropologist, American Council of Learned Societies Public Fellowship alum, and professor at the Southern University of New Orleans (SUNO), worked with us to

 

develop a round-table in New Orleans exploring the future of museum, work, and public engagement. She reminded us of the links between academia, public practice, and museum accessibility. Porchia Moore, curator, information specialist, and co-founder of the Visitors of Color Project, has been profoundly generous in her thinking and in helping us organize the Charleston round-table. Among the many things we learned from her, I am especially grateful for the lesson that individual museums make sometimes-competing claims as they work to tell the local stories. She reminds us that tracing histories through objects is a process that calls for debate and listening. Dr. Alexis Gumbs's Mobile Homecoming Project remains a model. She and her partner, Julia Sangodare Wallace, created an intentionally intergenerational space as they interviewed queer black elders throughout the country. From Dr. Gumbs, we learned the value of personalized experience in a road trip such as this. She stressed the importance of developing rituals of self-care and of practicing intentionality in everything we do—from how we communicate to people to how we take notes and document and give back to our participants.
The Questions
Sage and I developed a list of several questions that we'll be asking interviewees along the way. They are:
What trends do you see in (museum) education?

What is your vision for the future of education?

What would an ideal museum-school partnership look like?

What is a best practice or thing that you are most proud of within your work within education that you want to share?

What is one challenge that you see within (museum) education that you would like to see improved?

What trends do you see in the nature of work (or in the museum workforce)?

What do you want people to know about your vision for the future of work? What does the future of labor look like to you?

What do you wish the rest of the country knew about work in your city, state, or region?
What questions would you like to ask of museum professionals in the Southeast? What questions do you have for us? Let us know in the comments below, or tweet us your ideas. Find updates on our progress and perhaps a bit of poetry on-the-road on social media at #AAMroadtrip!