One topic I've explored here on the Blog is how museums such as the
Pacific Science Center
are making themselves more accessible to visitors with autism. And with ACLS Fellow Nicole Ivy, I've examined efforts to diversify the museum workforce. Today's guest post by Meredith Gregory, special education and access coordinator at the New York Transit Museum, explores the intersection of these two issues: integrating employees with autism into the museum workplace.
In 2014, I attended a
Museum Access Consortium
workshop that included a breakout session about the benefits of hiring adults with autism. Here's what I learned: The unemployment rate for people with disabilities is 10.7%, two times higher than the rate for those without a disability. And within that statistic, people with autism have the lowest employment rates compared to other people with
disabilities (
http://www.bls.gov/cps/
, 2016).
Here's what else I learned: There tends to be a lower turnover rate for employees with disabilities, employees with autism can be reliable employees (on time and rarely absent), and they excel at tasks that others might find monotonous. This prompted me to think about opportunities in my own workplace, the New York Transit Museum.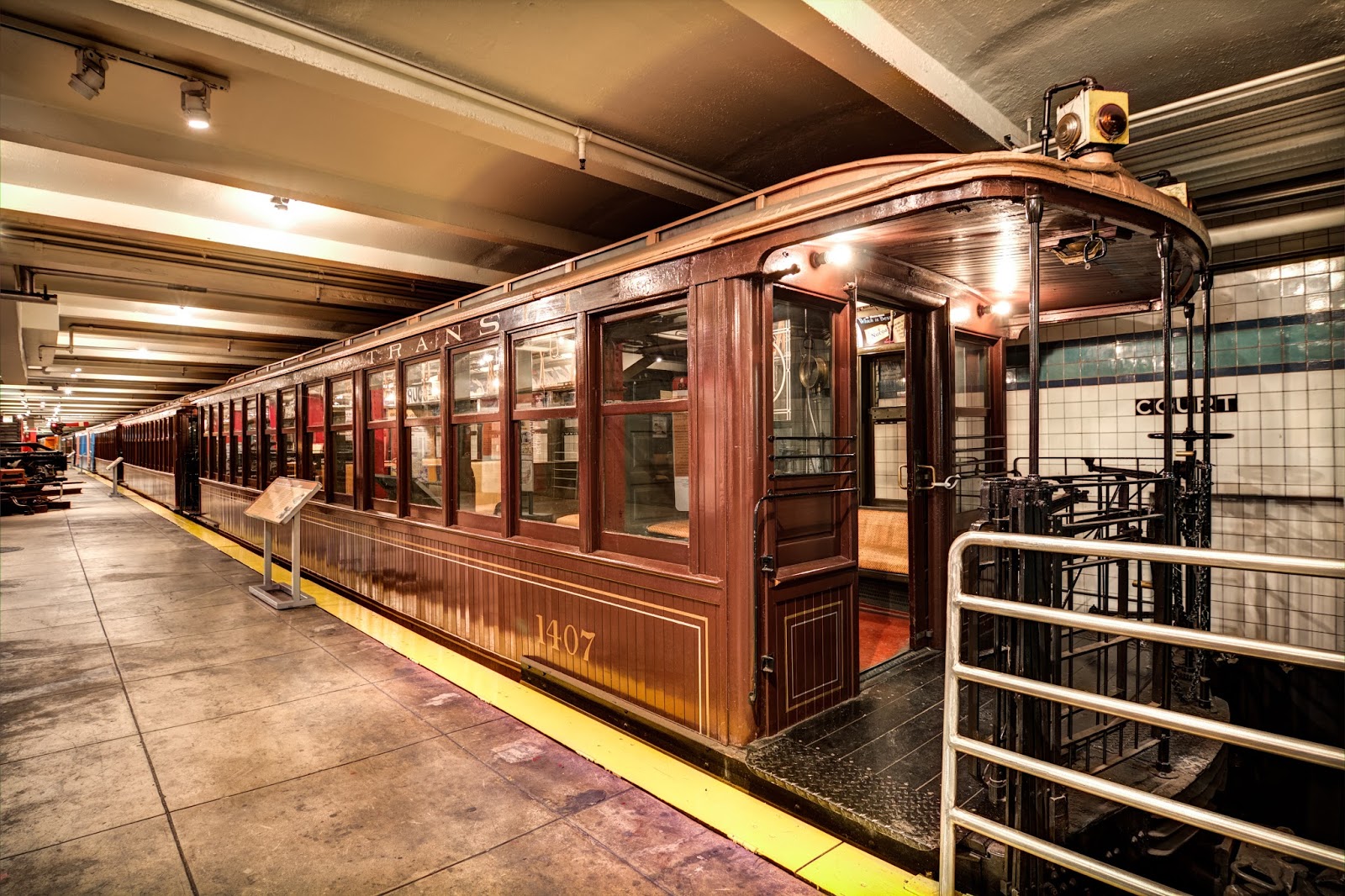 Brooklyn Union Elevated Car on the Museum's platform level,
Photograph by Black Paw Photo
The New York Transit Museum is located in a decommissioned subway station in downtown Brooklyn and is home to dozens of vintage subway train cars and other transportation objects. We see a large number of visitors with autism, youth and adults. We wanted to deepen our commitment to accessibility by having our workplace better reflect the diversity we see in the Museum. With the support of the education manager, Elyse Newman, I met with various departments such as retail and facilities and learned that one of the greatest needs for staffing was within education. Our department needed a dedicated person to keep track of education supply inventory and prepare art materials for hundreds of school children who visit the Museum each day on field trips. We thought this could be a perfect opportunity for someone with autism.
Luckily, one of our funders, the
FAR Fund
, was interested in funding a position for an adult with autism. Because this was a new initiative we thought it would be good to partner with an organization that offers resources for adults with autism including a job training program. The FAR Fund supports
Birch Family Services
, a local service organization that seemed like a natural partner for us- as they had a pool of candidates who had been through at least 6 months of job training, and they provided a job coach who would help the employee transition to their new work environment.
Now it was time to get buy-in from some senior staff including our Executive Director at the time, Gabrielle Shubert through several meetings. Our Director supported the creation of a new position because we were able to establish the need for the position, the importance of a diverse work environment, and the exciting prospect of being a leader in the museum field. I wrote the description for the newly named Inventory Associate position with the help of Kristin Fields, the Museum's education coordinator and supervisor of the future position.
Finally, it was time to start interviewing! Birch Family Services was instrumental in ensuring that our hiring process was as accessible to people with autism as possible. Here are some of the recommendations we implemented: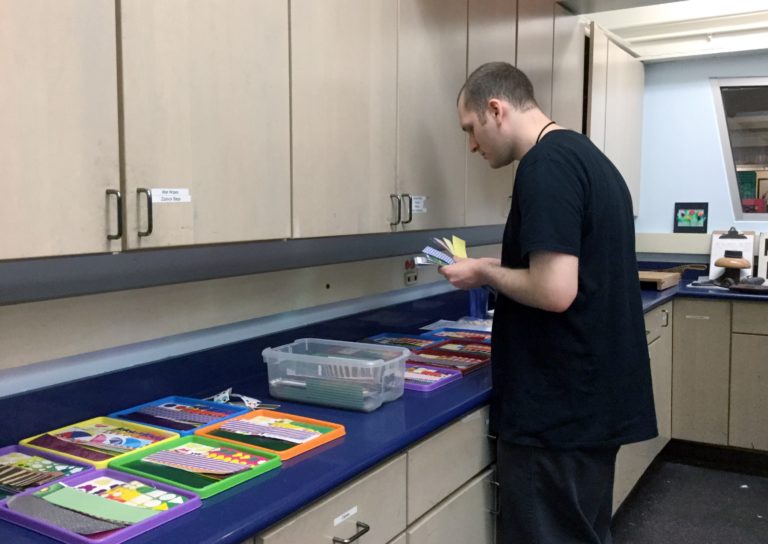 Jason preparing art materials for a school group
in the Museum's education center,
Photograph by Meredith Gregory
Give the candidate questions in advance so that they know what to expect.

Social interactions can be hard for someone with autism so interviews might be challenging. In addition to giving questions in advance so they know what to expect, also offer to have the first interview over the phone, in-person, or on Skype so that the candidate can choose whichever option makes them most comfortable.

Describe the work environment in the job description.

Will this person be working alone in a room or with 20 people rushing around them? It's important to note this in advance. Someone who does not like noise should not be applying to a job where they will be required to work in, for example, a busy lobby.

Have a second interview where the candidate can show off their skills.

They may not excel at conversation, but their skill level may shine through when they're performing tasks related to the job.
One of the most important things I learned during the interview process was not to hire someone just because they have autism. Really make sure they're a good fit for the position so that the employee can succeed in their work and contribute positively to the Museum.
After interviewing several candidates, we decided to hire Jason. In the interview, Jason seemed eager to work at the Museum, had previous experience working in inventory and did not mind working in a busy education space.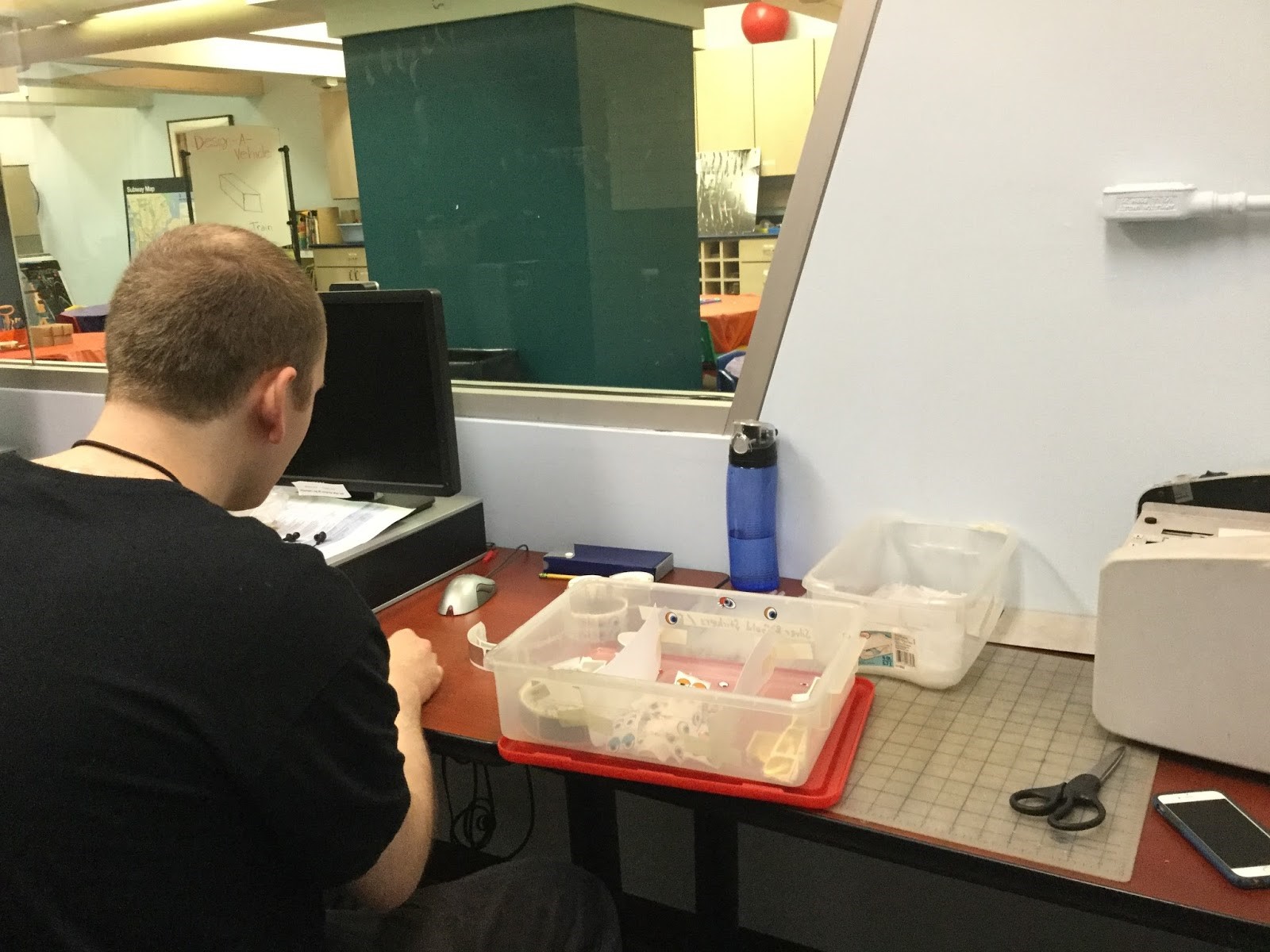 Jason at his desk getting supplies ready for the upcoming week
Jason worked with his job coach for two weeks at the Museum when he started in November 2015 to help him learn tasks and get acclimated to a new work environment. Since then, he has excelled at his work, especially preparing materials for school groups. Jason says, "I like making boxes [for the bus making art workshop] because it's easy to do and quiet when I do that. The special events like family nights are also fun to work". With the help of the job coach, Jason's supervisor at the Museum was able to put several supports in place to help Jason be successful including:
-A checklist on the inside of each art supply cabinet
-A list of how many art materials he need to prep each week
-Having Jason's job coach return to the Museum any time he's learning a new task.

Jason has added a new level to positivity to our workplace. He engages colleagues in conversation about sports, food, and trains, brings a sense of humor to the daily staff meetings, and has a strong work ethic. What's his advice for someone with autism looking for a career in museums? "Find a job you like and a place you like working at. I like working here."
Museums have an opportunity to not only give people with autism meaningful work experiences, but have a chance to impact the mindset of employees by diversifying the workplace. For more information on hiring adults with autism, visit
www.museumaccessconsortium.org/resources
.
Skip over related stories to continue reading article