When Nicole Ivy and I were working on the 2016 edition of TrendsWatch, CFM's annual forecasting report, we identified mass migration as a global trend having a huge impact on museums and their communities. The topic was so complex we spent over a year reading up on the issue and collecting stories. The result of that research is "Reshaping the World: migration, refugees, and forced displacement," Chapter 4 in TrendsWatch 2017, which the Alliance will release at the end of February. Even after we locked the text, examples of the good work museums do with and for immigrants and refugees continued to pour in. Today's guest post by Adam Reed Rozan, Director of Audience Engagement at the Worcester Art Museum, shares one of those stories.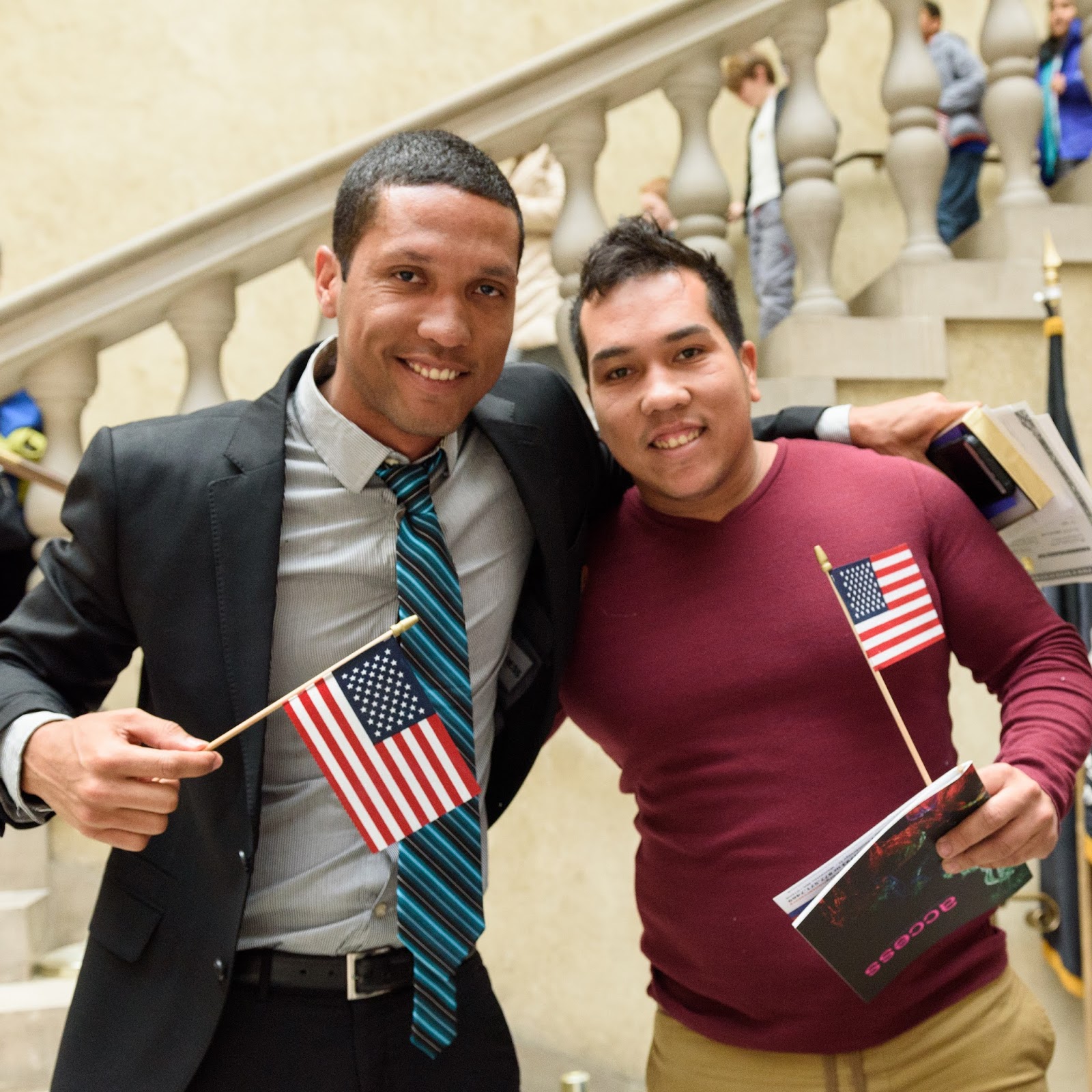 Welcome! That was what was said to the 48 men and women–representing 23 different countries, along with their family and friends–as they arrived at the Worcester Art Museum on the morning of Wednesday, January 11, 2017. The occasion was a naturalization ceremony- both a formal, legal proceeding, and a joyous occasion.

The Worcester Art Museum's journey to a naturalization ceremony took some time and was a process begun in 2012, when the museum unveiled its vision statement, a tool that helped describe where we were going as an institution. Building upon our history and aligning with the Museum's mission, we started internal conversations around the idea that a museum could also become a community space, a civic minded institution that could use art to better engage with and support the community we wanted to serve.

Working through the Audience Engagement Division, a team that comprises four departments—Guest Services, Education & Experience, Studio Classes, and Marketing, Communications, and Design—we began to discuss the idea of providing civic-based programming. Our first foray into this realm was a summer program entitled Art + Market, which combined farm stands with area artists and community organizations. Now in its fourth season, Art + Market has grown into a neighborhood staple, running weekly on Saturdays from early spring to late summer with an anchor farm serving our community.

As we developed the Art + Market program, we gained new confidence, learning from what worked and what didn't and, in the process, refining our understanding of this type of outreach. Just as conversations can create new conversations, programs have a way of creating new programming. Our interests and commitment grew, and we began to explore other roles for the museum within the community. We became aware that the polling locations where the museum is located had been in flux for several years. We reached out to Worcester City Clerk's office and in a short time the museum become the home for Ward 3 Precinct 2 voting in Worcester, MA. That was 2014 and this past November 8, the museum hosted its first Presidential Election voting. This was an opportunity that provided us a platform to connect our civic activity to our curatorial activity. Members of the museum came together to discuss and work on a project that responded to voting and the election, and we developed an exhibition titled Picket Fence to Picket Line: Visions of American Citizenship.

When the museum became a polling location and developed an exhibition on citizenship, it opened the doors to a conversation that had begun almost four years ago on how to host naturalization ceremonies and become a site where new citizens take the oath of citizenship.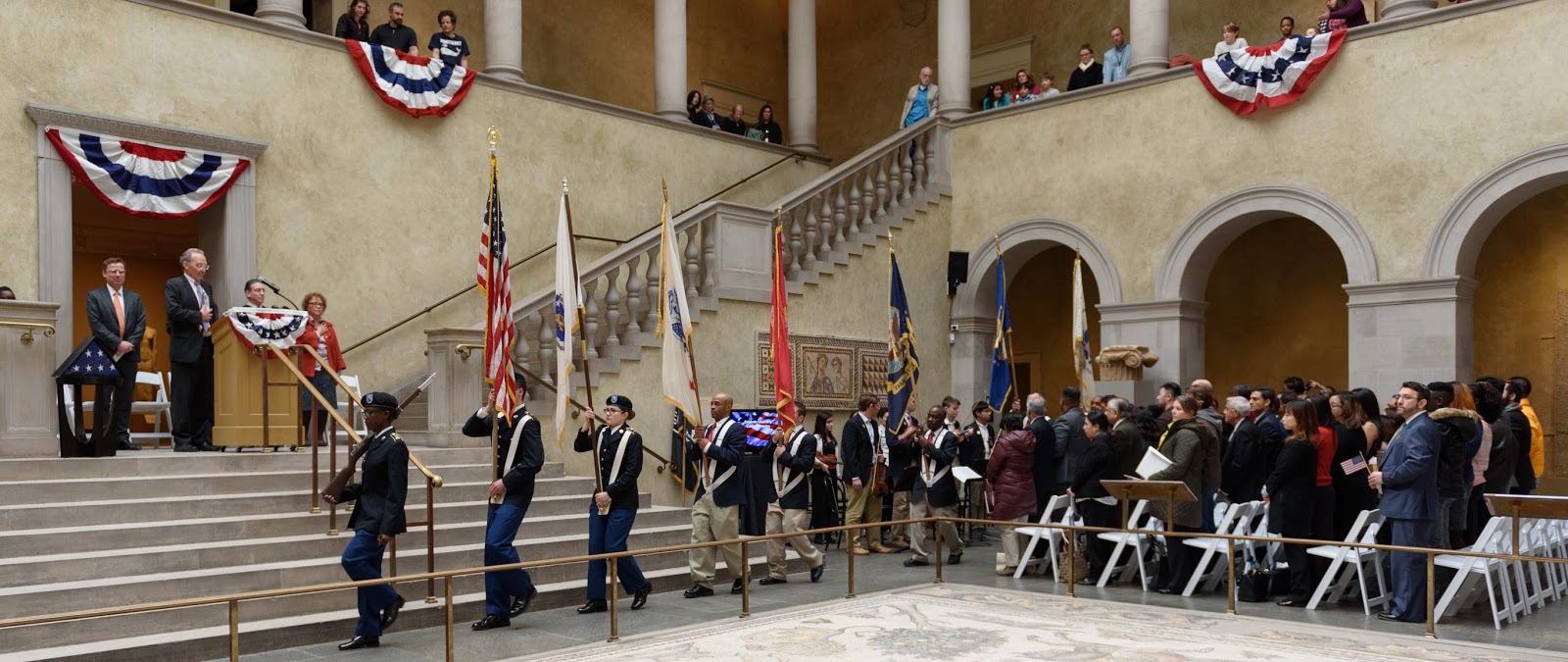 Working with the United States Federal Courts and the United States Citizenship and Immigration Services, we were invited to host the ceremony. Given a short lead time, we developed a cross departmental team, and held a series of group check-ins. Our efforts were supported by the office of United States Congressman Jim McGovern (D-Mass).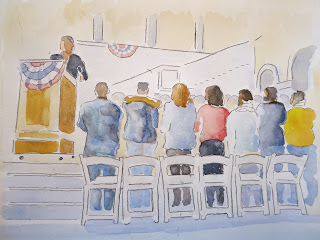 Courtesy Barbara Roberts
Skip over related stories to continue reading article
With an internal and external working team in place, we rounded out the needed programmatic components by reaching out to community partners. We worked with sixteen 8thgrade ushers from the Nativity School of Worcester to seat the new citizens and their guests; presentation of the colors from the Worcester Polytechnic Institute's ROTC and Veterans, Inc., a local veteran's support organization; music and singing from the Bancroft School accompanied by the presentation of an American flag which had flown over the U.S. Capitol, was presented to the museum by a 6th grade student of Ghanaian descent, who also led the museum in the Pledge of Allegiance. To support the program artistically, we invited two poets and a visual artist to attend, with the hope that the event might inspire drawings and poems. As an art museum, we try to include artists in everything we do, providing opportunities to make art as well as show art. To extend an ongoing welcome to the new citizens, we gave each a Worcester Art Museum family membership. With the support of Congressman McGovern's office, we provided hand-held flags for everyone in attendance as well for each new citizen a pocket constitution, voter registration cards, and information from the Worcester City Clerk's Office.

As a museum, we host hundreds of programs of all sizes and complexities each year, connecting our public with our collections. The naturalization ceremony took this one step further: we became the community and the community became us.

WAM Update on Naturalization – http://wamupdates.worcesterart.org/2017/01/worcester-art-museum-to-host.html

Naturalization Ceremony Press – http://www.telegram.com/news/20170111/worcester-art-museum-to-host-naturalization-ceremony-today