#DayofFacts is an international social media campaign occurring on February 17, 2017. Alli Hartley and Mara Kurlandsky developed the concept as a day where institutions share mission-related content using the hashtag #DayofFacts. Alli and Mara share this first of two posts on the idea behind the campaign.
On February 17, museums, libraries, archives, science centers and other cultural institutions will take to social media platforms to remind the public that we deal in facts derived from primary sources and original artworks, objects, documents, and everything else that is in our collections and relevant to our missions. Why? After the 2016 American election, phrases like alternative facts, post-truth society, and fake news have entered into the public consciousness in an alarming way. As we grapple with the changes in the American political system, both institutionally and as individuals who are on the front lines of these institutions, we believe that museums must question what politicized information means for organizations with educational missions.
The idea of what would become #DayofFacts was born during the first two weeks of the Trump administration. Within a week of the inauguration, certain government agencies were receiving instructions from the administration or by agency directors to cease posting on social media, or scrubbing accounts of previously shared content. Given the prominence that Twitter played in the 2016 campaign, and especially given the powerful role that all of us in this sector know that social media plays in our institutions, this was troubling to us. However, one post by Death Valley National Park Service stood out: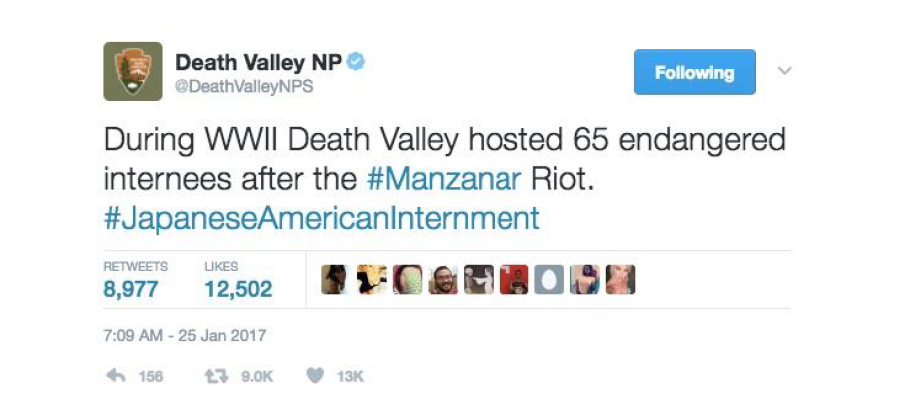 This post about the Japanese-American incarceration was striking for many reasons. First, it was completely mission-related and presented as factual, unquestionable information: an entirely appropriate post for the Park to make. Second, it provided a historical example that paralleled the current political moment, and which clearly resonated with the public. It quickly shot to the most popular post on the page, re-tweeted and liked by thousands, only surpassed by a similar post later that day. This tweet was brilliant, poignant, honest, relevant, and demonstrative of the important role our institutions can play. We wondered what would happen if cultural and scientific institutions all shared information like this on one day, in one concentrated effort. Thus #DayofFacts was born.
Although #DayofFacts invokes facts in a time when simple factual information has become politicized, the goal of #DayofFacts is not to make an overt political statement, but to simply share mission-related, objective, and relevant facts to reaffirm that our institutions are trusted sources of knowledge—and will continue to be. It's a long-cherished notion in the field that public trust in museums is exceptionally high. However, recent data published on Colleen Dilenschneider's "Know Your Own Bone" blog seems to suggest that ignoring current events in a desire to maintain absolute neutrality can potentially undermine public trust. We hope that this day will serve as a platform and incentive for museums, parks, zoos and other institutions to speak to the public as they do every day with honest and relevant information, whether it's information about climate change, figures that demonstrate the reach of threatened government institutions such as NEH or NEA, or historical information about past refugee crises, and to remind the public that we are here, daily, to provide guidance in unsettling times. We also hope that this day shows that museums and public institutions oppose any threats to the spread of intellectual information, be it censorship of factual information about climate change or state-sponsored invocations of inaccurate information.
In addition, and most importantly, #DayofFacts was created as a rallying point for inclusion and empathy in reaction to recent political rhetoric and decisions.  We serve a wide and diverse public, and as after any contentious political moment, we felt it was important to communicate that museums wouldn't be abdicating their responsibilities to their visitors, and would not tolerate marginalization or oppression of any of their visitors. Like many, we are concerned that rhetoric has become increasingly separated from reality and instead focused on stereotypes and falsehoods. In thinking about our role in countering this, we believe that museums play a powerful role by exposing visitors to art, history, new cultures, and scientific information that they may not have encountered otherwise. We believe that by exposing visitors to this information, we can play a role in making them more empathetic and our world more inclusive.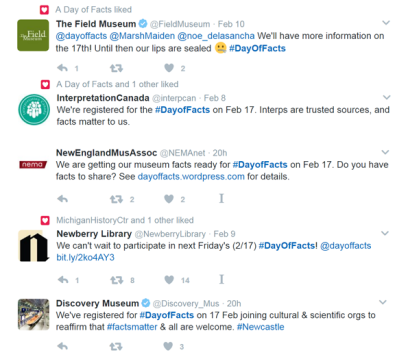 In the weeks since we started this campaign, we have had some amazing conversations with colleagues and mentors across the field about the risks and benefits of our campaign. As of today, nearly 230 museums, science centers, zoos, aquariums, and museum-affiliated organizations had committed to participate. We're also encouraging individuals in the field to participate from their personal accounts. Colleen Dilenschneider, in the blog post mentioned above, concludes her analysis with the thoughts: "A possible "So what?" may be to stop pretending to be impartial observers and live up to our missions. Confidence may be in decline because we've been less responsive to opportunity." Words to live by, words that applied to the Death Valley National Park Service tweet, and words we hope you will bear in mind as you weigh participation in #DayofFacts on February 17.
Learn more about #DayofFacts: https://dayoffacts.wordpress.com
Alli Hartley is a multidisciplinary museum educator with an interest in public memory, museums as institutions and social justice. She currently manages history programs and exhibits for a small park. She previously worked at the National Museum of African Art and the College Park Aviation Museum. You can find her on Twitter at @AlliHartley1.
Mara Kurlandsky is the Project Coordinator for Digital Engagement at the National Museum of Women in the Arts, where she manages the museum's digital initiatives and spends too much time on the internet. With interests in art, feminism, and social justice, Mara believes deeply in the role of museums to lead critical conversations about social issues by starting with a self-reflective approach. You can find her on Twitter @mkurlandsky.