Hey museum futurists, this is just a quick note to point you towards a great long read: the February issue of Science magazine, which is devoted to prediction.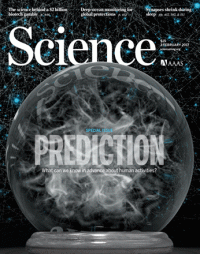 The issue kicks off with a brief essay by Barbara Jasny and Richard Stone on how big data and machine learning is pushing the limits of prediction. I'm happy to see these authors remind us that purpose of prediction isn't to convince us that we know what will happen, but to help us envision possibilities. "Researchers may still fall far short of predicting outcomes with the precision that policy-makers long for," they write, "but the scenarios that they now can envision should help shape a better future."

The issue includes essays on:
the potential that data mining of social media may be more accurate than traditional political polling

predicting armed conflict

the predictability of scientific discovery

the use of "forecasting tournaments" to bring probability data into policy debates (publishing this note, as I am, on the #dayoffacts, I am particularly pleased to recommend this article to your attention.)

using big data to tackle policy issues such as resource allocation

how predictive algorithms can be integrated into social science

the frontiers of predicting human behavior.
I've just read the introduction and abstracts so far. This should keep me busy for awhile! Would love to hear your thoughts if you download and dive in as well.
Skip over related stories to continue reading article