Happy Monday, peeps. 

We've quietly "soft launched" this year's TrendsWatch report on the Alliance web site. I'll be posting a longer introduction later this week, but I wanted to send this early notification  to the nine hundred and twelve "Followers of the Future" who subscribe to the CFM Blog via email. (If you want to join their ranks, you can do so using the "subscribe" button on the right hand side of this page.)

This year's topics are: Empathy; Criminal Justice Reform; Artificial Intelligence; Migration and Refugees; Agile Design. You can download your free PDF copy here.  

It was challenging, exhilarating, frustrating and inspiring to grapple with these trends as I worked on the text, and such a pleasure to finally share the product of my labors. I look forward to digging into these topics with you in coming  months and learning more about how museums are responding to these forces shaping our world.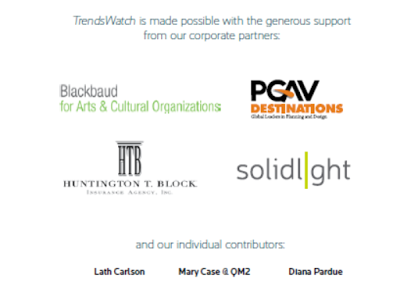 Skip over related stories to continue reading article