Hi, Nicole here! During January's inaugural leg of the Future of Education Road Trip, my fellow fellow Sage Morgan-Hubbard and I were wowed (and not a little moved) by our meeting with 

Socially Engaged Artist daniel johnson

at the 

Mississippi Museum of Art

in Jackson, MS. In 2014, daniel was hired as

Director of Engagement

and

Learning under the leadership of the museum's Director,

Betsy Bradley. daniel enacts a socially engaged art practice in his professional capacity in the museum in a profoundly unique way: he views his work as performance art. Intrigued by the possibility of thinking museum work itself as art, I reached out to daniel for more insight on his approach. He graciously responded. daniel writes, "

What follows is a dialog between the two on the thinking and hopes which prompted the decision, and the benefits and challenges which have arisen since."
daniel:
What led to hiring a Socially Engaged Artist at the Museum?
I understood that true partnerships might well be the answer. I knew that true partnerships depended upon our using different language and different ways of developing projects with organizations that may be suspicious of the Museum because of historical barriers such as perceptions of institutional elitism.  So, I thought of hiring someone to develop a community advisory council, or work on community partnerships.   
When our EmcArts facilitator described an organization in California that had a full-time community activist on its staff, I knew that felt right for our museum, and this thinking found its way into our strategic plan developed in 2013. 
daniel:

What benefits did you believe this would offer?
Betsy:

 

I expected that person to challenge our staff.  We had all been moving towards more inclusive, relevant, and timely programming for a decade, but we still had significant control over the ways we interacted with other organizations and the quality of products that resulted.  A community activist would make us look at plans from perspectives of others, to listen more than we talked, and to let go of complete control.  We would be required to trust other groups and be worthy of their trust.
When we hired you to work in the education department, we had already re-framed that work as "Learning and Engagement".  The fact that you were an artist as well as a community organizer was a bonus.  You have been teaching us how to keep art as the unifying force in all of this work.
Betsy: What has been the impact on your art practice? Have you seen a difference in the art that you create because of your work here?
daniel:

 

I'm pretty inclusive about what I consider my art practice. I appreciate that you allow me to perform my role as Director of Engagement

&

Learning explicitly as a work of Socially Engaged Art.
My art has always been rooted in intimacy and conversation, often times facilitating that by creating spaces with a sense of timelessness and abundance. Applying my artistic considerations within a functioning workplace chugging along according to deadlines and budgets has really challenged me to consider what it means to maintain real human connection under the tension of constraints which seem far removed from the people involved and the matter at hand.
I do think it is absolutely necessary to engage this paradox and connect the real pressures of operating a museum with fostering interconnected, interpersonal interactions between staff, the public, and the art works. I think those lessons will be broadly applicable to larger societal systems.
Betsy: What has surprised you the most about working in a traditional 
            museu

m

structure?
daniel:

 

The economy of purchasing, caring for, and exhibiting art demands so many 
            resources –

the disparity between what must be consumed to maintain core 
            museum operations and what remains for meaningfully connecting 
            communities with the work is stunning.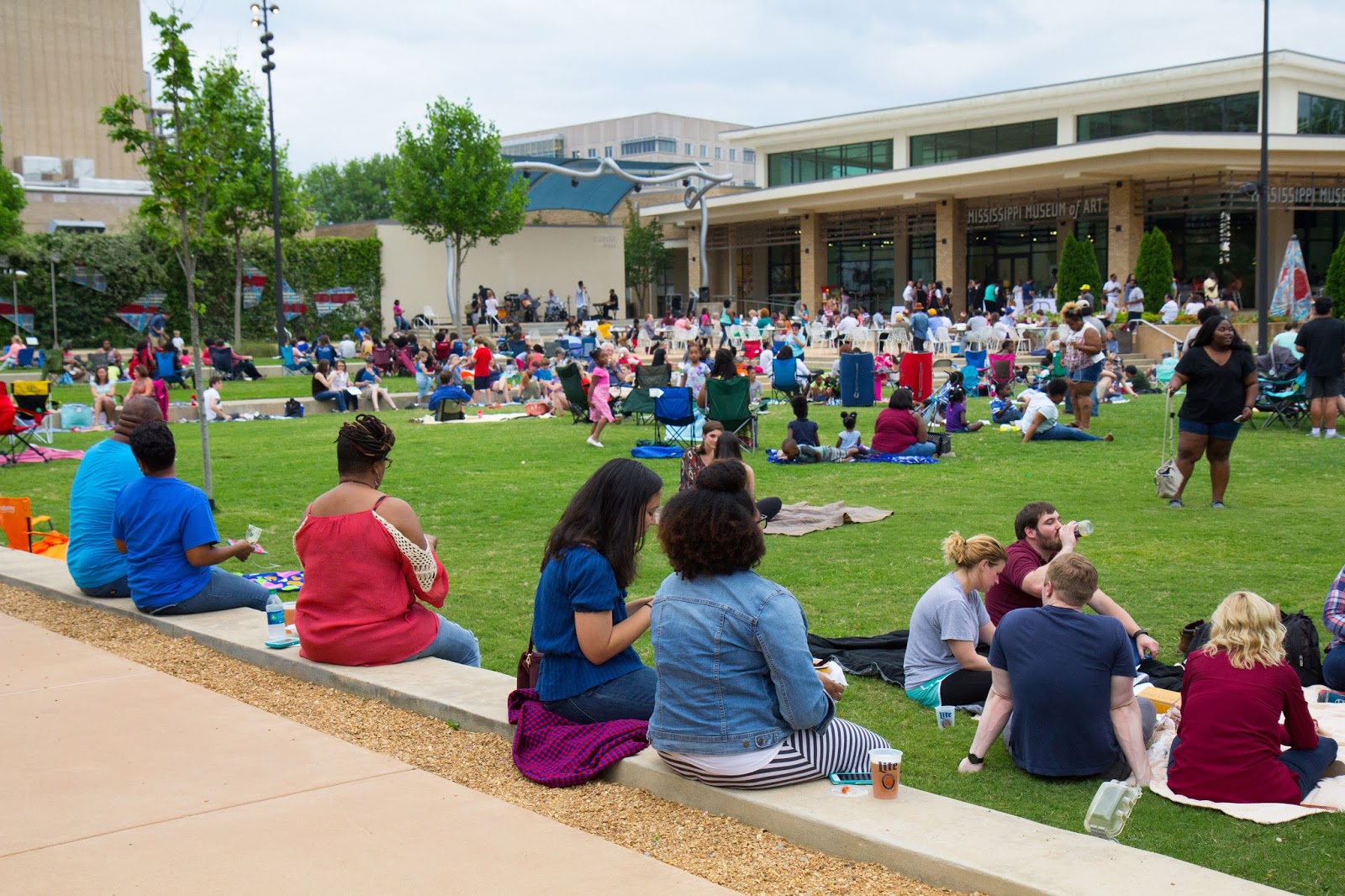 The Art Garden at the Mississippi Museum of Art
Skip over related stories to continue reading article
I think we are beginning to envision and realize ways to bring that into balance through making some exhibition development itself a dialog with history and community. However, there are more particular ways that organizations and affinity groups interact with the collection and institution which seem more difficult to channel resources toward.
daniel:

 

What have you seen in these first two years which have affirmed 
             your

hopes and what was unexpected?
Betsy:

 

I have seen how your way of working with the community has also affected other staff members and their work.   Our plan called for us to work more seriously in internal, cross-departmental teams and I have appreciated how the languages used in marketing and engagement work begins to reflect and reinforce each other, attracting more diversified participation at the Museum. 
I have also learned that we can't underestimate the power that language holds over us. The impact of generations of art historians and curators speaking one way absolutely reflects a way of thinking about their work, and about authority.  What perhaps has been more surprising to me is that community activists are also held under the power of their language which, to the person sitting in the middle of the table, is as strong-headed in its own authority as the more traditional curatorial voice is.  Mediating those voices to get to true understanding, acceptance, and progress is a daily part of my life, as the director. 
Betsy: What type of colleague has influenced you the most?
daniel:

I must admit to retaining some sense of being an 'agent' of the public in line with the Museum's Strategic Plan which makes me resistant to influence. I need to work on being more open to letting the Museum change me. I feel like I go through phases of surrendering only to realize I need to surrender more. I am also learning the ways we manifest agency as a team.
In many ways, I see people as fairly stable characters who bring influence to bear on projects. I am seeing staff exert more of their individual influence in development discussions even on projects outside of their departments. Seeing my colleagues' voices grow in response to each other reinforces my commitment to surrendering in all but key moments.
daniel:

  

What challenges have arisen and what would you suggest to other

m

useums who may try a similar staffing strategy?
Betsy:

It is definitely worth incorporating the work, language, goals, and passions of community activists into the work of museums that truly desire to matter to their communities, to be a place of increased understanding, a force for greater compassion, and a magnet for all types of people.  But one should take seriously both the opportunities and the challenges, not letting either traditional curators or activist artists give each other the virtual eye-roll.  Success depends upon people on a team being willing to be challenged by their colleagues, and being willing to change as a result of listening to a new perspective.