Since the start of my fellowship over 18 months ago—and certainly before that–the Center for the Future of Museums has been exploring new hiring practices and thinking about how companies are disrupting the hiring process to create more equitable workforces. Traditional measures of hiring for "cultural fit" have resulted in homogenous staffs, where "like hires like." This language of fit is, of course, not always intended to exclude. The interview process, traditionally, has prioritized making sure that new employees fit into existing workplace cultures. Conventional wisdom holds that fit should ensure team cohesion, reduce friction, and increase productivity. This couldn't be further from the truth. Studies show that diverse teams are more creative, more resilient. Diverse companies "out-perform non-diverse companies by 35%." This business case for diversity is compelling; the evidence abounds.
But, the question of how to create diversity in the workplace abounds, too.

 

Taking our cues from innovations in the tech sector, CFM is proud to partner with GapJumpers in our pilot program, FutureLab: Hiring Bias. This project will bring a cohort of museums together to undergo GapJumpers' full challenge-based blind hiring process. GapJumpers has discounted the cost of their regular process by thirty percent. The American Alliance of Museums is covering another twenty percent of the cost to offer participating museums a total discount of 50% of the regular fee-for-service. Participants will work with GapJumpers to tailor a challenge-based hiring experience to their own staffing needs. We are accepting applications for the first cohort of participants through

Friday, April

21, 2017.The project will run from May 1 through September 1, 2017. Participating museums will share their experiences with the field through blog posts and testimonials.
Together with the individual museum, GapJumpers will craft a Blind Skills Audition, part of their proprietary process that replaces the resume with examples of their job skills. Instead of submitting resumes, applicants submit their responses to a specific challenge assignment. The individual challenges are designed by GapJumpers with the input of the museum using natural language processing software. Applicants submit their answers in a digital format and are assessed by GapJumpers according to a rubric developed in partnership with the museum's hiring manager. The hiring manager only receives an applicant pool comprised of persons who have met the standards of the assessment for review.
U

nconscious or implicit

bias refers to the preferences, aversions and overall beliefs about individ

ual or group

difference that we aren't actively aware of. We all have them.

Factors

like non-white-sounding names and shared academic pedigree can engender unintended bias responses in the interview process. Even things like shared extracurricular activities can create implicit class bias, as interests like sailing, polo, and classical musical performance can signal subtle cues about taste and and access to wealth.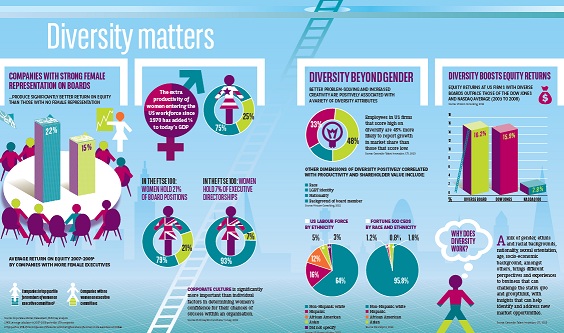 Quintessence Magazine, Autumn 2014
Several industries and fields have applied various strategies for reducing the impact of this bias in the hiring process. The Boston Symphony Orchestra famously inaugurated identity-blind auditions in 1952 to increase gender diversity in their overwhelmingly male ranks. Performers were asked to audition behind a screen with their shoes removed. This produced great results: women made nearly half of the candidates who advanced beyond the first round in the process. Today, the tech sector is applying software innovations including natural language processing and artificial intelligence to address the issue of unconscious bias in the hiring process. Companies like Textio use algorithms to assess gendered and age-ist language in the position descriptions. In addition to addressing diversity issues in the training pipeline, Silicon Valley is also looking to software to help make the application review process more equitable. In the spirit of experimenting together, CFM is partnering with GapJumpers to help museums address unintended bias in our field. I believe that the future of museum work depends on the future of museum workers–and that future must be an equitable one.


If you are interested in being part of this project, please let me know in the comment box below or email me at nivy (@) aam-us.org. We still have a few more openings for the first cohort and are also signing museums up for the second round of the project, to be tentatively launched in the fall. I will respond directly to you off-line with more specifics and a scope of work. I look forward to hearing from you!
Skip over related stories to continue reading article
/* Style Definitions */ table.MsoNormalTable {mso-style-name:"Table Normal"; mso-tstyle-rowband-size:0; mso-tstyle-colband-size:0; mso-style-noshow:yes; mso-style-priority:99; mso-style-parent:""; mso-padding-alt:0in 5.4pt 0in 5.4pt; mso-para-margin:0in; mso-para-margin-bottom:.0001pt; mso-pagination:widow-orphan; font-size:12.0pt; font-family:Cambria; mso-ascii-font-family:Cambria; mso-ascii-theme-font:minor-latin; mso-hansi-font-family:Cambria; mso-hansi-theme-font:minor-latin;}