From the nationally-renowned St. Louis Zoo, Laumeier Sculpture Park and St. Louis Art Museum to hidden gems like the World Chess Hall of Fame, Museum of Contemporary Religious Art and Field House Museum, "Go Explore St. Louis," taking place on Sunday, May 7 and Monday, May 8, will give Annual Meeting attendees a chance to check out St. Louis' top museums and institutions, for FREE, while enjoying some of its most distinctive neighborhoods. Many museums will have food or drink available on site– but attendees are also invited to explore the surrounding neighborhoods to get a taste of St. Louis' acclaimed culinary scene. The hardest part? Deciding which route to choose!
Go West (Sunday, May 7)

The Go West route is all about play! Featuring two of the most fun attractions in St. Louis, this progressive evening starts at the 105-acre Laumeier Sculpture Park, where visitors can enjoy large-scale outdoor sculptures by artists such as Ernest Trova and Niki de Saint Phalle, and free beer by longtime local brewer Schlafly. The tour then makes its way to The Magic House, St. Louis Children's Museum, a wonderland of creativity, hands-on learning, and of course, magic! Attendees will enjoy a free dinner buffet with soft drinks, beer, wine, and soda as part of the tour.
Go Grand Center takes visitors into the heart of St. Louis – and its premier arts and entertainment district, home of the St. Louis Symphony, Fabulous Fox Theatre, Jazz at the Bistro, and dozens of other arts organizations. With many of the city's top museums, galleries and cultural attractions within walking distance,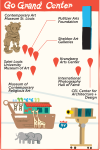 this route is the best "bang for the buck!" Modern architectural gems such as the Contemporary Art Museum (designed by Brad Cloepfil) and Pulitzer Foundation for the Arts (designed by Tadao Ando) feature internationally recognized exhibitions in a range of media in breathtaking spaces. CEL Center for Architecture + Design acts as a gallery and incubator space, promoting a better understanding of how architecture and design improve communities and the world.
The International Photography Hall of Fame and Museum is a mecca for photography lovers as a permanent space to honor the world's top photographers and inventors. On the campus of St. Louis University, the Saint Louis University Museum of Art shows off a range of rotating exhibits of works by modern masters, while the Museum of Contemporary Religious Art at St. Louis University, the world's first interfaith museum of contemporary art, explores religious themes in an inclusive way, showcased in a peaceful, contemplative space. The gallery at Kranzberg Arts Center, a multi-disciplinary space featuring visual art, theater, and music, will feature works by students from the University of Missouri-St. Louis, in an exhibit examining social and political issues. The Sheldon Art Galleries, connected to the acoustically-perfect Sheldon Concert Hall, features rotating exhibits in dedicated galleries to photography, architecture, music history, St. Louis artists and children's art. The Sheldon will also host The Big Schmooze Professional Network Meet-Up on Sunday night – a great way to interact with your fellow arts professionals in a casual setting!
Many of the galleries will have snacks and cash bars available, but neighborhood dining options include great Italian fare at LoRusso's and Vito's, and the elegant Dark Room, featuring artisan food, a fabulous wine and cocktail list, and visual art, all under one roof.
Go East (Sunday, May 7)

Cross the Mighty Mississippi into Illinois on the Go East route, featuring the Cahokia Mounds State Historic Site, a UNESCO World Heritage site that examines the influential Mississippian culture that flourished here 1,000 years ago. The history of the region comes alive through gallery exhibits, film, and the 150-step Monks Mound, the centerpiece of the site. This tour will include complimentary light hors d'oeuvres, cupcakes, and beer, wine and soda.
Though two of the most historic neighborhoods in St. Louis, Old North and Downtown have become some of the most sought after areas for creatives from all walks of life. The 14th Street Artist Community in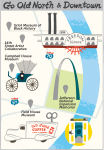 Old North connects art with the community in what they call an "experiment in social enterprise, social and cultural outreach, and cooperative economics." The Griot Museum of Black History, only the second of its kind in the country, beautifully shares the stories of prominent African Americans through art, artifacts and life-sized wax figures.
Downtown, get a sneak peek of the project everyone in town has been buzzing about– the transformation of the Jefferson National Expansion Memorial otherwise known as The Arch! Then wander down to The Field House Museum, the boyhood home of Eugene Field, the "The Poet of Childhood," and the son of Roswell Martin Field, who served as Dred Scott's attorney when he sued for his family's freedom in 1853. Wrap up at the Campbell House Museum where in addition to enjoying Virginia Campbell's original recipe Roman Punch and the Bombay Food Junkies food truck, you can view "Curated Curiosities: Victorian Taxidermy & Other Pastimes," and restored 1885-period rooms with the Campbell's original collection of furniture, paintings, and unique interior photographs. The nearby Washington Avenue entertainment district offers a wide range of dining and nightlife, including Hiro's Asian Kitchen, Rosalita's Cantina, and Alpha Brewing Company.
Two of St. Louis' most vibrant, thriving neighborhoods are featured on this excursion. Craft Alliance Center of Art + Design in the bustling University City Loop presents works by acclaimed St. Louis artist Juan William Chavez and is within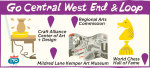 walking distance of award-winning restaurants, Publico and Randolfi's. The Regional Arts Commission down the street will feature works by 40 Latinx/Chicano artists, along with live music by Clave Sol, complimentary food, wine and soft drinks. Perennial "Best Pizza" award-winner, Pi, is right next door! Designed by Pritzker Prize-winning architect Fumihiko Maki, the Mildred Lane Kemper Art Museum on the campus of Washington University will host live music by the Poor People of
Paris, the Holy Crepe food truck, the EdCom and CARE professional networks, as well as the board of the Museum Education Roundtable.
In the elegant and historic Central West End neighborhood, the World Chess Hall of Fame is impossible to miss with its 14′ 6″ tall chess piece out front – an official Guinness World Record! This one-of-a-kind museum will host the development/membership and media relations/marketing meet-up, in a sure to be a fun-filled evening. The surrounding blocks host some of St. Louis' top restaurants, including Bar Italia, Mission Taco and The Preston at The Chase.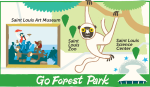 Monday's one and only trip takes attendees to the crown jewel of St. Louis – Forest Park – the largest urban park in the nation. With some of the city's most beloved institutions, Forest Park is home to the recently-expanded Saint Louis Art Museum, with a contemporary east wing designed by David Chipperfield complimenting its Cass Gilbert-designed Main Building. With over 33,000 works in its collection, the Art Museum's collections range from Old World Masters to Modern and Contemporary art from around the world.  The fabulous Saint Louis Zoo, one of the most respected in the county, was recently voted the "Best Free Attraction in America" in a USA Today poll, and the Saint Louis Science Center will show off its recently opened outdoor-exhibit, GROW, highlighting the journey from farm to table. The Science Center Grill will have a variety of sliders, flatbreads, and a selection of local beer and wine for sale!
Shuttle passes are just $20, but prices go up after April 10 so book early to enjoy guaranteed ground transportation to your route of choice! Shuttle buses will depart each night on the half hour from 6 to 7:30 p.m. and leave the neighborhoods from 8 to 9:30 p.m. Click here to learn more or to register!