In TrendsWatch 2017 I highlight Shared Studio's Portals in the chapter on Empathy. These bi-directional video walls host virtual "face-to-face" conversations between people around the world, and have been used by a variety of institutions, including museums, to connect diverse communities and foster conversations. Today's guest post, by Nancy Gillette, and Jackie Scutari of the United States Holocaust Memorial Museum in Washington, DC, shares how their institution used a Portal to harness the power of human connections.
"
Speaking and connecting in real time makes quite clear my responsibility to do something. To share. To speak up. To give assistance.To speak truth to power.To challenge stereotypes. To act on my values."
— reflection from Museum visitor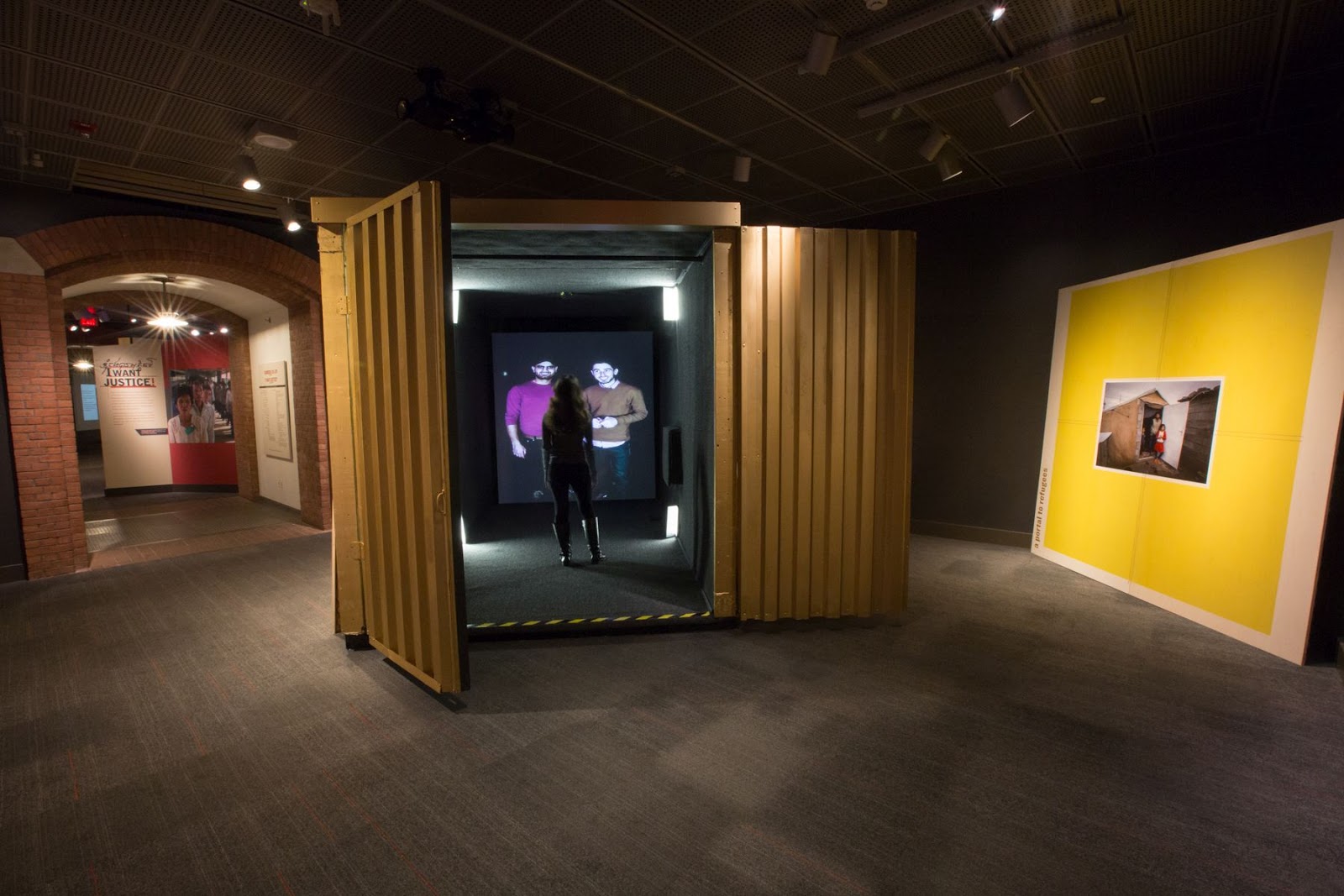 A visitor in the Portal at the United States Holocaust Memorial Museum
speaks with Omar and a friend in Berlin's Tempelhof airport,
which provides services to refugees.

The genocidal crimes of the self-proclaimed Islamic State (ISIS)
in Northern Iraq and the war crimes of Syria's Assad regime have created the greatest humanitarian crisis since the Holocaust and World War II and destabilized large regions of the Middle East as well as Europe. The sheer numbers of people impacted, and the drumbeat of media stories can have a numbing effect.
We at the United States Holocaust Memorial Museum found ourselves asking, "How can we help visitors better understand the human consequences of mass atrocities and genocide?"
For three months, our answer was the Portal: an immersive, audio visual experience created and facilitated by Shared Studios that connects strangers across the world in real time. The Portal was part of the Museum's exhibition, "Genocide: The Threat Continues," which focuses on the work of the Museum's Simon-Skjodt Center for the Prevention of Genocide to bring attention to people and places at risk today for genocide and mass atrocities.
The video screen is large, allowing participants to see each other in full scale. The Museum partnered with Shared Studios to connect our visitors with individuals who had fled the Assad regime in Syria or ISIS-occupied areas of Syria and Iraq and who are living in the Harsham internally displaced persons camp in Erbil, Iraq and at a refugee resettlement site in Berlin.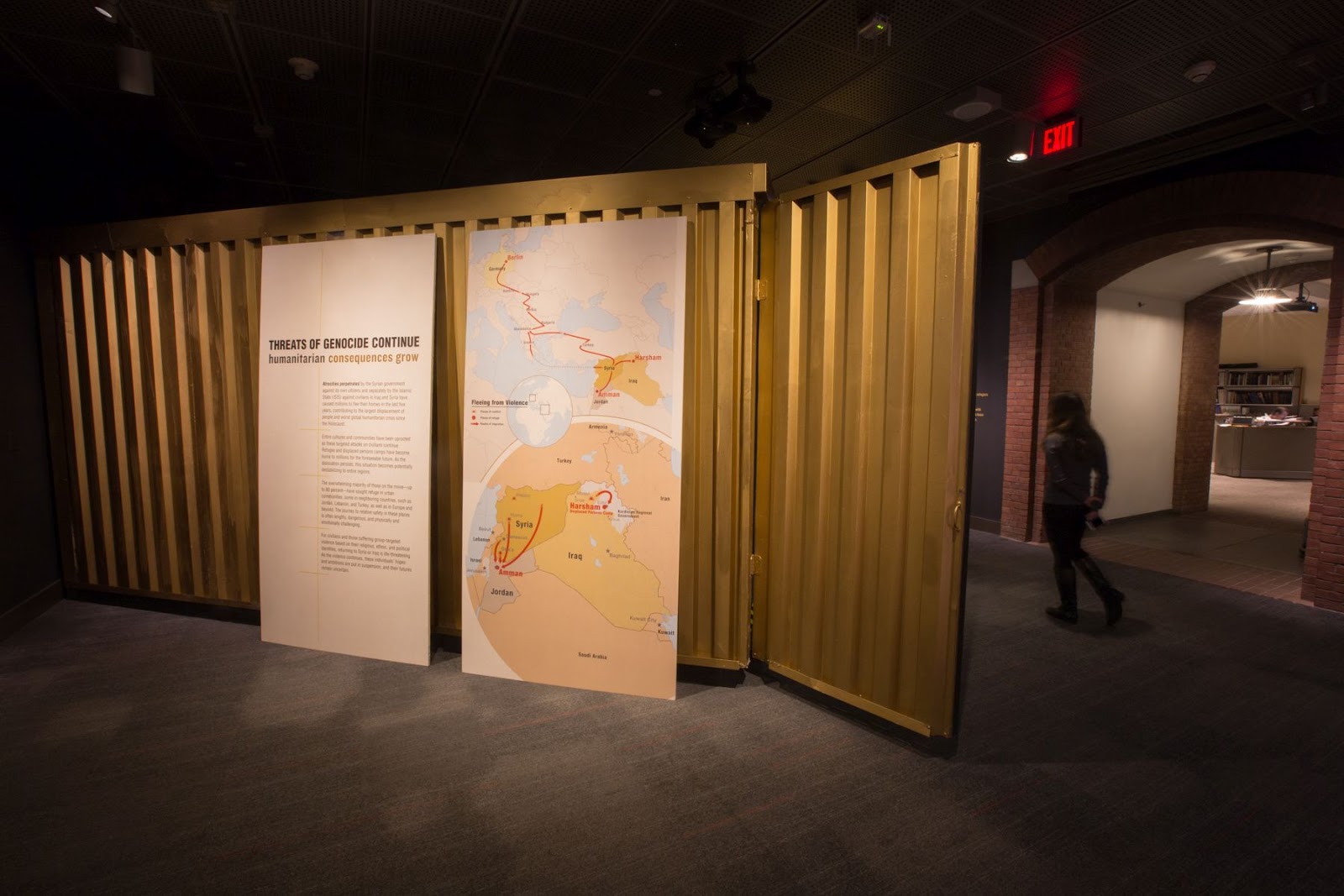 The Portal with introductory text panel and map showing refugee transit routes.

Why focus on these conflicts?
The Museum has been deeply concerned for some time about the genocidal violence of ISIS in Iraq and the group targeted violence of the Assad regime in Syria. Millions of civilians have been displaced. People are being targeted for persecution and death on the basis of their religious, ethnic, and political identities.
We chose this technology to put people face-to-face in an intimate setting (a repurposed shipping container) and encourage conversation as a way of breaking down barriers and opening our ears, minds, and hearts—and to give voice to those many of us have only heard about in the news.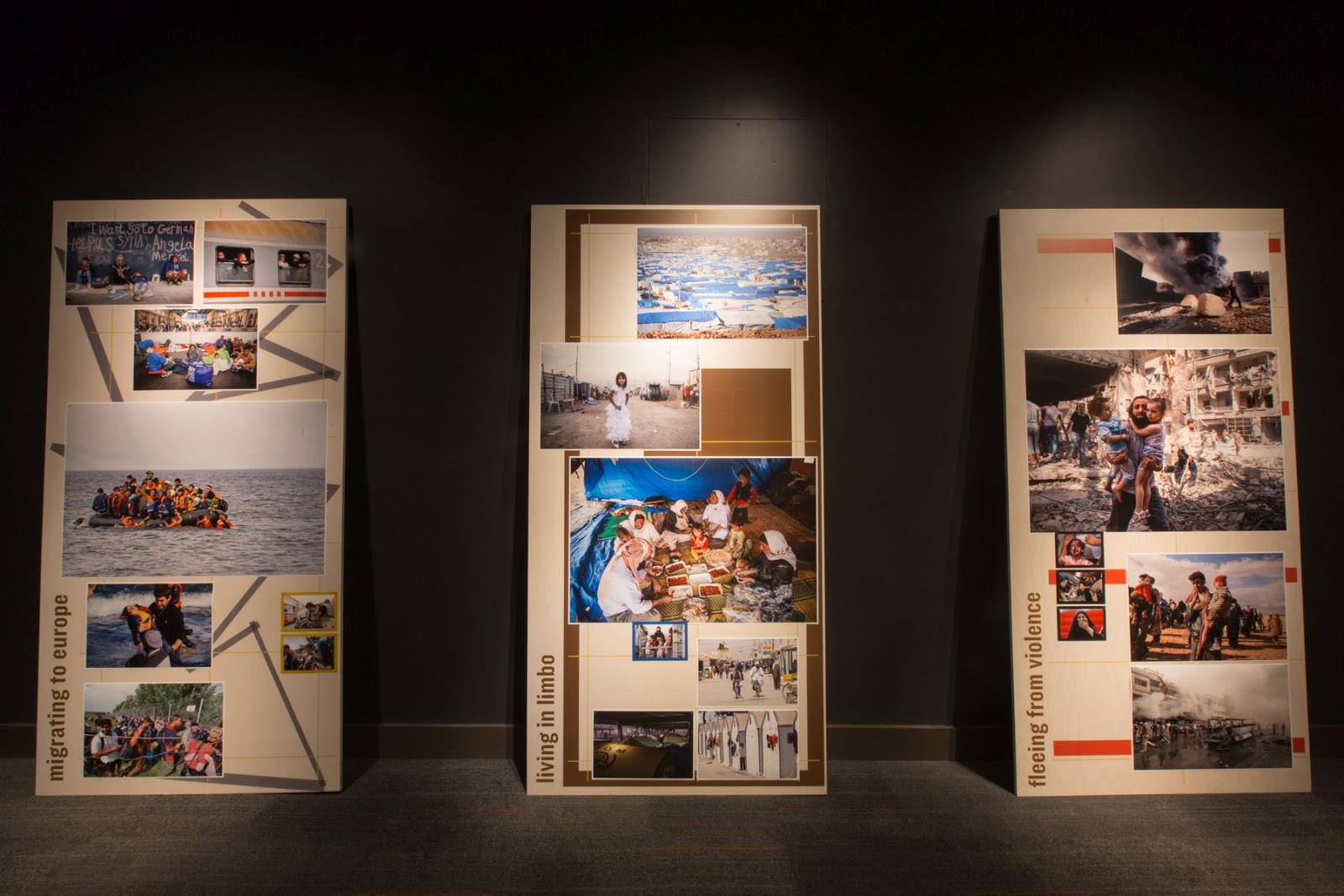 Thematic graphics panels.
Since meeting someone who has presumably suffered trauma can be daunting, questions were provided to break the ice and connect people along common threads, such as preferences for food and music. On site facilitators were also available on each end of the Portal—if needed—to help get the conversation going. Among our goals was to help people discover our common humanity; to give voice to those victims of group targeted hate; and reinforce the basic notion to our visitors that the problem of genocide did not end with the Holocaust.
The conversations ranged from serious and moving to light-hearted, with many spontaneous moments. The impact they had on our visitors was undeniable. After speaking with Omar, a Syrian from Damascus now living in Berlin, an eleven-year-old boy visiting with his school summed up his thoughts this way: "He's like a regular person!" Another visitor remarked: "It was very interesting to get to know someone. It is harder to generalize or demonize the "other." Thank you to the Portal project."
Museum visitors inside the Portal
speaking with Rami in Harsham Camp, Erbil, Iraq.
Awareness and understanding can lead to deeper reflection and potentially action. The visitor comment at the beginning of this post illustrates the power of the experience to move people to a higher level of caring and consideration of their own sense of agency. As one teacher shared: "As an educator, constantly opening my students' eyes to current happenings in the world is something I consider one of my duties. Before I can do that, I need to open up my own. Thank you for such an eye opening experience."
One of the most moving moments at the Portal was this conversation between a Johanna, a Holocaust survivor, and Omar, the aforementioned Syrian refugee in Berlin:
Johanna's ability to connect with Omar through their shared experience of persecution and flight, and her solidarity and words of comfort to him was a truly profound moment. So many great moments and inspiring conversations took place over the course of the three months, thanks to some thoughtfully deployed technology and the power of human connection.
Nancy Gillette is Special Exhibitions Manager for the Museum's Levine Institute for Holocaust Education. Jackie Scutari is Program Manager for the Museum's Simon-Skjodt Center for the Prevention for Genocide.Through its Simon-Skjodt Center for the Prevention of Genocide, the Museum has worked to bring attention to those who have been targeted for mass violence and genocide by the Islamic State and the Syrian regime through bearing witness trips to the region, educational programming, exhibitions, and special projects, such as the Portal. You can follow the work of these initiatives on social media via @CPG_USHMM @HolocaustMuseum @SharedStudios
Skip over related stories to continue reading article