Have you ever wondered why certain museums look the way they do? In this first in a series, noted Travel Channel host Don Wildman, elaborates on various architectural elements of museums. Here, he discusses why the Museum of Science and Industry in Chicago looks like the Museum of Science and Industry.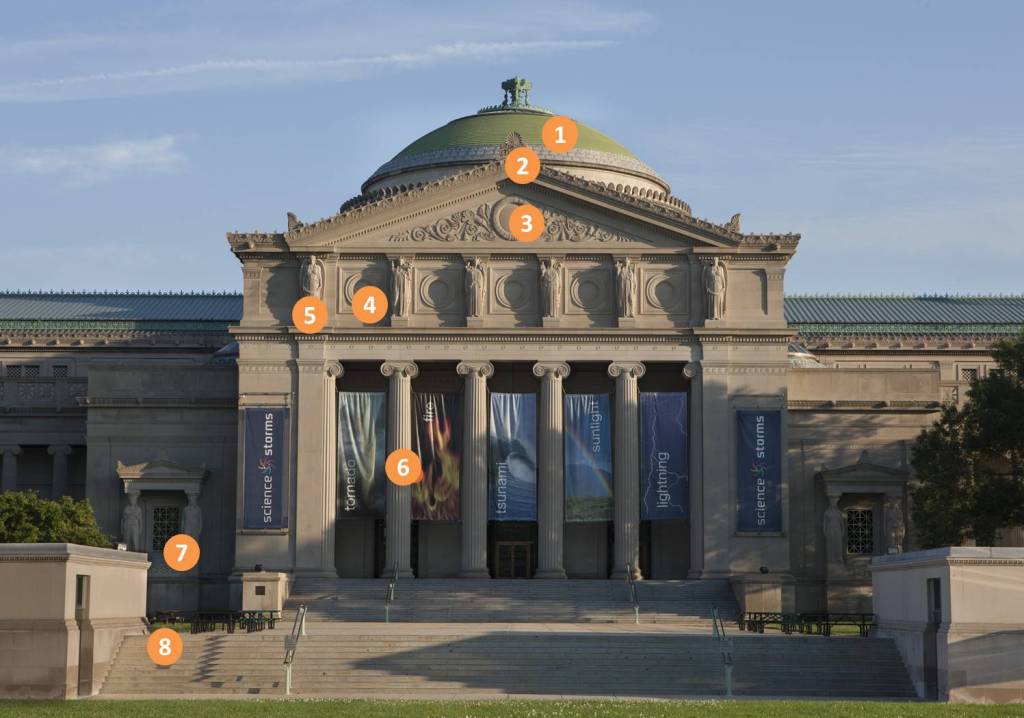 Designed by Charles Atwood under the direction of D.H. Burnham & Co., the Museum of Science and Industry was built as the Palace of Fine Arts for the World's Columbian Exposition of 1892. Originally constructed of wood and staff (hemp and plaster) supported by a fireproof brick and iron framework, this Beaux-Arts showpiece was one of the few White City structures to remain when the fair was dismantled.

The Copper Dome: As in ancient temple design, a dome is a celestial reference–it's like the hovering sky. Copper used for corrosion resistance oxidizes to a protective, green patina (see Statue of Liberty). A version of Winged Victory originally capped this dome but was removed fearing she'd take flight in Chicago's high winds.

Acroterion: The ornamental palmette—palm fronds, spreading—often caps the pediment (akro, Greek for summit). It's a derivation of features on Egyptian and Assyrian structures referencing the sacred lotus or papyrus. Griffins symbolize courage; Herodotus claimed Griffins also hoarded gold and precious items.
Laurel Wreath and Branches: The laurel wreath is worn by gods and victorious sportsmen. Traditionally horseshoe-shaped, it evolved to a full 360 (see Olympic rings). Here, the wreath resides within a joyful tangle of vegetation implying the order of science and industry arises triumphantly from nature.
Metopes: A metope is the square space between two triglyphs which, here, are hiding behind the small, sculpted females. These metopes were intended to be filled with bas-relief profiles of Michelangelo, Titian, Raphael, Rembrandt, and Velasquez but, alas, it was no longer the Palace of Fine Arts!

Entablature: The space between the roofline and the highest point of the columns–this entablature contains the six female figures that conceal the triglyphs behind each of them. Four innermost represented architecture, painting, music, and sculpture—now, they stand for East, West, North, and South.

Ionic Columns: Many elements of the MSI façade are lifted directly from the Erectheum at the Athenian acropolis. Each of these six columns is fluted, suggesting a female figure; Doric columns were uniform and thus masculine.

Caryatids: A caryatid is a sculpted female figure that replaces a column. These are most famously found at the Erectheum (see Caryatid Porch). Roman architect Vitruvius claimed caryatids depicted traitorous women forced to support the weight of the temple—more likely, a less dramatic reference to women transporting baskets atop their heads.

Steps: Greek temple steps most often wrapped entirely around a structure. Here, the famed North Portico steps—the building's original main entrance–are in the Roman style, providing access and a convenient stage for speeches. Indeed, during the World's Columbian Exposition a statue of Augustus loomed outside and public oratory was an activity.