Exciting Update (12/12/19): In response to the survey results discussed in the November 2017 blog post below, our new toolkit Designing A Museum Volunteer Program is now available! I am so pleased to be part of an effort that began as a single graduate school project, generated enthusiastic responses from the field and AAM, and then quickly took on a life of its own. Two years later, the toolkit is designed and published (and, yes, I did graduate!).
Because staff capacity was identified as one of the top barriers to successful and sustainable volunteer museum programs, this toolkit offers frameworks for day-to-day operations and strategic planning that can increase staff efficiency and help you target the essentials for your institution. Combining checklists and worksheets with some "Digging Deeper" tips helps make the toolkit flexible for museums of different sizes, which was also mentioned in the survey as important.
Each section includes alignment to professional standards from the AAM and the American Association for Museum Volunteers (AAMV). Special thanks to Richard Harker at AAMV and to our very patient colleagues in the field who gave feedback through several iterations.
—Susan Zwerling
---
What's most challenging when managing a museum volunteer program? Could a toolkit possibly help with some of it? 111 people responded to a recent survey about Museum Volunteer Programs. Posted in four online forums for one week, the survey had six questions and was designed as part of an internship project on possible museum toolkits for the AAM.  This was a graduate student project with Johns Hopkins University and I am also an employee with the AAM MAP Program. I received several requests for the results to be made public and am happy to share these responses as part of the ongoing dialog about challenges involved in museum volunteer programs.
The great majority of respondents (93%) already had some type of volunteer program at their museum. Those that did not have a program stated, in an open ended question, that the top three barriers to having a museum volunteer program at their museum were Lack of Time (25%), Supervision of Volunteers (20.8%) and Staff Attitude towards Volunteers (16.6%).
The next question was for those who had some type of program in place: "What are the three biggest barriers to managing and supporting your museum's current program?" 24 categories were then created for organizing the responses from 102 people. The top four categories were: Staff Capacity (36%), Recruiting (22.7%), Volunteer Availability/Reliability (20.59%), Time (19,61% and Training/Professional Development (17.65%). It was interesting to see that lack of administrative support wasn't rated as a big barrier.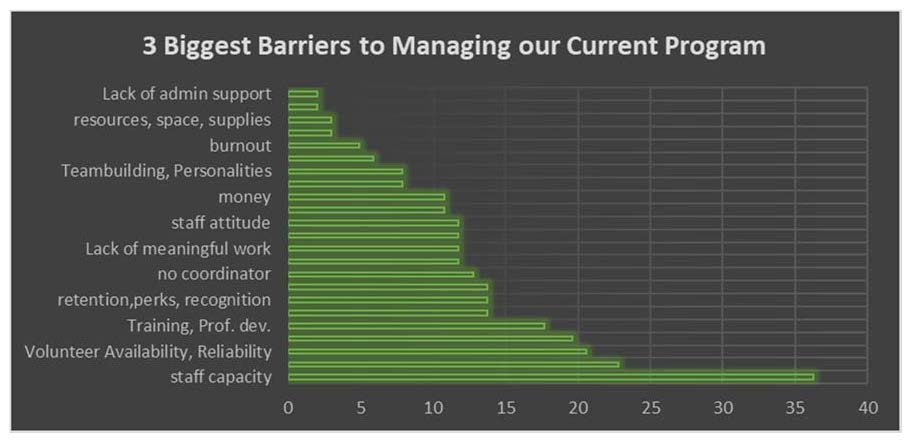 We next asked folks to pick (from a list of 13) the three topics that they'd like to see in a toolkit. We're reporting the top five because the results were statistically so close.

After analyzing the responses to Question 5 we realized we could have included in the list a toolkit topic on Improving Staff Capacity, Training and Attitude. The issue of staff capacity is intertwined with most other topics and we feel it should be part of holistically designing a Volunteer Program. The 4th highest rated topic on Determining Infrastructure certainly includes Staff as a major component. But, since Staff Attitude was also identified as a barrier to starting a program, perhaps this concern deserves further research and more focused attention in current literature and resource design.
One of the most interesting responses was to this question: "Would you be interested in a Toolkit to help establish a volunteer program or expand and strengthen your museum's current volunteer program?" 45% answered "Yes", 45% answered "Maybe" and 10% answered "No". The large number of "Maybe" replies was a surprise, but became more understandable when looking at the responses to the open ended final question, which was "Would you like to say anything else…?."
A number of people expressed concern that a toolkit might not be really be useful because museums are so unique. Others commented that a toolkit needed to be designed for small museums with few staff and/or no program coordinator. 31% wanted to say how interested they were in a toolkit on managing volunteer programs and several simply said "thank you"!
We learned from participants that volunteer programs are on people's minds, that people are looking for ways to meet the challenges of volunteer programs and would love some practical resources. Other takeaways are that a toolkit needs to be usable by museums of all types and sizes. And, we discovered that staff capacity and attitude is a big issue for many museums.
Our next step will be to design a prototype toolkit around the 4th highest rated topic from the survey: "Determining the resources and infrastructure my museum needs to support a volunteer program (such as time, staff, space, supplies, technology, support from other departments such as HR and Marketing)". If you would like to help provide feedback on this toolkit after the prototype is developed, please email me at szwerli2@jhu.edu.
Susan Zwerling is a Museum Assessment Program Officer for AAM she is also pursuing her master's degree in museum studies from the Johns Hopkins University.