The 2018 Excellence in Exhibition Label Writing Competition is open for submissions! Consider sending in some of your organization's best recent labels for the chance to be featured in the competition's display at the Marketplace of Ideas during the 2018 AAM Conference in Phoenix, AZ. More information and submission guidelines can be found here.
The competition, currently in its 9th year, is well regarded primarily thanks to the skills and experience of the museum professionals who serve as jurors.  Every year four experts in exhibition label writing generously donate their time to review all of the submitted work and identify only the labels that they, collectively, consider to be truly "excellent."
Let's meet the jurors for the 2018 competition!
Joanne Hyppolite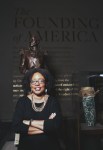 Joanne Hyppolite, Ph.D. has been a Museum Curator with the Smithsonian National Museum of African American History and Culture (NMAAHC) since 2014. She specializes in African American and African diaspora material and expressive culture and black immigrant American community life.  She is the curator of the Cultural Expressions inaugural exhibition and co-curator of A Century in the Making: Building the National Museum of African American History and Culture for the NMAAHC. From 2008 to 2014, she was the Chief Curator at HistoryMiami Museum, where she oversaw the exhibitions and collections department. Exhibitions curated at HistoryMiami include Black Crossroads: The African Diaspora in Miami, Haitian Community Arts, Necropolis Cristobal Colon: Photographs by Raul Rodriguez and Black Freedom in Florida. She holds a Ph.D. in Literature from the University of Miami, an M.A. in African American Studies from the UCLA and a B.A. in English and Afro American Studies from the University of Pennsylvania. She is also a published writer of fiction and non-fiction for children and adults.
What makes a label excellent?
Like a great book an excellent label is one that I want to finish reading. The start must have a good hook (you got me!), the unfolding middle engross (what? how interesting) and the end leave me with a sense of satisfaction (wow, cool to know!).  If only it were so simple to craft them! Inviting museum visitors into written content (to learn!) and keeping them engaged requires the label writer to know their audiences (who are you now?  how old are you anyway? and how did you find your way into this exhibition?) and with that knowledge foremost demonstrate their equal familiarity and skill in wielding the emotional power and the information that words shaped into sentences and paragraphs deliver. This is work and art.
Michael Rigsby
Michael Rigsby has more than 25 years' experience working as an interpretive writer, content developer, and web producer. He's served on staff at the Shedd Aquarium in Chicago and the Monterey Bay Aquarium in California, as well as serving as a senior exhibit writer and developer for the Hilferty and Associates design firm in Ohio. Since 2007, Michael's worked as an independent contractor serving museums, visitor centers, science centers, history centers, conservation organizations, aquariums, zoos and park associations. His primary areas of focus include history, natural history, and science. A number of Michael's exhibits have been honored with Excellence Awards from the American Association of Museums, including the introductory label Dinosaur Hall for the Natural History Museum of Los Angeles County which was honored with the Annual Excellence in Exhibition Label Writing award.
What makes a label excellent?
What sets excellent labels apart from those that are merely good or competent?
Excellent labels are faithful partners to their exhibitions. They enhance and deepen, but never distract.
They greet visitors on familiar ground then lead them to new discoveries. They speak with a clear, true voice and encourage conversation. Each word, chosen and placed with care, must carry its own weight; there's little room to ramble.
They have a rhythm, a flow, that carries readers along. They are trustworthy guides; they never mislead. They invite you to go deeper.
They paint pictures and stir emotions. They build bridges. They surprise, inspire and enchant. They provoke thought and evoke hidden memories. They can make you laugh, or cry, or dream.
Each conveys one clear message, yet entices the imagination with hints of the immensities shimmering beneath the surface.
Each has a strong heart and a pure soul.
Jennifer Scott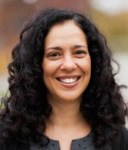 Jennifer Scott has worked with museums and arts organizations for over twenty-five years. As Director of the Jane Addams Hull-House Museum, she serves as chief curator, leading the exhibitions, community engagement efforts, and overall vision of the museum. Recent Hull-House exhibitions include Into Body Into Wall featuring the 96 Acres Project; Aram Han Sifuentes' Official Unofficial Voting Station: Voting for All Who Legally Can't/VOX POP: The Disco Party; and Claiming Space: Creative Grounds and Freedom Summer School. Jennifer serves as faculty in the graduate program of Museum and Exhibition Studies at the University of Illinois at Chicago and at The New School in New York, where she teaches courses on arts and social engagement, race and ethnic studies, and museology. She serves as a Board Member for the Association of Midwest Museums and is a Mentor Curator for the Chicago Artists Coalition. Jennifer researches, writes, and lectures widely on arts and social change, relevancy, and innovative strategies for museums. Recent publications include "Designing for Outrage: Inviting Disruption and Contested Truth Into Museum Exhibitions" in Exhibition (Spring 2017).
What makes a label excellence?
The best labels make sharp, cogent observations about the objects and spaces they represent. They point us to details we might otherwise overlook. And they introduce us to fresh ways of seeing and thinking.  Labels quickly and crisply conjure up images, spark the imagination, and inspire wonder in just a few words, make an exhibit or object of art come alive. A good label tells just enough of the story–a meaningful glance–then leaves the rest for us to complete. I am particularly enthralled by labels that challenge us – subvert normative narratives, counter what we think we already know, take a bold stand, twist our sense of truth just enough to compel us into conversation or deep thought. Maybe in the end, a good label is like a good seduction; the memorable ones bold and unafraid to flirt with absurdity, humor, and outrage.
Bonnie Wallace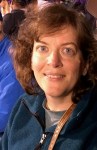 Bonnie has written for museums for more than twenty years. Following a short, enlightening internship at the Monterey Bay Aquarium in 1995, she moved to the California Science Center. She wrote and edited labels for exhibits on technology, stage magic, air and space, and ecosystems. Bonnie also edited an exhibit book and taught summer campers the art of label writing.
In 2004 she turned freelance and currently lives in Colorado. She has written with teams and solo for many clients, including the Detroit Institute of Arts, The Franklin Institute, the Monterey Bay Aquarium, the California Academy of Sciences, and most recently the Jefferson National Expansion Memorial museum in in St. Louis.
She loves to tell stories in chunks of sixty words or less.
What makes a label excellent?
A good label says: Let me tell you a story.
Not a long story–we don't have much time.
The first words stop you as you walk by.
The next words hold you, lead you somewhere new,
reveal what you didn't know. You discover a new angle,
an unfamiliar voice, a different way of looking.
Then, too soon, it ends.