For Immediate Release
ARLINGTON, VA – Two museum programs and one museum professional have gained accolades from the Education Professional Network (EdCom) of the American Alliance of Museums, the only organization representing the entire scope of the museum community.
"There are many museums doing great work all across the globe," said Claudia B. Ocello, President & CEO of Museum Partners Consulting, LLC and chair of the EdCom Awards Committee. "Besides elevating individuals and programs as models of excellence in the field of Museum Education, the EdCom Awards also showcase the vital role museums play in society."
The awards are judged by peers in the Museum Education field. Here's more about each of the awardees:
New Bedford Whaling Museum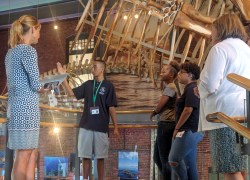 The New Bedford Whaling Museum (NBWM) in Massachusetts received the Excellence in Programming award for its High School Apprentice Program. Started in 2010, the program has made a significant impact in a community where only 20 percent of its residents have a college degree and nearly 30 percent of the population does not have a high school diploma. Since its launch, the program has grown from serving six juniors and seniors in its first year, to serving 18 students in grades 10-12. It now has 51 graduates and boasts that 100 percent of them graduated from high school and 94 percent pursued some form of post-secondary education, including a two or four-year college, trade school, or the military.
"The New Bedford Whaling Museum has long been a national leader in dynamic and innovative educational programming and we are delighted to be recognized by the American Alliance of Museums with the EdCom Award for Excellence in Programming," said Sarah Rose, the museum's Vice President of Education and Programs. "The High School Apprenticeship Program is woven into the fabric of the Museum in wonderful and unexpected ways, creating a robust community within our walls that connect to our city and far beyond. The apprentices thrive in a supportive, challenging, and creative environment, using our vast collection of art, history, and science artifacts to explore the past and plan for the future."
Museum of Contemporary Art — Chicago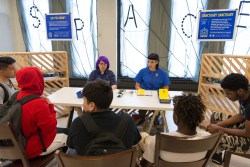 The Museum of Contemporary Art (MCA) in Chicago was recognized with EdCom's award for Innovation in Museum Education for its SPACE (School Partnership for Art and Civic Engagement) program. This three-year program embeds artists and their studio practices inside Chicago public high schools, physically transforming spaces in the school into creative hubs for artistic and civic exchange. Artists work in partnership with the art and social studies teachers to co-design and co-teach an interdisciplinary socially engaged curriculum that fulfills civics and arts learning requirements, and meets relevant standards. The program provides 100 contact hours per student with the resident artist in the core classrooms, with additional hours spent on service learning projects and/or community action.
MCA Director Madeleine Grynsztejn said, "We are very honored that the MCA has earned this recognition by the esteemed AAM for our revolutionary SPACE program. Learning is at the heart of what we do at the MCA, and SPACE has transformed the very possibilities for community building outside of our walls. The impact of such a program has been felt by countless students and teachers in Chicago, and we hope our efforts inspire museum professionals across the nation to follow our lead."
Maria Marable-Bunch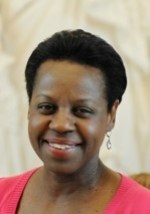 Maria Marable-Bunch was honored with EdCom's Excellence in Practice award, which recognizes an individual who demonstrates exemplary service to the public through the practice of education in a museum. Bunch has had a long and distinguished career in education at a host of museums including the Art Institute of Chicago; Kidspace Children's Museum of Pasadena, CA; the US Capitol Visitor Center; the National Gallery of Art; and the Smithsonian Office of Education and Museum Studies. She currently serves as Director, Education and Public Programs at National Archives and Record Administration (NARA).
"Maria is admired and respected by her many peers who have witnessed her passion, creativity, and commitment to learning and engagement," said Nathan Richie, director of the Golden History Museum & Park in Golden, CO. "She gives generously of her time and expertise, and she is an excellent storyteller with some pretty amazing tales to share."
"Engaged learning has always been the driving force behind my work as a museum educator," said Marable-Bunch. "Museums and their collections provide me the source for exploring the potential of learning in these magnificent places. What an honor to be recognized by my colleagues, EdCom, and AAM."
Bunch's career achievements in museum education include:
The National Conversations on Rights and Justice series that she conceived as part of NARA's celebration of the 225th anniversary of the ratification of the Bill of Rights in 2016.
Development of the concept proposing a Museum School for DC Public Schools. Her concept paper was the basis upon which DCPS developed the grant for the schools.
Development of Brent's Curriculum Framework and Courses through Trinity College for teachers who were interested in a Master's degree in museum education.
Learn more about EdCom, the Education Professional Network of the American Alliance of Museums.
About the American Alliance of Museums
The American Alliance of Museums has been bringing museums together since 1906, helping to develop standards and best practices, gathering and sharing knowledge, and providing advocacy on issues of concern to the entire museum community. Representing more than 35,000 individual museum professionals and volunteers, institutions, and corporate partners serving the museum field, the Alliance stands for the broad scope of the museum community. For more information, visit www.aam-us.org.
###
Media Contact:
Joseph Klem
Director, Public Relations
American Alliance of Museums
202-218-7670
jklem@aam-us.org