I want to change people's lives through art. Simple as that.
I thought I would accomplish this goal as an artist, but as my career progressed, doors opened in a different direction. I quickly discovered that I could impact more people in a museum rather than my studio–first as an educator, then programmer, curator, and now as director of the Philbrook Museum of Art in Tulsa, Oklahoma.
Skip over related stories to continue reading article
At Philbrook, I landed an ideal situation in which to utilize my talents and vision. I followed a series of strong directors who started the process of shifting Philbrook from a reserved, mid-sized museum nestled in a wealthy neighborhood to an authentically welcoming, community-focused and socially engaged institution. Prior to my arrival, Philbrook had taken positive steps to grow and diversify its audience but the museum still desperately needed to build revenue streams, attract younger audiences (for us, that is under age 50) and bring life to the collection in order to survive. I was brought on to put those efforts into overdrive. We haven't abandoned scholarship or the contemplative museum experience, but rather are building parallel experiences to attract new audiences, generate repeatable income, and become a more frequent destination for our members.
For Philbrook, like nearly every museum in the country, the need to grow both attendance and revenue is critical. We have the strong support of our board, staff, members, and community to aggressively pursue new approaches to addressing these challenges.
As we embarked on the hard process of change, we wanted to make sure this new work was aligned around a shared set of values, which I crafted with the staff, community members and board shortly after my arrival:
Learning and Creativity
Health and Wellness
Social Justice and Relevance
Sustainability and Stewardship
Leadership and Innovation
Using these values as our guide, we develop exhibitions and experiences that can excite, challenge and attract more people. One big challenge facing us is the need to break down the popular perception that the museum is elitist, a place that is "not for me" or "not fun." We strongly feel that we can be smart, entertaining, and have a positive social impact. And if we do these things well, the audience and revenue will follow. In the end, it's about listening to people and caring more about what our audience needs more than what the art world commands, then striking a balance of the two.
Here are just a few examples of what we have done since I arrived 18 months ago:
#MeTimeMonday
"Me Time Monday" invites one lucky Philbrook member each month, chosen by a social media call, to have the museum to themselves on a day we are closed to the public. We customize the experience to their interests, including behind-the-scenes tours with staff, playing music in the Villa, photo shoots in the galleries, and quality time with our garden cats. The participants chronicle the day on Philbrook's social media and share written responses of their adventures.
Gardens, Art and Food Culture
Philbrook's horticulture team planted a 9,000-square-foot edible teaching garden that serves as a classroom, secluded retreat, and living gallery, and produces the majority of the vegetables used in our new restaurant, Kitchen 27. The remaining produce is harvested by the local food bank and Food on the Move, a local organization focused on mobilizing good quality food into hard-to-reach, economically challenged areas. Last year we gave away a nearly a ton of vegetables from the garden.
We added beehives, and package honey for the museum shop and restaurant. Soon, we will have our own hot sauce, coffee, and chocolate, all produced in partnership with local businesses and available for sale at Philbrook.  The honey crop sold out in a week last fall and we are anticipating similar demand when the addition product lines launch this summer. The new offerings are generating revenue and provide a hip marketing vehicle.
This summer we will unveil a new sculpture by artist Karl Unnasch in the garden. His piece takes a reclaimed, 20-by-30-foot 1880s log cabin, modified with recycled, stained glass windows, translucent shingles and lit by dozens of glass lanterns. The piece will be a programmable space for classes, garden-to-table meals, intimate concerts, and weddings.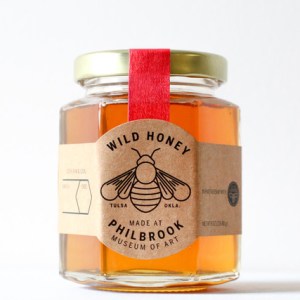 Museum Confidential Exhibit
The goal of the Museum Confidential exhibition is to answer the questions art institutions rarely address. What's hidden away in storage, and why? How do we curate an exhibition? What do we do all day? The result showcases over 400 objects from our collection, that had been rarely if ever shown; invites the audience to help curate a show; and openly presents our ongoing research. We also embedded an artist, Andy DuCett, to engage the collection from the artist perspective, highlighted by a Route 66 inspired motel lobby, staffed by volunteers who collected stories from guests about memorable places they have traveled in the United States.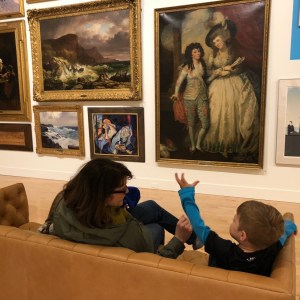 Museum Confidential Podcast
In conjunction with Museum Confidential, we launched a podcast in partnership with Public Radio Tulsa. Hosted by Jeff Martin, our Online Communities Manager, the bi-weekly podcast features untold stories about museums, from Vincent Price at Philbrook, to foot fetishes, to the Museum of Bad Art.
Everywhere Motel Sessions
Andy DuCett's Everywhere Motel lobby is also a programming performance platform that hosted dozens of local and regional musicians performing mini-concerts. The performances stream live on Facebook and are then uploaded to YouTube.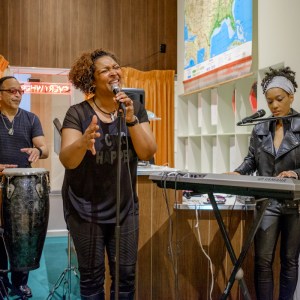 Teacher Membership Program
In November 2016, in response to continued lack of funding for teachers in the state of Oklahoma, Philbrook launched a program offering free memberships to all public school teachers in the state. The program, now in its second year, has well over a 1000 teachers participating from across the state.
Philbrook Garden Cats
The museum of the future should have more cats. So we have three, Acer, Cleome, and Perilla.
We are just getting started. In the coming months, Philbrook will introduce: a working print shop, right in our lobby, in conjunction with our Innovative Impressions exhibition; Friday night beers and burgers in the garden, with bands and DJs; artist-organized community meals out of our Kitchen 27; and new and progressive membership incentives — all while maintaining the core experience longtime Philbrook members enjoy and value. And the changes are working: our audiences are getting younger. With more families and young professionals attending, we are the new "lit" date night for high school students and young professionals, and our core audience is re-engaged, upping their donations and participation. Our recently completed fundraiser set a new record, raising nearly 3 million for museum operations and programming. Based on these early successes, we are confident the new approach will continue to thrive as it becomes more established in the community.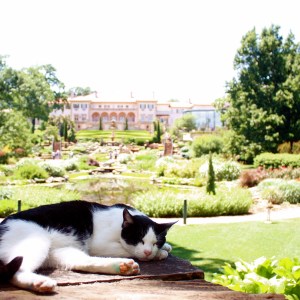 Scott Stulen is the Director and President of Philbrook Museum of Art in Tulsa, Oklahoma. He's also an artist, curator, programmer, and DJ. Previously he was the first Curator of Audience Experiences and Performance at the Indianapolis Museum of Art, and Director of the McKnight Artist Fellowship for Photographers and Project Director of mnartists.org at the Walker Art Center.