The Alliance is collaborating with Aroha Philanthropies and Lifetime Arts to support a cohort of 15 to 17 museums in a program to create instructional arts workshop series for older adults. Today's guest post is by Sonnet Takahisa, Director of Strategic Educational Initiatives at the Newark Museum, one of a handful of museums that participated in earlier iterations of Seeding Vitality Arts. You can read more about the call for proposals here, and watch the recording of a webinar Aroha presented earlier this month for potential applicants. The deadline is August 1, so get started!
–Elizabeth Merritt, VP Strategic Foresight & Founding Director, Center for the Future of Museums
Almost two years ago, the Newark Museum was part of the first cohort of national organizations, and one of two museums who received Seeding Vitality Arts funding from Aroha Philanthropies to develop courses for older adults. From our experiences, we have some insights about what museums offer the field of Creative Aging and the future that awaits us all.
Building upon the Newark Museum's 100-year plus commitment to making our art and science collections "useful", Seeding Vitality Arts allowed us to re-instate in-depth, sequential arts education for adults. We restored facilities from the much beloved Arts Workshop program, invited older adults to use high-tech equipment in our MakerSPACE, and offered new courses inspired by our collections: Collage, 3D Printed Jewelry, Ekphrastic Poetry, Landscape Painting, Healing Textiles, Wearable Art, Mixed Media and Book Arts. Whether seeing art in the gallery inspires one to learn a technique or experimenting with art materials and processes stimulates one to study the complexity and quality of work presented in the gallery, participants appreciate the opportunity to learn in a museum.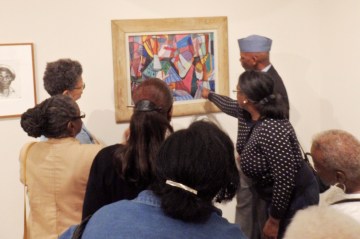 Creative Aging models of sequential arts learning are definitely enhanced by incorporating observations in the museum. Participants, ranging from first-time visitors to veteran docents, from different communities, with different backgrounds, experiences and socio-economic status see new things through each other's eyes and develop the confidence to express, argue and change their ideas. Through these weekly gallery explorations, coupled with shared arts learning experiences, participants get to know one another as well as the works of art. In post-program surveys, 25% of participants indicated that they had formed new or stronger relationships by taking part in the classes, and that the experience encouraged them to participate in other community activities.
Skip over related stories to continue reading article
The initiative also allows us to introduce our collections to teaching artists who work in different art forms. We seek artists who work with older adults and are interested in connecting their practice to the Museum's collections. Through co-teaching/co-learning experiences with museum educators, we infuse gallery teaching techniques with traditional art-studio classes, and enhance arts instruction with engagement and meaning-making in the galleries. As a result, the Museum is used as a resource for social interaction, critical thinking, as well as for the development of artistic talents.
Aroha Philanthropies' team of consultants, and peers from other Aroha-funded institutions provide invaluable support about programming, evaluation and marketing for older adults. We used their shared evaluation protocols to document that the Seeding Vitality Arts courses raised awareness of the Museum's programs and exhibitions among older adults in the greater Newark area. Participants had new awareness of the Museum as an enriching community resource and a social gathering place; 20% of the participants returned for Late Thursdays and Second Sundays and brought their friends and family.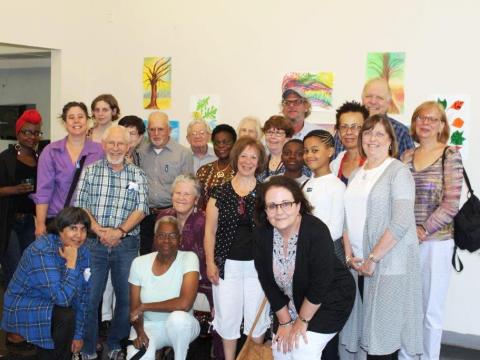 The overwhelmingly positive response to our Seeding Vitality Arts programs demonstrated a strong demand for in-depth, sequential art making courses for older adults that afford opportunities for serious mastery with the opportunity for social engagement. And we found that the museum environment was especially inspiring to both participants and teaching artists.As the work continues at Newark, and as new museums apply to Aroha Philanthropies for funding, we look forward to investigating the following questions:
What new training will teaching artists need? I'd love to take art classes taught by dancers, writers, visual artists, and musicians who are inspired by the diversity of our museums' collections – from art, to natural science, zoos and aquaria! But even without crossing disciplines, we had to partner museum educators with visual teaching artists to provide access to collections, research, and strategies for effective gallery teaching.
How can we address issues of transportation? Having people come to the Museum was essential, but that meant we had to factor in mass transit, parking, and/or the need for buses. For many participants, travel costs for eight or ten sessions would be prohibitive and relying on undependable senior transportation would have meant missing class time.
How do we ensure a mix of participants? We had a diverse group of participants through our outreach; support from Aroha meant that tuition costs were not a barrier to participation and classes were kept small and intimate. Going forward we need new financial models and/or more underwriting to ensure the programming remains affordable.
As the population of older adults, myself included, grows, we are learning about the psychological, physical and emotional benefits of participation in the arts. With Aroha's support, older adults across the country will have new ways to explore museums, and colleagues and teaching artists will expand their understanding of how to use collections to inspire social and artistic engagement among older adults. Aroha is a tremendous "think partner" and their interest in the role that museums play in the Creative Aging movement means that they will help document our findings and progress. I look forward to more conversations with museum colleagues, teaching artists, Aroha, new funders and the community of older adults who participate in this work.
Sonnet Takahisa advocates across all divisions of the Newark Museum to implement the vision of a unique urban museum that specializes in art, science and the humanities, ensuring an ongoing and productive conversation with a diverse and growing audience. Through innovative leadership, creative partnerships, and strategic planning, she works with colleagues to ensure that the Newark Museum is relevant and inspiring to a 21st century community. Throughout her career she has worked in museums, cultural institutions and schools, focusing on public engagement, community building and education reform.