Fourth and fifth graders at Silverton Elementary School reversed roles with teachers and set an example of how museums and schools can work together to broaden the telling of a community's history.
The students uncovered the forgotten stories of Chinese Americans in Silverton, Colorado and worked with local and state museum officials to bring a special visiting exhibit to the San Juan County Historical Society Mining Heritage Center, located in their town. Silverton Elementary is a K-12 school serving 65 students in a small rural community that was a former mining center.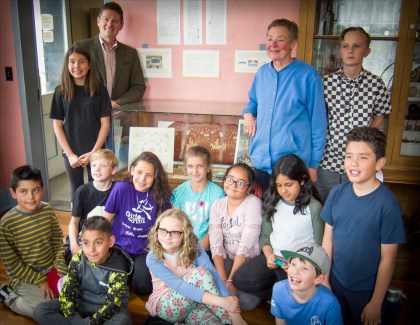 "We have never done a visiting exhibit and it was a learning experience for us," said Bev Rich, director of the San Juan museum. "It was amazing that History Colorado would share priceless artifacts and hand deliver them. We were surprised as all get out. The kids made it happen."
Rich noted that before the students began their work, the only Chinese artifact in the museum was a scale from the 1800's that was used to weigh opium.  
The students' work has been nationally recognized by the school's academic partner EL Education as a Better World Project that contributes to positive change and was celebrated along with the work of more than one hundred other EL schools on Better World Day in May 2018.
Uncovering a "history mystery"
As part of a yearlong study of diversity, Silverton Elementary teacher Whitney Gaskill equipped her students with research skills and tasked them with uncovering a "history mystery" in their town.  
Gaskill posed the question: "How diverse was Silverton in the past?"  The students' exploration took them to a cemetery where they found a stone that read "In memory of the Chinese who lived and died in Silverton and who were denied burial in Hillside Cemetery – 1876 – 1910."
They then went to visit the San Juan museum to see what they could find. Gaskill charged them with evaluating the museum and how well it told the story of diversity in the community.
"In the museum, I didn't see a lot of diversity,". one Silverton Elementary student said.
"We could add more things to our museum-like diverse cultures so that way our museum could tell more than one perspective and more points of view," another student remarked.
The students then put on their historian hats and started researching the role of Chinese people in their community. The local paper — The Silverton Standard & Miner — was instrumental in helping them unlock the mystery. Going through microfiche of old newspaper stories, they learned that the Chinese came during the Gold Rush that began in 1859, working in the mines at below market rate wages and enduring discrimination until they were run out of town.
The discoveries shocked the students and led them on an exploration to help the museum tell the story of Chinese Americans in their community.  They wrote letters to History Colorado and Professor William Wei at the University of Colorado – Boulder, an expert on Chinese history, to ask for help.
A breakthrough request
James Peterson, History Colorado's Curatorial Assistant for Artifacts, commented that in his more than 15 years at the museum he had never received a request of this nature. 'What was so special about the project was that it really came from the students," he said. The request aligned with History Colorado's goal to enlarge its audience beyond Denver and its mission to "inspire generations to find wonder and meaning in our past and to engage in creating a better Colorado," Peterson said.
With loans to small museums and historical societies, lending museums may need to work a little closer than usual to find objects that are appropriate for the facility, yet still, tell the curators' story. In this case, History Colorado's exhibits and loan registrar, Kimberly Kronwall, worked closely with the San Juan museum to ensure selections were appropriate, stable, and even had a hand in packing the crate for delivery.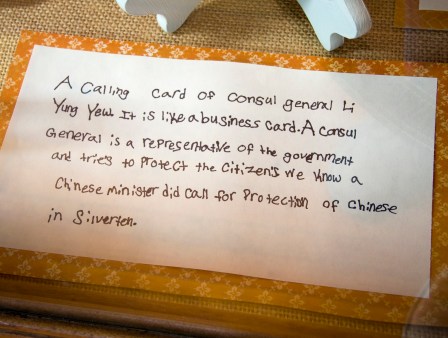 Peterson noted that the biggest surprise with the exhibit came in the form of interpretive labels created by the students. The sincerity of the interpretation was realized in part because the labels captured the students' voices and had been done by hand, which added another degree of texture.
The project renewed Peterson's faith in his work. "Most of my work is behind the scenes. I rarely get a chance to see the impact of the work I do. Seeing and experiencing the enthusiasm and interest these students displayed for this project just reaffirmed to me the positive impact we can have with a little creativity and flexibility. It makes you feel like what you do does matter."
Peterson also commented that he found items in the History Colorado collection for the visiting exhibition that were not previously accessible to the public. History Colorado loaned the following items from the 1800s for the visiting San Juan museum exhibit:
Engraving depicting the 1880 Anti-Chinese Riot in Denver

Silk embroidered handkerchief

Chinese Consul General Calling Card of Li Yung Yew

Porcelain teacup

Dulcimer harp

Apothecary glass
Advice for museums
Kronwall noted the Silverton Elementary project is an example of what's possible with school partnerships. "I would encourage other museum professionals to work look for creative ways to work with their audiences and constituents. There are lots of unusual opportunities like this one to collaborate and bring your collections to life. I would like to see more museums take on this kind of work and look for solutions so objects can be used for original research and young students have the opportunity to access collections to bring their learning to life."
Professor William Wei of University of Colorado Boulder, whom the students contacted to learn about Chinese history, said museums have a unique role in making history come alive for students.
Skip over related stories to continue reading article
"The public tends to trust museums more than universities and professors. That's important," Wei said. "Once schools understand that museums have the ability to teach history through their collections and museums can engage with schools at this level, that's a win for everyone. Students will have amazing experiences and museums will activate their collections and expand their audiences."
April Legg, Director of School Services for History Colorado, noted that the work with Silverton students is a model for other schools and museums. "So often, the collaboration between schools and museums is limited to a program or two (field trip or in the classroom). This model really blew that up and extended the learning beyond passive consumption of the museum's resources into active participation in museum work," Legg said.
Silverton Elementary's next adventure
All of the Chinese artifacts at the San Juan museum were returned at the end of October when it closed for the winter season.
Reflecting on the experience, Gaskill noted that she saw her students grow in their ability to grapple with complex topics and understand different ways of thinking. She's already thinking about the future and how she can engage her students with the museum and focus on identifying ways to secure a permanent exhibit.
"I think the next time I teach this content it would be interesting for students to try to cultivate relationships with donors who may be willing to make permanent donations to the museum here in Silverton so it can elevate from a temporary exhibit to something more lasting," Gaskill said.
---
April Hattori is Director of Communications and Jean-Paul Maitinsky is Manager of Institutional Giving at EL Education, the national non-profit and academic partner of Silverton Elementary School.