In the Summer of 2017, a supporter of the Edith Bolling Wilson Birthplace Museum notified us that the former First Lady's original 1904 automobile operator's permit was for sale on eBay. Shortly after the news spread, an anonymous donor contributed funds for us to purchase the document and add it to our collection of objects relating to the life of First Lady Edith Bolling Wilson.
Edith Bolling Wilson, who has been cited as the "First Woman President," had many firsts before her involvement in political affairs, including becoming the first documented woman in Washington D.C. to drive an electric car—a Columbia Elberon Victoria Mark XXXI. Edith's recollections of driving her electric runabout in Washington D.C. are relayed in her 1939 autobiography, "My Memoir." Like many other early women drivers with independent methods of transportation, Edith questioned contemporary gender roles and societal expectations—something she would do throughout her life.
When we acquired Edith's original automobile operator's permit, we knew we had something special in our hands. The document, issued 114 years ago, strengthens the story told by the museum—that Edith was a strong, independent woman, who didn't always play by the rules.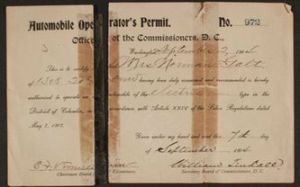 The museum, which has a small collection of about three-hundred artifacts, has struggled in the past to present a complete and accurate snapshot of the life of the First Lady. With most of its holdings relating to Virginia's prominent Bolling Family, we are able to easily relate the story of Mrs. Wilson's early years growing up in a small town in Southwestern Virginia to our national audience. However, the content that most interests visitors is what happened in Mrs. Wilson's later years—her becoming the owner of a prestigious jewelry store, her staunch opposition to women's suffrage, and her role as a "steward" of the presidency after President Wilson's stroke. The acquisition of the Automobile Operator's Permit allowed us to explore Mrs. Wilson's life and legacy beyond her small town roots. Additionally, this artifact not only serves as a visual marker of women's history in Washington D.C., but it also acts as a catalyst to relate the story of Mrs. Wilson's independence, drive, and fierce personality to our growing audience.
Skip over related stories to continue reading article
As a small museum, we have a very limited budget for both artifact acquisition and conservation. The purchase of the permit prompted us to submit an application to the Virginia Association of Museum's Top 10 Endangered Artifacts Program, which would award funds for the document's conservation and display. The permit, which was in poor condition, secured one of the ten spots on the 2017 list, and after a round of public voting, the museum was awarded money for its conservation. We are grateful to be involved in the program, as it has allowed us to leverage funding to both acquire and conserve this treasured artifact while giving us the opportunity to raise awareness of Edith Bolling Wilson and better tell her story.
Once funding was secured, we contacted Lynchburg, Virginia native, Carolyn Frisa, to perform the conservation work. Frisa, a friend of the museum, is the owner of the conservation studio Works on Paper in Bellows Falls, Vermont, where she has spent the last fifteen years of her professional career conserving a wide range of artistic and historic works on paper. However, Frisa has a special connection to the document and Edith Bolling Wilson. As a young girl, Frisa grew up in the Bolling Family Home in Lynchburg, Virginia. The former plantation, named "Rose Cottage," dates to the early 1800s and served as Edith's grandparents and parent's home until Reconstruction when they moved from Lynchburg to Wytheville, Virginia. In a video, detailing the conservation process of the document, she shares her own connection to the object.
Frisa states: "One of the reasons I was drawn to the field of conservation is because I grew up in an environment that fostered an appreciation for history and recognized the importance of preserving it for future generations. This project has been especially meaningful to me because it has given me the opportunity to conserve an object that has significant importance to women's history in America while giving back directly to one of the influences that has brought me where I am today as a conservator." Carolyn's father, Ed, still owns the home today and the family takes pride in the home's history and its connection to the First Lady.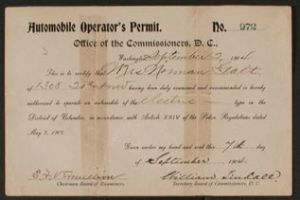 Edith Bolling Wilson's original Automobile Operator's Permit will be on view at the Edith Bolling Wilson Birthplace Museum in Wytheville until the end of the year. The museum is open to the public Tuesday-Friday 10 am-4 pm, and Saturday 10 am-2 pm. It also currently has two exhibitions on view relating to the Bolling Family, First Lady Edith Bolling Wilson, and World War I.
More information about the project and the conservation video can be found on the project's webpage. A special thanks to Virginia Association of Museum's Top 10 Endangered Artifacts Program, Blandford-Rees Foundation, and friends of the museum who made this project possible.
---
Shiloh Aderhold Holley serves as the Executive Director of the Edith Bolling Wilson Birthplace Foundation in Wytheville, Virginia. For over a decade, she has worked in museums and historic sites, specializing in crafting unique visitor and educational experiences. Shiloh holds her Master's degree in Art History and Museum Studies from the University of Illinois at Chicago, and a B.A. from Wittenberg University in Springfield, Ohio. She has a passion for small museums and telling untold and forgotten stories.