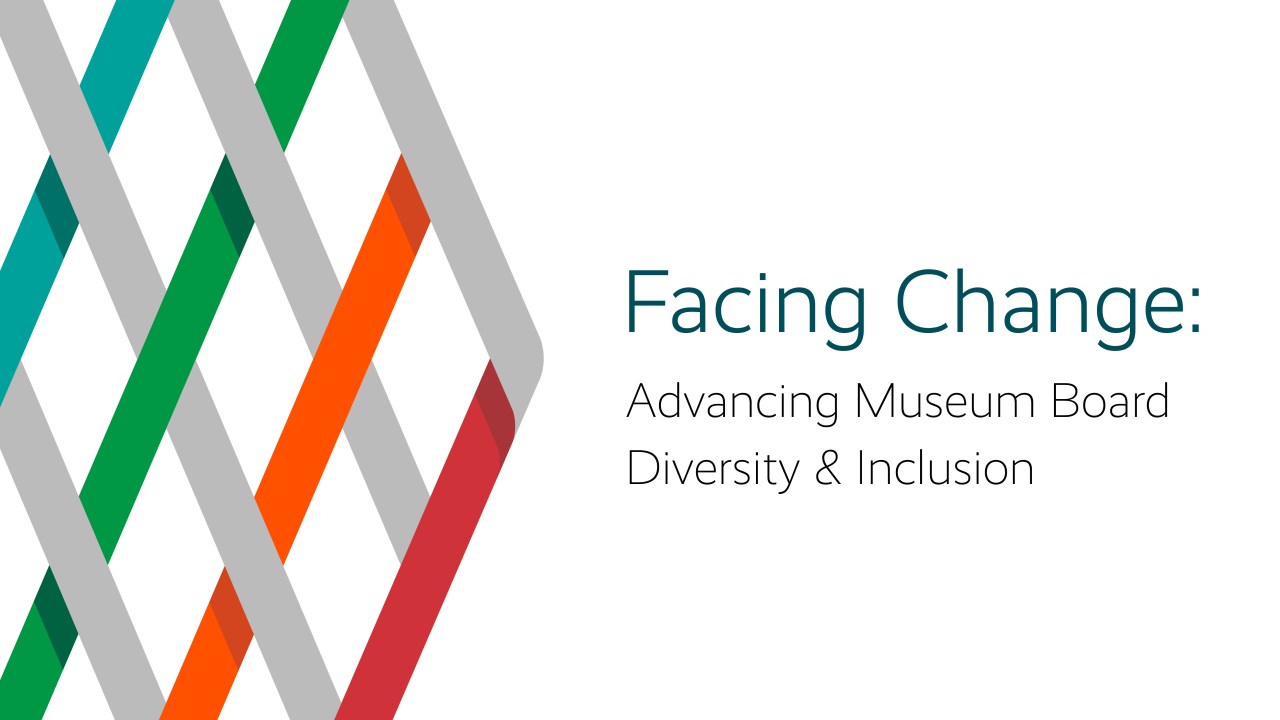 FOR IMMEDIATE RELEASE
Multi-year project backed by $4 million in grants from The Andrew W. Mellon, Alice L. Walton, and Ford Foundations
ARLINGTON, VA – January 15, 2019 – The American Alliance of Museums (AAM), the only organization representing the entire scope of the museum community, today launched an unprecedented national initiative to diversify museum boards and leadership. Backed by $4 million in grants from three foundations (The Andrew W. Mellon Foundation, Alice L. Walton Foundation, and Ford Foundation), "Facing Change: Advancing Museum Board Diversity & Inclusion," will provide the framework, training, and resources for museum leaders to build inclusive cultures within their institutions that more accurately reflect the communities they serve.
The three-year grant is the largest in AAM's 113-year history and will fund diversity, equity, accessibility, and inclusion work starting this year. The triumvirate collaboration between The Andrew W. Mellon Foundation, Alice L. Walton Foundation, and Ford Foundation is also the first of its kind for the museum sector.
"To make real and lasting change, work needs to be done at the top where the tone and priorities for each museum are established," said Laura Lott, president and CEO of the Alliance.  "Museum trustees and leaders can and must do more. Complementing the hard work and investments being made to diversify the talent pool, programming, and collections of museums, AAM aims to drive long-lasting systemic culture change. Thanks to the leadership, courage, and generosity of our three partner foundations, we will work steadfastly to sharpen the focus on museum boards and directors as agents of this vital change."
Through a systematic, multi-tiered effort, "Facing Change: Advancing Museum Board Diversity & Inclusion" will catalyze museum leaders to develop and implement measurable plans and practices across the field.                          
The Need For Action
AAM's field-wide diversity, equity, accessibility, and inclusion (DEAI) initiative responds to extensive and multi-year research that underscores the need and desire for change. In 2017, AAM and BoardSource examined museum board leadership and found a disconnect in the area of diversity and inclusion. The survey revealed that nearly half (46 percent) of museum boards are entirely white, 77 percent of museum directors believe expanding the racial and ethnic diversity of their boards is important to advancing their missions, but only 10 percent of museum boards have developed a plan of action to become more inclusive.
A recent survey by the Mellon Foundation demonstrated that employment in the US museum sector does not reflect the makeup of the communities these institutions serve, despite decades of local and national efforts.
A Plan For Change
AAM's Facing Change report, issued last year by a working group of museum professionals co-chaired by Lott and DEAI champion Dr. Johnnetta Betsch Cole, asserted that systemic change is vital to long-term genuine progress as is inclusive leadership at all levels of an organization.
The funded initiative will ignite systemic change across the museum sector by focusing its efforts on leadership engagement, the most significant predictor of an organization's diversity and inclusion effectiveness. Major program components include:
Fieldwide standards and programs to advance excellence in diversity, equity, accessibility, and inclusion, based on AAM's existing Continuum of Excellence—including the field's prestigious accreditation program that has served as a pillar and guidepost for the museum field for nearly 50 years
Inclusive leadership development for 50 museums in five to-be-selected cities across the US, supported by senior fellows to be named by the Alliance and culminating in the development and implementation of sustainable inclusion plans tailored to the needs of each museum
Online resource center for inclusive museum governance, with case studies, sample documents, and custom content for thousands of museums
Board matching support to connect individuals interested in serving on museum boards with museums seeking new perspectives and talents on their board
"Arts institutions are most effective when they build relationships with the local community that anchors them as well as the global communities that visit them," said Alice Walton, philanthropist and founder of the Alice L. Walton Foundation. "The effort to build community is strengthened when diversity, equity, and inclusion are fully realized within institutional leadership, and this initiative provides the tools and resources necessary to do so."
"The future of American museums will depend in large part upon their ability today to implement steadfast commitments to diversity, equity, and inclusion in staff and programming in order to serve their constituent audiences and enact their public education missions," said Mellon Foundation Executive Vice President for Programs and Research Mariët Westermann. "In order to create inclusive cultures throughout the sector where museum professionals and visitors of all backgrounds can flourish, attention must be paid to diversifying the demographic composition of senior executives and boards of trustees."  
"Museums present art, ideas, and history that serve as a window into our humanity and culture," said Margaret Morton, director of the Creativity and Free Expression program at the Ford Foundation. "We welcome this partnership and the opportunity for museums and their leaders to more fully reflect the broad range of identities and diverse stakeholders across all communities and people."
Sign up to be among the first to hear about AAM's DEAI news and announcements.
About the American Alliance of Museums
The American Alliance of Museums has been bringing museums together since 1906, helping to develop standards and best practices, gathering and sharing knowledge, and providing advocacy on issues of concern to the entire museum community. Representing more than 35,000 individual museum professionals and volunteers, institutions, and corporate partners serving the museum field, the Alliance stands for the broad scope of the museum community. For more information, visit www.aam-us.org.
About The Andrew W. Mellon Foundation
Founded in 1969, The Andrew W. Mellon Foundation endeavors to strengthen, promote, and, where necessary, defend the contributions of the humanities and the arts to human flourishing and to the well-being of diverse and democratic societies by supporting exemplary institutions of higher education and culture as they renew and provide access to an invaluable heritage of ambitious, path-breaking work. Additional information is available at mellon.org.
About The Alice L. Walton Foundation
The Alice L. Walton Foundation is a philanthropic organization committed to increasing access to the arts, improving education, enhancing health, and advancing economic opportunity for all. Through this work, the foundation strives to deliver meaningful and lasting change to individuals and communities most in need.
About the Ford Foundation
The Ford Foundation is an independent, nonprofit grant-making organization. For more than 80 years it has worked with courageous people on the frontlines of social change worldwide, guided by its mission to strengthen democratic values, reduce poverty and injustice, promote international cooperation, and advance human achievement. With headquarters in New York, the foundation has offices in Latin America, Africa, the Middle East, and Asia.