May Massee is a literary legend. She was a key player in the development of children's literature in the United States, establishing the "junior books" division of Doubleday, Page, Inc. in 1923 and at the Viking Press in 1933. The May Massee Collection at Emporia State University memorializes May's publishing prowess and relationships with authors and illustrators, and demonstrates the bookmaking process from idea through final product. The collection includes over thirty-two hundred original book illustrations by fifty-six artists and more than twelve hundred books by 379 authors, plus awards and medals, edited manuscripts, correspondence, and other items related to her time at Doubleday and Viking Press between 1923 and 1963. The largest artifact in the collection is May's office from the Viking Press, which was designed by her childhood friend and renowned architect Eric Gugler in the 1930s and was transported some twelve hundred miles from New York in the early 1970s to become a permanent fixture of the collection. May's collection frequently draws praise from researchers for its extensiveness in covering the bookmaking process, and for the original artwork from illustrators like Robert McCloskey—including original sketches from his most famous work, Make Way for Ducklings.
The May Massee Collection lies hidden at a mid-size public university in the rural heart of the U.S. On campus, its contents are behind locked doors; there is no signage to indicate its presence. Students and faculty might pass by the collection hundreds of times (it is located within the university's library) and never know the value of the collections inside. A page on the Special Collections and Archives website, a book-sized finding aid, and the collection's reputation among scholars are patrons' main avenues for discovering it.
Enter Brady Lund, a graduate student in ESU's School of Library and Information Management (SLIM) in search of an internship. Shari Scribner, Archives Manager, quickly recognized that his extensive technical background made him the perfect partner in creating something that would expand the collection's access around the world: turning May Massee's office into a virtual reality experience.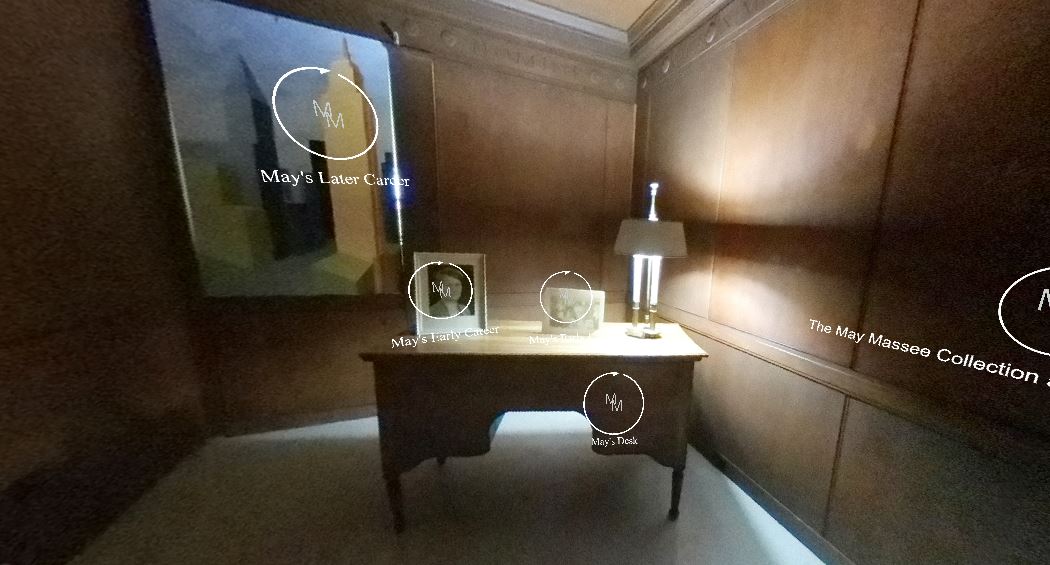 The May Massee Virtual Reality Experience puts the experiencer inside May Massee's office. The 360-degree view extends to include the ceiling, which is adorned by a carved Taurus medallion. A curved bookcase highlights one end, while a window sets in the opposite wall. This would originally have provided May with a view of New York City; today, the window allows visitors to peek into the office from the children's book section of the campus library. May's desk is the only piece of furniture in the office.
Skip over related stories to continue reading article
Brady fused May's personal and professional stories into the experience. Inside the simulation, books, photographs, and recordings serve as interactive hotspots. Once triggered, these open to reveal information about May's life and career. For example, a photo on the desk showing May's class from the only year she taught professionally serves as a hotspot to information about her early years. The carved motto at the top of the office wall reveals a history of the office and its design. Another hotspot allows the experiencer to listen to an interview with May Massee recorded in 1962.
Telling May's story through her relationships involved significant research within the collection's primary documents, biographies published in articles and books, and news clippings. Brady synthesized this information with original artwork, book covers, photographs, a Newbery medal, and recordings—including a vinyl record and audiocassette—which were displayed on the bookshelves, creating a visual attraction and fifteen additional hotspots. These reveal May as both an editor and a friend to authors and illustrators who made significant contributions to children's literature.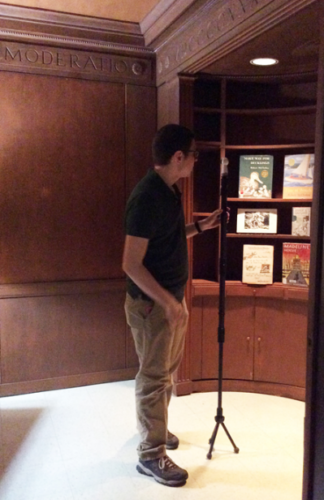 Emporia State's Learning Technology department has been experimenting with virtual reality for a few years and encouraged our efforts. Most significantly, they were able to provide the equipment needed to create the experience as well as any necessary training. Brady used a 360-degree camera with a tripod, his smartphone, the Samsung 360 app, InstaVR software, the ActionDirector video editor, and a desktop computer with high-speed internet access. A tutorial for creating a VR experience with this equipment is available here.
The May Massee Virtual Reality Experience is available as a free app from iTunes and the Google Play Store. During the first six months that this app was available, more visitors entered May Massee's office virtually than we had physical visitors. Furthermore, they stayed an average of twenty-four minutes, which is slightly longer than allotted if they were having a guided tour by Special Collections and Archives staff. During this period, the only promotion Brady and Shari did was by word-of-mouth; we were excited to share it with our colleagues, families, and friends! The experience was also embedded on the May Massee Collection's webpage.
In the time since the May Massee project, Brady has worked with two small, rural museums in the state of Kansas to produce VR experiences that are very similar to the May Massee project. Modern VR production technology works great with thematic collections in museums or archives, bringing a spark of excitement about the collection and allowing it to reach a broad, diverse audience. It is perfect for any small (or large) museum or archive looking to extend opportunities for the public to interact with a valuable collection.
Creating this experience has demonstrated how useful virtual reality can be in sharing our resources, especially with patrons who may never have the opportunity to visit ESU in person. The technology we used was low-cost and easy to use, which made VR a practical, economical choice for the May Massee project. Special Collections and Archives has since expanded our VR activities to include our Exhibit Hall. We open two new exhibits each year and will be creating VR experiences for each. Follow our VR activities on our website.
About the authors:
Brady Lund is a doctoral student at Emporia State University's School of Library and Information Management. He has previously worked for many years in a variety of library, archival, and museum settings with duties ranging from classification of materials to technology management. He has written several articles on technology and systems in information organizations. Brady can be reached at blund2@emporia.edu.
Shari Scribner is the Archives Manager for Emporia State University's Special Collections and Archives. Her library/archives experience includes working in an education resource center, cataloging government documents, directing a family history center, processing collections and university records, and, currently, an increased emphasis on working with patrons & creating and implementing outreach initiatives. Shari can be reached at sscribne@emporia.edu.