With the Early Bird Registration deadline approaching quickly (Monday, March 4) I'm sharing my futurist picks for the Alliance's 2019 annual meeting. Save some $$ by snagging the early bird rate, and use this post to jump start your planning for a very full conference.
I hope to intersect with you at one of my futurist offerings in New Orleans. I'll be giving a session (TrendsWatch 2019: Your Annual Glimpse of the Future), chairing a session (Engaging Community in Conversations about the Future), and teaching a Futuring Workshop. (Details on all of these events below).
Also, on Saturday May 18, just before our conference kicks off, I'll be keynoting at the Museum Innovation Forum, hosted by the New Orleans Jazz Museum. (The Forum is accepting session proposals until March 15, if you want to share your ideas for "digital, social and business model innovations that can help museums be more effective agents for social change.")
In case this is the first time you've perused my annual conference guide—in this post I share a futures-oriented slate of sessions exploring topics I've touched on in my museum forecasting. These suggestions provide one way to navigate the program—but I encourage you to explore the rich offerings of the whole program before you make up your mind!
Sunday, May 19
1 – 3 pm
Maximize Your Annual Meeting Experience
I'll be teaming with my colleague Allison Titman to offer tips, tricks, and conference hacks for navigating the meeting. We had a blast doing this together last year, and I look forward to another chance to meet and greet, and we will have an especially warm welcome for first-time attendees. Two tips ahead of time: pack an extra layer or two (conference centers inevitably maintain arctic temperatures), as well as comfortable shoes.
Monday, May 20
9:00  – 10 am
Decolonizing Development: Fundraising as an Agent of Social Transformation
Location: Room 343
In this session, museum grande dame Johnnetta Cole moderates a discussion about the thorny issues of money, power, diversity and inclusion. On my radar because of the increased attention being given to how traditional philanthropy embodies and perpetuates colonial attitudes and practices.
2 – 3 pm
Mistakes Were Made
Location: Room 354/355
Sean Kelley, senior VP at Eastern State Penitentiary moderates this traditional favorite. (Get there early if you want to snag a seat.) This year Sean is joined by Chris Taylor (chief inclusion officer of the Minnesota Historical Society), Ashley Rogers (director of museum operations at Whitney Plantation), and Patrick Wittwer (marketing chair, Visitor Experience Group) to award the AAM Epic Failure Trophy of 2019 to "the most honest person in the room." Seriously, it's good to remember there is a lot to learn from large-scale failure. And if we aren't willing to risk failure, how will we innovate for the future?
But I have to admit that I'm torn, Sean, because at the same time, just down the hall, AAM president and CEO Laura Lott will be speaking on
Facing Change: Advancing Museum Board Diversity & Inclusion
Location: Room 340/341
This is a chance for attendees to meet with leaders of the national museum board diversity and inclusion initiative, learn about the three-year project, and share feedback.
3:30 – 4:30 pm
Fake News, Flat Planets and Hot Winters
Location: Room 335/336
I can't say it better than the session description: "Museums are being recognized as important catalysts for social and political engagement. In a volatile political landscape, museums are being challenged to take positions on controversial topics and to serve as forums for public discourse. In this session, explore museums' changing roles through the topic of climate change. Panelists will consider the challenges and opportunities for the future of museums."  Moderated by the estimable Beka Economopoulos, executive director of The Natural History Museum.
Artful Aging: What Museums and Arts Educators Can Learn from each other about Creative Aging
Location: Room 345
The Alliance is partnering with Aroha Philanthropies on a multi-year exploration of museums and creative aging. This session, chaired by Ed Friedman, executive director of Lifetime Arts, will explore the growing body of practice and research that documents how museum environments can encourage social, intellectual, and artistic learning in both teaching artists and older adults.
Tuesday, May 20
11 am – noon
TrendsWatch 2019: Your Annual Glimpse of the Future
Location: Room 338/339
MY FAVORITE PART OF THE ANNUAL MEETING! (Sorry, had to get that out of my system.) In this year's forecasting report I tackle: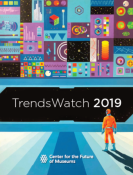 • truth, trust, and fake news
• decolonization
• blockchain technology
• homelessness and housing insecurity
• self-care.
I look forward to offering a lightning tour of these topics, and suggesting how you can engage with them in the coming year.
11:00 am – noon
Ethnic Fraud and Representation in Museums
Location: Room 344
Museum administrator, curator, cultural advisor Tahnee Ahtoneharjo-Growingthunder,
(Oklahoma History Center, Kiowa Tribal Museum, Wallraf Richartz Museum) moderates this session on best practices for museum professionals interested in fair and accurate interpretations of American Indian and Indigenous communities.
2 – 3 pm
Is That Hung White? Getting Real about Diversity in Exhibitions
Location: Room 354/355
This session tackles three topics I follow in forecasting: unconscious bias in design, the emotional labor of underrepresented staff, and shared authority in storytelling.
Stories from the OF/BY/FOR ALL First Wave
Location: Room 343
Last year, under Nina Simon's leadership, the Santa Cruz Museum of Art & History launched OF/BY/FOR ALL –a global initiative to help civic and cultural organizations become OF, BY, and FOR their communities. This session will share stories from the initial twenty organizations enrolled in the movement.
3:30 – 4:30 pm
Fostering Universal Ethics and Compassion: A Summit with The Dalai Lama
Location: Room 352
In what had to be the weirdest and most wonderful museum expedition of 2018 (or perhaps the decade), last October over two dozen practitioners trekked to Dharamsala, India, to meet with the Dalai Lama and discuss how museums can deploy empathy and compassion in their work. Next best thing to being there? Come hear about the experience from some of the trekkers.
Wednesday, May 21
11:00 am – noon
Engaging Community in Conversations about the Future
Location: Room 356/357
Meredith Doby VP of exhibits at The DoSeum in San Antonio invited me to moderate this session on using exhibitions and programs to help museum audiences think about the future. We'll be joined by Leonardo Menezes, content manager at the Museum of Tomorrow in Rio de Janeiro, Brazil; Sarah Henry, deputy director and chief curator of the Museum of the City of New York; and Howard Taylor, director of the San Angelo Museum of Fine Arts (and one of my futurist mentors).
Futuring Workshop, 1:00  – 4:00 pm
This is the first time I've offered a futuring workshop at the annual meeting, and I'm psyched. I'll lead participants through three foresight exercises they can deploy in their own practice, and send people home with a bundle of resources, handouts, instructions and suggested agendas. If you're excited by the prospect of inventing a Thing from the Future or creating an implications wheel, this workshop is definitely for you. Registration is limited to 50, and last I looked it's about one third full, so sign up soon!
Skip over related stories to continue reading article