On the way to New Zealand in the spring of 2016, I started reading Amanda Palmer's The Art of Asking.
I thought of it as "me time" reading, and as such it was relegated to snippets of time before bed.
When I finished the book, though, I realized that it was work-reading after all. Amanda Palmer has a lot to teach museums about the art of the ask.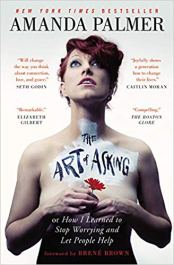 For those of you who don't know Amanda, she's the artist/musician who famously broke the million dollar mark with her 2011 Kickstarter campaign to fund production of her next album. Having split with her record label over irreconcilable differences regarding cultivating her audience, she turned to crowdfunding as an alternative method of producing & distributing her work. While the book isn't written as a "how to" manual for Kickstarter (leaning more towards angst-ridden personal memoir), it's the best guide I've found to understanding the dynamics of using social media to ask a bunch of people to support your work.
I'm not claiming everything that works for Amanda will work for you, my nonprofit peers. I'm not going to encourage you to strip naked and let your visitors decorate your body with Sharpies. But here are some things she "gets" that museums need to understand:
How to cultivate a fan base you can trust to catch you when you leap into the unknown
The difference between a transactional relationship between a vendor and customer, and the kind of emotional relationship that leads people to support a person, or a cause
The strength in being vulnerable, imperfect and open to people who care about your work
Amanda tapped the power of social media just as it began to be a thing that could be tapped. Starting in the early 2000s, she amassed an emailing list of everyone who came to her concerts, and was an early adopter of Twitter (where she now has over 1M followers) and blogging. She split with her label in part because the marketers didn't understand this dynamic—why, for example, she needed a web site year-round to communicate with her base. Her use of all these social platforms is (as Brene Brown puts in in her introduction to the book) "a study in intimacy and connection."
But social media just amplifies what Amanda does really, really well: building deep, long-term, mutually supportive relationships with people who love her work. She does this by seeing and recognizing them as individuals—not just as a collective mass of "fans." She is generous in sharing her time, attention, support and networks to help them with their work and support their needs. She is transparent (painfully so) about the process behind her music, rather than just handing over the resulting albums.
I think this translates rather well to the kinds of relationships museums can build with our communities, with our potential fans. Think a bit on how museums can:
Recognize people as individuals, not just demographic categories: "teens," "Millennials," "retirees." When a security guard gets down on her knees and asks a toddler what she's looking at (instead of delivering a stern warning to "not touch")? That's a win.
Use museum resources—space, time, expertise, social media reach—to help people achieve their own goals. You're staging your own pop-up exhibit? Beauty! I'll tweet about that.
Be vulnerable. Is the new exhibit/renovation/wing running behind schedule and over budget? Share why. People mess up, things go wrong—we all know that. It's ok to tell your base what's keeping you up at night. And who knows? Maybe someone will be able to help.
I do suspect some of Amanda's lessons are unnecessary for museumers. She devotes a lot of text to encouraging artists to be comfortable asking, urging them to feel worthy of funding, whether charging for their work or asking for capital up front. In my experience, this is not a problem in our field. Nonprofits take their 501(c)3 status as official validation of their right to ask for money without the stigma of sponging. And museum workers are more likely to feel righteous indignation over being underpaid and undervalued than angst over whether they are worth their salary. But if you are shy about asking for support (for your museum or for yourself) Amanda's stories might help you get over your inhibitions.
So, give it a read, see what you think and blog (or tweet) your comments tagged #ArtofAsking. Or hey, tell @AmandaPalmer what her work means to you. I wouldn't be at all surprised if she tweeted you back.
Skip over related stories to continue reading article