I continue to be amazed and delighted at the ways in which museums are harnessing artificial intelligence to power their work. This week Dr. Hank Hine, Executive and Creative Director of The Dali Museum, tells us how The Dali has used AI to bring the artist back to life and into the galleries to interact with their visitors (and offer to share selfies).
–Elizabeth Merritt, VP Strategic Foresight and Founding Director, Center for the Future of Museums
Recently at The Dali Museum we created a virtual Salvador Dali through computer-generated artificial intelligence. On several six-foot video screens this likeness of Dali welcomes our visitors, speaks to them about his life and work, and even, at their departure, offers to take a selfie with them. Our intent with the introduction of this technological exhibition is, as ever, to delight and inform our visitors. To do that, we navigated new issues with ethical as well as creative and technological dimensions.
Dali himself was fascinated with technology and worked with it eagerly and boldly. In film, he co-directed with Luis Bunuel both Un Chien Andalou and L'Age d'Or, made an animation with Disney, and proposed film ideas to the Marx Brothers and Hans Richter. Dali made the first artist's video in 1959, Chaos and Creation, and made a hologram with Alice Cooper. So the use of technology is in the Museum's DNA. In recent years we've created experiences with visitors to project themselves into Dali works. Our recent exhibit Magritte and Dali provides a cloud room in which our visitors walked in the clouds. Dreams of Dali, an Oculus Rift-based virtual reality experience, began in our exhibition Dali and Disney and continues as a popular exhibition feature on its own.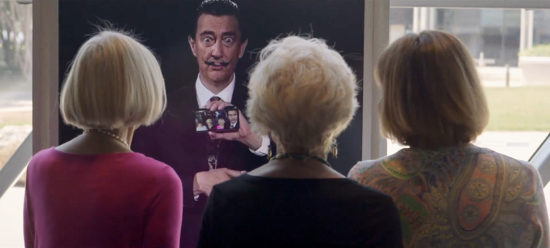 We asked some serious questions about the nature of an optimal museum experience when we deployed the VR for Dreams of Dali. These questions are warranted because museums remain among the few social spaces that we still inhabit. Though we eat fast food in our cars, shop online, watch films on individual hand-held devices, and avoid churches and temples, we still stand among others in a museum environment and, even in feeling private awe, share that space in community. But the Oculus virtual reality gear really precludes that kind of social experience. We find, however, that when people surface from the three-minute experience they are eager to express what they've experienced with others, so the private experience generates social conversations.
When Goodby Silverstein & Partners of San Francisco, an important partner in our digital strategies, began discussions with us on the potential to create a simulacrum of Dali, a kind of enchantment of his personality and appearance, we had a lot to consider. We were eager for the capability to create a seamless likeness, not an actor playing Dali, but something of its own integrity and readily available in the Museum without intervening gear. We wanted a vivid presence with technological edginess to contribute to the understanding of our art and artist, not filmic face swapping which has been done at times malevolently,
The AI process here is rather simple conceptually, but involves an immense number of computations. Our team scanned film footage of Dali speaking and introduced that to the computer, which through hours of computations learned Dali's features, the spatial relation of those features, and the myriad interconnected movements of lips, eyelids, brows, and forehead in relation to one another as Dali spoke. In other words, what made Dali, Dali. What we produced is a simulacrum of Dali, but no single frame is an actual photo of the real Dali. A voice actor studied the audio recordings of Dali and speaks with the traces of Catalan, French, Spanish and English characteristic of Dali. As Dali's translator Haakon Chevalier once said, "Dali spoke four languages—each equally poorly!"
We wrote a script drawn ninety percent from Dali's own writings. For instance, "The painter who reflects is always a bad painter and I dare say the same is true for the philosopher who reflects too much—of whom the prototype is the lamentable 'Thinker' by Rodin. For inside the head of such beings one may be almost certain beforehand that absolutely nothing happens." We invented ten percent of the script, but staying true to Dali's "voice." In spite of the crisp resolution and color of the video, we wanted to make sure our audience knows this is not historical footage, and so the Dali likeness says: "It is Saturday and Saturday, as any other day you are fortunate enough to visit Dali, is the best day of all." Pure Dali bravado. Similarly, there are other clues as to the artifice of this creation; for instance, he tucks the Tampa Bay Times, not the NY Times or La Vanguardia, under his arm.
This Dali likeness provokes a consideration of the role of technology in providing entry to art. At The Dali, we are committed to the surpassing experience of confronting an original work of art. We believe in its sublimity. But we are also tellers of stories about our art. Every museum is. We tell a story simply by what we display, and a further story by how we display it. People want to hear a story of the art and the artist, even as they protect their right to reshape the narrative they are given. At The Dali, our visitors are the recipients of a long chain of stories: from the artist to the collectors, from the collectors to the curators, from the curators to the docents. We offer panels of explanation and audio tours. There is an abundance of interpretation. And yet, a particular fascination animates the faces of our visitors as they hear the words from the welcoming Dali.
We developed this project in close consultation with the Dali Foundation in Spain which manages the artist's intellectual property and reserves the right to his person. Verisimilitude is a fascinating quest. One reading of Western art is the alternate pursuit and repudiation of an accurate notation of visual experience, verisimilitude, as an artistic ideal. As technology advances, we are more able to create compelling likenesses. But do we want to? This is a question for curators and every consumer alike. At The Dali, we want to enhance in every way that we can our visitors' appreciation of our works of art. We study visitor behavior, motivations, and interests and have continuously found that digital experiences deepen their understanding as well as their comfort and enjoyment. Getting to know the artist gives them a more immediate access to the art.
What are the ethics of bringing the words and likeness of a deceased person back into the world? For instance, one journalist mentioned to me that some prospective brides who had lost their fathers have commissioned holograms of their fathers to be present at their weddings. Is this the justifiable satisfaction of a compelling human need, or does it seek to broach a border that should not be broached between the living and the dead? This is a question that is completely culturally bound. For instance, there are peoples in the Americas who historically never used the name of a deceased. Yet we name the names Leonard Cohen or Caruso and listen to their recorded voices, now gone from this earth, without any sense of violation. And so, what of likenesses? Will we populate our lives with simulacrums, letting technology manifest their presence in excess of our memories and desires? Our attitudes toward this will surely evolve along with our technological abilities, and, we hope, in service of our sense of humanity and purpose.
About the author:
Dr. Hank Hine is Executive and Creative Director of The Dali Museum. While leading the Museum's institutional growth, Hine is an educator and writer on the subjects of contemporary art and the intersection of media. Hine co-founded The Dali Museum Innovation Labs. Fusing the transformational experience of visual art with the science of creative problem solving, the Dali Museum I-Labs expand individual and institutional capabilities.
Skip over related stories to continue reading article