After moving back to Europe from America in 2016, I had never been able to come visit until last month. That's when I flew all the way to New Orleans to attend this year's Annual Meeting of the American Alliance of Museums (AAM) and document it through my Instagram and Twitter accounts (@imamusaller).
Much to my surprise, this year I was selected as one of AAM's Social Media Journalists (SMJs). Since I was assigned an international focus, I also had the wonderful opportunity to join some of the meetings for the Getty International Program, through which The Getty Foundation supports about twenty international art museum professionals to come to the Annual Meeting.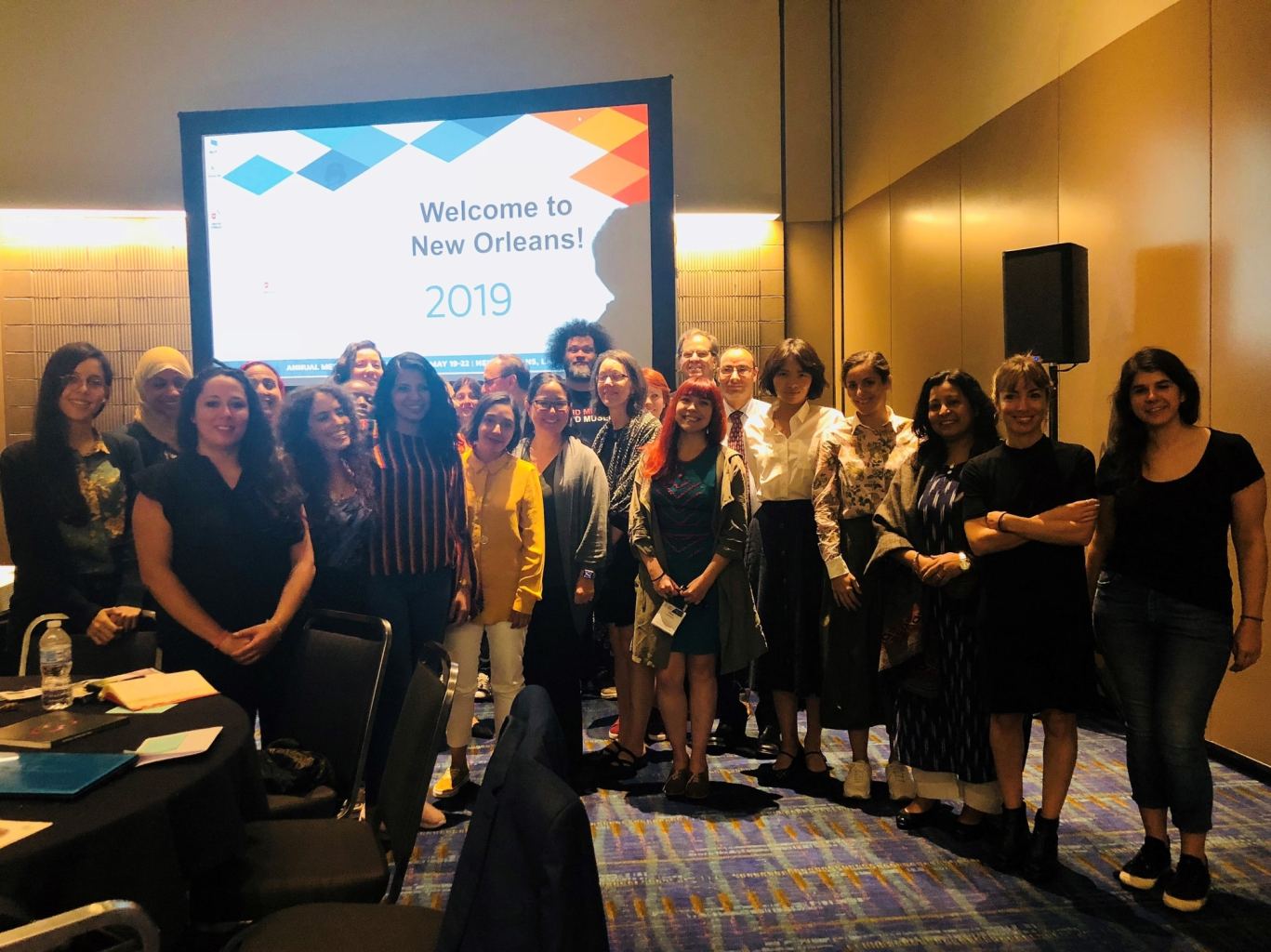 Here's a quick summary of my experience in New Orleans. I put together some of the notes and tweets I wrote during my time there, with a focus on my experience with the Getty International Program and a few photos and captions from all the other sessions I attended (reach out to me on social media if you have any questions on them)! I hope this will pique your interest and, above all, inspire you to attend next year in San Francisco. It's an enormous event, with tons of sessions and other activities to amaze you and make you feel at home wherever you are.
DAY 1
Getty Program Orientation
I must be very excited; I'm about half an hour early! Luckily Linda Norris, fellow SMJ, is already here as well. This morning we'll meet the Getty program participants, who will share object stories from their home countries. How fun!
Skip over related stories to continue reading article
A lamp, a necklace, a booklet, and a catalog are some of the objects from around the world that the participants have shared at the meeting. Soledad from Argentina brought an inverted map, where the South is the North and vice-versa, because it's important to look at things differently! Great one. Viviana from Colombia brought us some books representing the collections of the Museo Santa Clara and the Museo Colonial de Bogotá. Elena from Puerto Rico brought a business card holder. They sound driven and passionate about telling the other side of a story, the one we rarely hear in museums.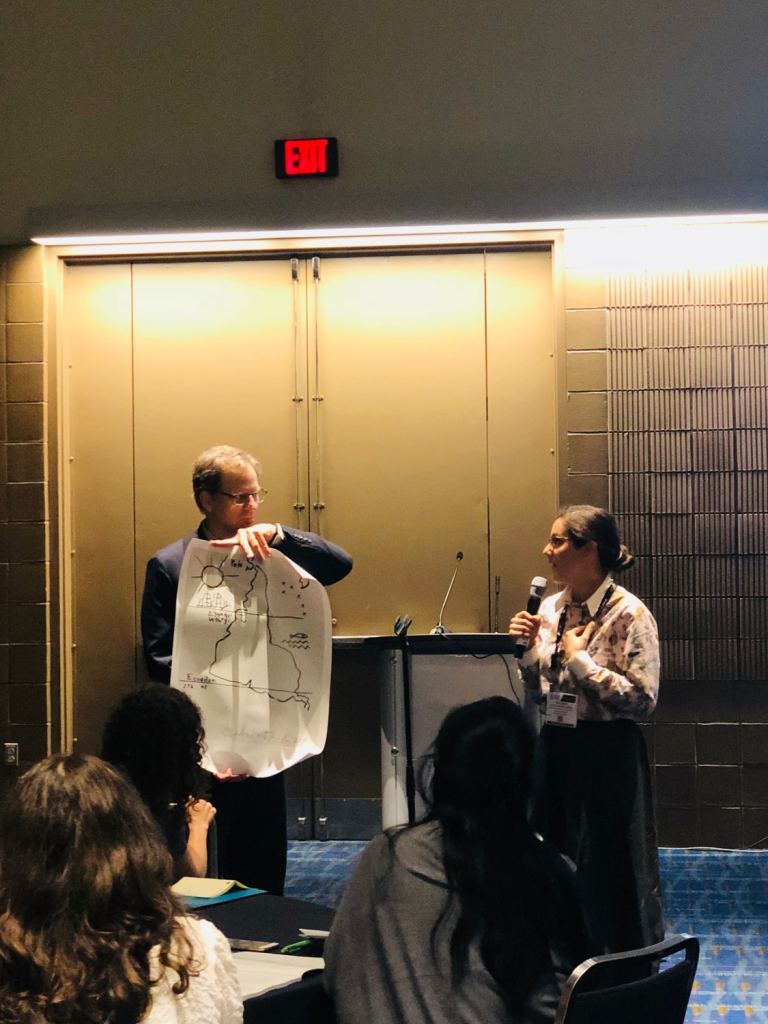 The meeting ends with facilitator Bob Beatty from Lyndhurst Group presenting some American-style networking tips, such as: If you don't know what to say, stand near people who are talking and just listen; and, my favorite tip: When there's a lull, ask a question. I enjoyed my time here, particularly the excitement each worldwide story brought with it.
AAM Scholarship and Getty International Program Speed Networking
This was incredibly well-organized and fun! I met people from all over the world, like Alana from the Witte Museum in San Antonio, Texas and Tatjana from the Muzej Vojvodine in Novi Sad, Serbia, whom I later also encountered during the Getty meetings.
Some of the Getty participants and I end the day with sliders, beer, and jazz.
DAY 2
Getty Program Breakfast
Starting off the day at the Getty Program Breakfast. I'm excited and honored to be surrounded by such inspiring humans! Most of the speeches focus on DEAI issues; there's a need to tell a more full and complete story of this country in museums, to raise the bar and demand that, for instance, museum boards start looking like the communities they serve.
Museums as Catalysts for Empathy-Building and Social Change
This session was very interesting, with a lot of examples from the real world! I loved, for instance, the case of the Woodland Park Zoo, where different animals are considered through their different needs and wants and therefore are referred to with specific names and pronouns.
Opening Session & Awards
Here's where we learned about the beauty of an alliance: no one is ever alone. From diversity comes richness and museums can help unpack hierarchy while completing and correcting narratives.
How the Museum Field Can Be More Inclusive of the Transgender Community
This meeting left us with precious tips to make our world more inclusive of the transgender community. The more explicit one can be, the better, considering how trans communities have always traditionally been excluded, even from the larger LGBTQ groups.
Debriefing Meeting
The Getty participants share reflections and perspectives. They sound very happy to be here at AAM, having lunch all together and interacting with the speakers! Many of them enjoyed the speed networking session and seeing each other's objects and learning their stories. The use of apps and technology in museums and historic houses was also new to many of them, as well as the idea that museums can deal with environmental and inclusion problems.
Opening Party: Light Up the Night at City Park
Hosted by the New Orleans Museum of Art, The New Orleans Botanical Garden, and Louisiana Children's Museum
DAY 3
Creating Inclusive Spaces by Breaking Language Barriers
This session was especially relevant to me as an ESL speaker. Some of the takeaways from different museum representatives were: consider all possible text needs, budget for more translations than you actually think you need, focus on quality over quantity, and consider a digital audience.
Building Relevant Public and Educational Programs Using an Equity Lens
How can we be equitable in our programming? Some museums, like the Seattle Art Museum, are answering this question by being responsive to current events and by building strong partnerships with local institutions.
Debriefing Meeting
Like yesterday, the scholars share reflections and perspectives. They enjoyed the dancing and drumming performance held during the day. Some of them learned about what it means to be "of, by and for all," according to Nina Simon. The party at the New Orleans Museum of Art was awesome: they all enjoyed the collection as well as seeing the food unite people. Some of them also learned about millennials with Museum Hack and how museums can help people destress. Many of them seem to have ideas to bring back to their home countries and institutions.
Closing Party: Parade of Museums
Hosted by The National WWII Museum, Ogden Museum of Southern Art, and the Contemporary Arts Center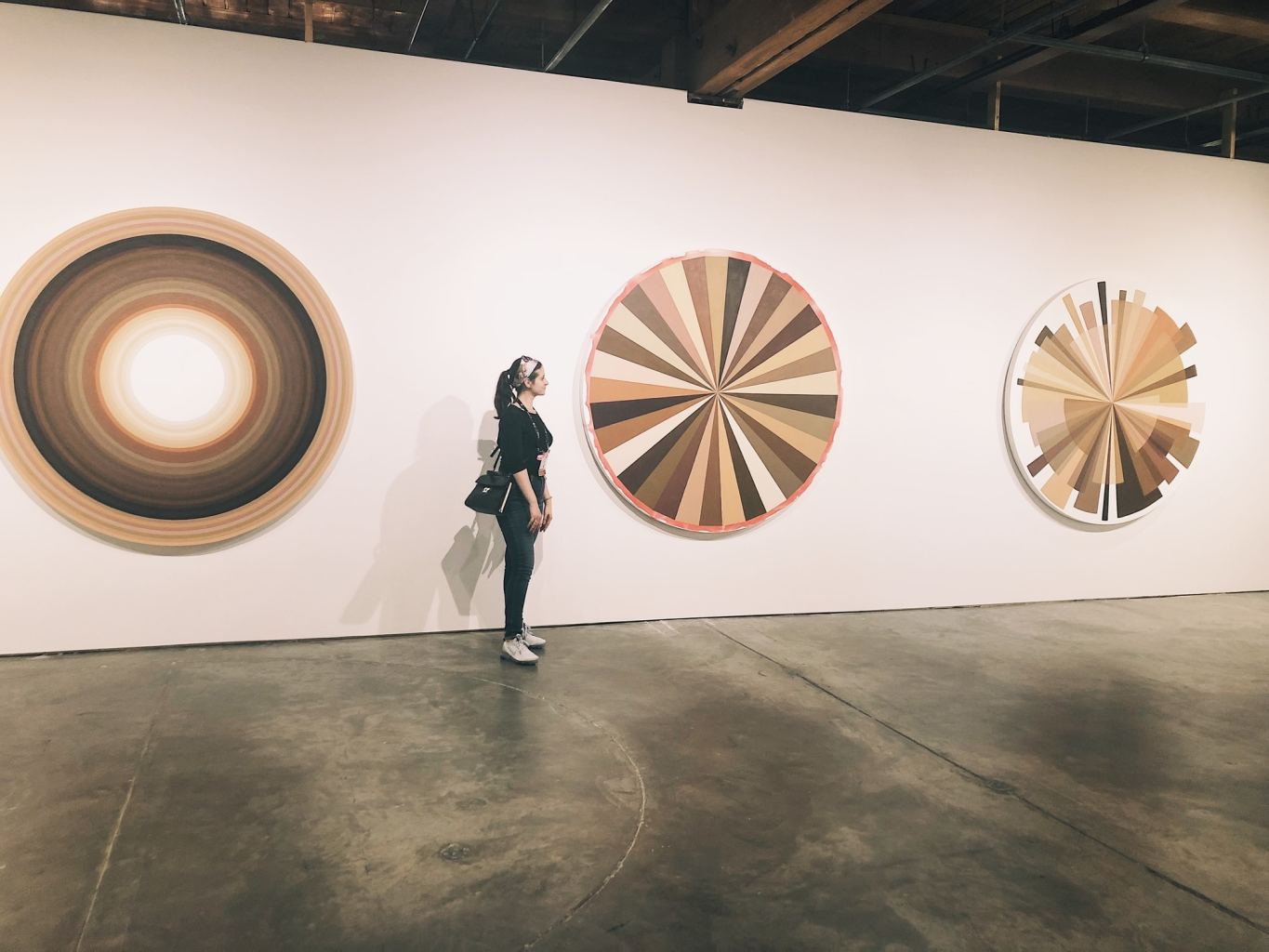 DAY 4
Keynote, Jose Antonio Vargas
I absolutely loved this keynote session. Mr. Vargas is witty and brilliant! All in all, we have to decide who we are and force the world to deal with that, not with their idea of us. Simply powerful.
Museums with No Walls Are the Future
This was a thirty-minute session where we learned how you can make a museum out of any environment; the key is to create relevant community projects, workshops, and art programs!
AAM Getty International Program Wrap-Up Luncheon
This is my last formal meeting at the conference. We're having lunch and exchanging presents with the Getty participants. I receive a hand-painted postcard from India. Some of the participants say they loved all the networking, inspiration, and hope that many sessions left them with. In the next month, they promise to email all the people they've met at the conference and to do research on the museums they've visited. With the help of some of AAM's guidelines, they say they will talk with their institutions about facing current museum issues. A few others also say they will look for more similar conferences in their home countries. In six months from now, they all hope to incorporate what they've learned in their daily lives.
The meeting ends by highlighting our common love for New Orleans, and with our infinite gratitude.
After a siesta and a shower, we decide to take the ferry for a quick hike in the city's green areas before hitting the bars on Bourbon Street. I have so much to say about the past few days that I'm speechless. I love how fun and free-spirited many people are in the United States. It's so easy to make friends, and this is a trait I haven't encountered anywhere else.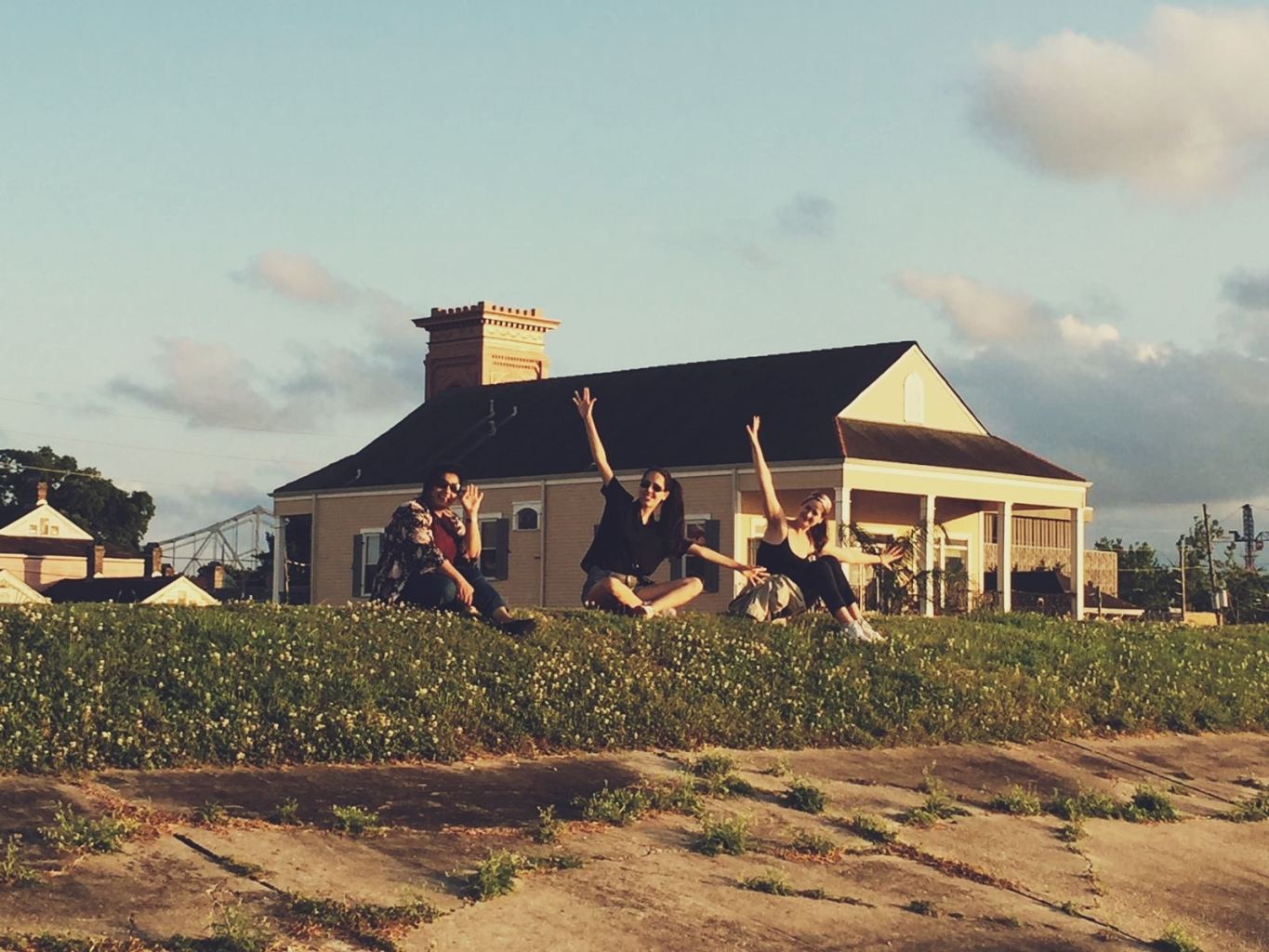 All in all, attending this conference was a terrific experience. Among other things, it allowed me to increase the amount of museum professionals in my network, both on and off social media. Hopefully, after going through all my new contacts, I'll be able to reach out and collaborate with some of these people I met from around the world.
About the author:
Angela Gala is a museum professional from Italy. She holds a BS in Economics and Management for Arts, Culture, and Communication (CLEACC) from Bocconi University in Milan and an MA in Museum Studies from the University of San Francisco (USF). In 2017, she founded Musalley, a blog whose aim is to inspire millennials in their museum (ad)ventures.