Would you like to explore how museums can use their superpower of trust?
This new video and discussion guide about "Truth, Trust, and Fake News"—the first chapter in CFM's TrendsWatch 2019—is designed for use by museum studies programs, museum leadership, staff, and boards of trustees.
Filming the video at the Newseum here in DC was bittersweet, because the museum will be closing its doors at its current location at the end of this year. (No news so far on what they will do next.) Their closing particularly distresses me because I think that now, more than ever, we need a museum devoted to journalism, news, and the role of the press in a free society. I feel fortunate to work with their staff on a topic so closely aligned to their mission.
In the Newseum's galleries I interviewed Alliance CEO Laura Lott, and Sonya Gavankar, the Newseum's director of public relations, inviting them to share their thoughts on why museums are such trusted sources of information, what museums need to do to retain that trust, and how museums can help rebuild trust in other civic institutions. What role has social media played in shaping how young people filter the news? How should museums respond when they are called out on mistakes?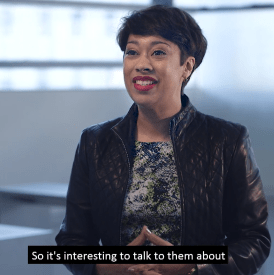 The accompanying discussion guide provides scaffolding for explorations you can lead in the museum, boardroom, or classroom. I provide prompts for difficult discussions (Why do people trust museums? What's the difference between being principled and being partisan?); activities (reflecting on which news sources you trust, and why, taking a critical tour of the information presented in a museum or gallery); and instructions for two futurist exercises (exploring implications, and backcasting, or as I like to describe it, "reverse engineering the future you want to live in").
Taken together, the 10-minute video and 17-page discussion guide support a deep exploration of the challenges and opportunities presented by the current precipitous decline in trust accorded by the public to government, media, academia, industry, and nonprofit organizations.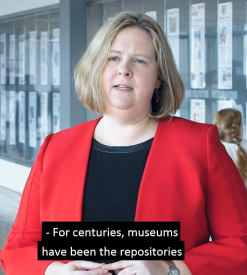 I'm also using this project to test whether there's a sustainable business model for creating in-depth content to complement CFM's reports. The video and workbook together cost $50, and purchase gives you permission to share these resources with staff and board of your organization or students in your academic program. About 100 sales would cover the cost of production. If this works out, I'll investigate producing videos and discussion guides for other critical issues we've covered in TrendsWatch. (Do let me know what topics you'd most like to see receive this treatment.)
I'd appreciate your assistance in spreading the word to museum colleagues and museum studies faculty—so please share links to the video and discussion to help spark an exploration of the future of museums and trust.
Skip over related stories to continue reading article