Readers of this blog know I collect exhibits that explore imaginary futures, especially when these explorations inspire people to take action today. In today's post, Ludwig Bengtsson Sonesson, Project Leader and Communications Officer at the Lund University Sustainability Forum, introduces us to a future museum that may inspire visitors to reflect on the unsustainable nature of our current carbon consumption. This installation is part of Climaginaries, a three-year research project initiated in September 2018 and financed through the Swedish research council FORMAS. The overarching aim of Climaginaries is to advance the understanding of "imaginaries" as means of catalyzing the political, economic, and social responses required for transitioning to a post-fossil society.
–Elizabeth Merritt, VP Strategic Foresight and Founding Director, Center for the Future of Museums

When I study contemporary political life, I am struck by the lack of visions for the future, which if they appear tend to be either techno-fix utopias or austere dystopias. We are either lulled into a false sense of security or forced into a pit of anguish and despair with nihilism as the only course of action. There must be another way to talk about the future and climate change. The Climaginaries team started with a simple question: what would a museum of the fossil fuel age look like, if we set it in a near future where we successfully* transitioned away from fossil fuels?
The result is Carbon Ruins—a museum of the fossil age, an exhibition that tiptoes on the border between art installation and museum. As you step into the space, you also step into the future, in which Sweden reached its target of carbon neutrality by 2045, and the world followed suit five years later. The humongous task that lies before us (in 2019) is complete, and we can look back at the events that brought us there.
A brief guide to the exhibit
As you enter the space, you are met with a timeline of key events during the Fossil Age (1849-2049), a format familiar to frequent museum visitors.. The invention of the combustion engine (1859), James Hansen's testimony to congress (1982) and the bursting of the Carbon Bubble (2024) are three examples.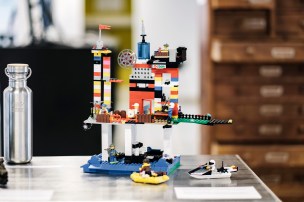 Beyond that, you are faced with the fabric of fossil life. You see an oil well built out of LEGOs by a small child. As you move closer, the guide explains how these toys became increasingly controversial during the 2020s. Parents were appalled that their kids were playing with oil-based bricks, the very thing that was endangering their future. White-clad children with black goo dripping from their hands protested outside of LEGO factories. This forced massive investments into bio-plastics; it was do-or-die time for LEGO.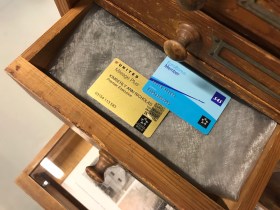 In a wooden drawer, you see a pair of curious plastic cards. Depending on your carbon footprint, they might be quite familiar. They are frequent flyer cards, which served to incentivize aviation: fly, get points, buy, get points, fly, etc. In the museum setting, they appear as anachronisms and you laugh at the folly of the past generation.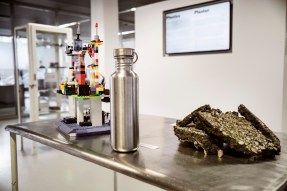 A familiar object enters your peripheral vision: a steel bottle. The guide explains that they were a popular replacement for plastic bottles, though in fact they were made using coke (derived from coal) and were associated with significant greenhouse gas emissions. As industry tried to switch to hydrogen-based steel (a roughly 25-year process) in reaction to a sky-rocketing price on carbon, there was a world-wide effort to collect steel from "less useful applications" to be recycled into building materials, thus these bottles are a rarity!
These are only three objects (more can be seen on the website), but hopefully they give you an idea of the experience inside the exhibition.
Why?
Amitav Ghosh has said that we are in "a crisis of imagination" in regards to climate change; we struggle to imagine how we (humanity) could ever solve such an abstract, all-encompassing problem. In the face of such a crisis, there is a dire need for new ways of communicating climate science. We have identified a few factors which are key to the success of our exhibition.
Firstly, by focusing on recognizable objects, places, and characters, we bridge the gap between the daily lives of humans and the abstract impacts of climate change. Each object carries with it a story crafted by us in collaboration with colleagues at the university, but as visitors interact with them, new stories form in their minds.
Secondly, we consulted broadly to make the speculative part of the exhibition as true to current science as possible. Experts on transport, agriculture, materials, energy, and politics were invited to creative workshops where they proposed events and objects for the exhibition.
Thirdly, we tried hard to ensure visitors' suspension of disbelief remained throughout the guided tour. When we talked about the objects, we were in character as museum guides from 2053, and all questions were answered from the future. Often, the audience played along, forcing us to be imaginative in our responses.
Finally, much of the exhibition had a humorous tone to it—which is not that hard to accomplish, as much of the Fossil Age is truly absurd in hindsight.
Why should museums care about climate change?
We are in the midst of a climate crisis. We cannot sit idly by until we (hopefully) achieve a fossil-free society. What we can do is use the power of imagination and culture to transport our citizens to the future and thus encourage the decisions needed to get us there.
Museums are respectable institutions; they infer legitimacy and credibility on any issue they tackle. Thus, speculating on an uncertain future through fictive imaginations might be a frightening avenue to explore. Explaining the facts of climate science is important, but creating immersive experiences of a diverse set of climate futures might be even more crucial in catalyzing climate action.
Dare to imagine different future(s). Use these visions to spark the conversations needed, before it is too late.
*Successful in that we halted anthropogenic climate change, though the transition was in no way painless. Species went extinct and sustainability issues are still left unresolved.
The exhibition is the result of several initiatives at Lund University, most notably the Narrating Climate Futures Initiative, the Climaginaries project and the think tank LU Futura. Made possible by funding from Formas. The group behind it is diverse: three political scientists (Johannes Stripple, Roger Hildingsson & Ludwig Bengtsson Sonesson), one artist (Caroline Mårtensson), one art historian (Sylvia Lysko), and one engineer (Alexandra Nikoleris). More information and contact info at climaginaries.org.
Skip over related stories to continue reading article