My parents were part of the generation that fought and won World War II. As their children, it was common for us to ask them, "What did you do during the war?" We wanted to be reassured they had stood up and done the right thing when it counted. We wanted to know that, when a racist authoritarian ideology threatened to obliterate liberal democratic values from the face of the earth, they had taken a stand.
I thought back to this last month when the horrific news streamed out of El Paso of a racist mass murderer who, motivated by hatred of immigrants, killed twenty-two people and injured another twenty-four. The violence renewed the country's debate over the rhetoric used around immigration and the way Americans respond to it.
Almost a century after the World War II era, we seem once again to be facing a rising tide of racist ideology that is undermining the very foundations on which democracy is built. And as the El Paso shooting illustrates, hateful ideology has the power to manifest in hateful actions.
So, at this time of national crisis, I'm thinking forward to the questions future generations will be asking of my cohort. They will want to know what we did in response to this threat, and they'll judge us based on what kind of stand we took.
Skip over related stories to continue reading article
As community institutions devoted to learning and education, what can (or should) museums do to respond to hot-button issues in the national discourse?
My staff and I at the Tenement Museum have been acutely struggling with this question for some time, especially since the advent of the Trump administration and its intense focus on immigration. We tell the stories of immigrants, migrants, and refugees who lived in our historic tenement building and the surrounding Lower East Side area of Manhattan in the nineteenth and twentieth centuries. Whether we like it or not, this situates our museum uniquely in the middle of the hottest political issue in the United States today. In a July 2019 Gallup poll, 27 percent of Americans listed immigration—broadly termed to include both the influx of new immigrants and the government's policy toward them—as the biggest problem facing our country, outpacing all other issues.
This precarious position is something I grapple with in a very real way. On tours like "Hard Times," which the Tenement Museum has been offering for nearly two decades, we tell the stories of people who bear more than a passing resemblance to immigrants in the news today: Natalie Gumpertz, a single mother struggling to care for her children after the disappearance of her husband, or Rosaria Baldizzi, an Italian undocumented immigrant who lived in our building at 97 Orchard Street during the Great Depression. The tour I lead (our museum has a tradition that everyone does, from the president on down) is called "Under One Roof," and tells the story of three families who lived in a tenement at 103 Orchard Street, including the Wong family, Chinese immigrants who came to the United States in the 1960s.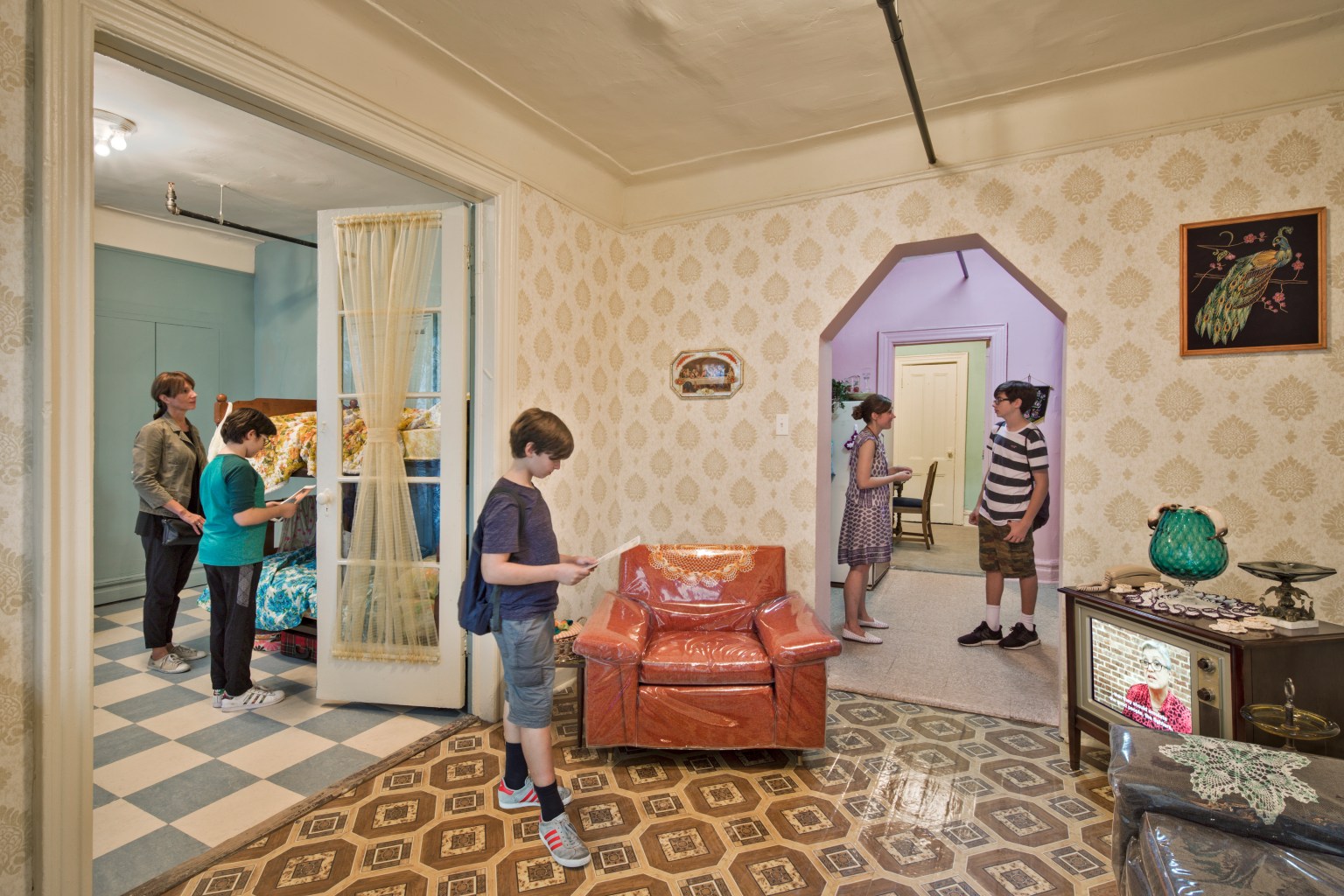 When my tour gets to the Wong family, I have to confront the nakedly racist origins of American immigration policy: the first immigration law in U.S. history was the 1882 Chinese Exclusion Act, which barred the entry of the Chinese to the United States and remained essentially in effect until 1965, when Mrs. Wong was able to immigrate to the U.S. with her two daughters. A recent visitor wrote of learning of this on her tour that:
"When [the tour guide] talked about opening and closing immigration to China completely that was actually surprising to me…it definitely left me the impression that, wow! America has very recently actually been pretty prejudiced. Like even at the structural policy level and that was something that I didn't realize."
Helping visitors understand that prejudice is not something relegated to the past but has played (and continues to play) an active role in shaping American policy is a critical lesson of the tour, and this visitor got the point exactly.
But sometimes, we hear feedback that drawing these parallels between what's happened in the past and what's happening today is inappropriate. We get post-visit survey responses like this: "Tell us about the 1800s, immigration, struggles and successes of those times and keep your current day politics to yourself." The implication is that our museum should be "neutral," that we should "stick to the program," as another recent survey ordered, and "stay out of politics."
My response to these visitors would be twofold. First of all, I would tell them that neutrality is a myth. The very act of choosing what stories we tell is a values statement. If we only choose to tell the stories of "important" people like Washington and Jefferson and Lincoln, we're not being neutral—we're making a statement about whose lives matter. In choosing to tell the stories of poor and working-class immigrants, migrants, and refugees in the first place, the Tenement Museum has already taken a stand as to whose lives matter.
Second, I would share the inspiring words of the Holocaust survivor and Nobel laureate Elie Wiesel, who once said, "We must take sides. Neutrality helps the oppressor, never the victim. Silence encourages the tormentor, never the tormented."
If we fail to draw parallels between the past and today in the name of "sticking to the program," we are enabling the kinds of oppression that occurred in the past to continue today. With museums being one of the most trusted sources of information in America today—78 percent of Americans said they highly trust history museums, far outpacing other institutions like newspapers, government agencies, and nonprofits—it's time for them to leverage their knowledge and expertise to engage with the public on topics of national concern.
Otherwise, we risk becoming relics of the past ourselves.
About the author:
Kevin Jennings is President of The Tenement Museum. He served as Assistant Deputy Secretary of Education under President Barack Obama from 2009 to 2011. Prior to that, he led GLSEN (Gay, Lesbian and Straight Education Network), which he co-founded in 1990.