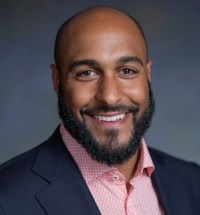 FOR IMMEDIATE RELEASE
OCTOBER 7, 2019 — ARLINGTON, VA – The American Alliance of Museums (AAM), the only organization representing the entire scope of the museum community, has named Andrew Plumley as director of inclusion. In this role, Plumley will direct AAM's internal and fieldwide diversity, equity, accessibility, and inclusion (DEAI) work. His portfolio will include leading Facing Change, AAM's unprecedented $4-million initiative to foster inclusive institutional culture in museums and diversify museum boards and leadership.
"We are thrilled to have Andrew join AAM as our director of inclusion," said Laura Lott, president and CEO of the American Alliance of Museums. "We are grateful to Dr. Tonya Matthews, our interim director of inclusion and a dedicated former AAM board member, whose contributions and leadership in our DEAI work has been tantamount. I am confident that Andrew's talent, expertise, and passion will move it forward in strides."
Plumley joins AAM from Equity in the Center, a project of ProInspire, where he served as associate director. During his tenure, Plumley managed the launch of Equity in the Center, a national initiative to influence leaders to shift mindsets, practices, and systems to create a more diverse and equitable social sector.
He brings extensive experience in sustainability, strategy, and diversity, equity, and inclusion consulting in the social and private sectors. He started his career in education, where he advised higher education institutions on diversity and inclusion strategy, as well as provided access and success programming for Pell-eligible students of color. Plumley has focused on creating lasting systems change for the communities he partners with and supports. Currently, Plumley serves as Young Black and Giving Back Institute's board chair, an ATMTC diversity, equity, and inclusion task force member, and an American Express N-Gen Fellow. He previously served as a city council-appointed Police Commissioner in the state of Vermont.
Plumley earned his BA from Middlebury College and MBA with a focus on social and environmental sustainability from the University of Vermont's Grossman School of Business.
About the American Alliance of Museums
The American Alliance of Museums has been bringing museums together since 1906, helping to develop standards and best practices, gathering and sharing knowledge, and providing advocacy on issues of concern to the entire museum community. Representing more than 35,000 individual museum professionals and volunteers, institutions, and corporate partners serving the museum field, the Alliance stands for the broad scope of the museum community. For more information, visit www.aam-us.org.
Press Contact:
Natanya Khashan
Director of Communications and Marketing
(202) 218-7665
###