In 2018, twenty organizations enrolled in a special museum cohort of Aroha Philanthropies' Seeding Vitality Arts program. With funding from Aroha, and training provided by Lifetime Arts, these museums are developing high-quality, intensive arts learning opportunities for older adults. Many of these museums are contributing guest posts to this blog sharing what they've learned. Today's post is from Joanne (Jo) Russ, Arts Programs Manager at the Neon Museum in Las Vegas.
---
The combination of creativity and aging is a concept that the Neon Museum has appreciated since the early days of establishing a collection of historic Las Vegas signs. Each piece in the collection is aged and unique, with a great story to tell. So the opportunity to participate in Aroha Philanthropies' Vitality Arts program really resonated with the Neon Museum's education team and aligned perfectly with the museum's mission of collecting, preserving, studying, and exhibiting iconic Las Vegas signs for educational, historic, arts, and cultural enrichment.
For our creative aging workshops, the team decided to focus around performance, in the broad sense of using movement to tell stories. The series was developed with a postmodern approach, encouraging participants to create "experiences," rather than taking on traditional acting roles. In the first session of the workshop, participants took creative inspiration from a field trip to the museum's outdoor Neon Boneyard, where Derek Weis, Education & Engagement Manager, shared the histories of the salvaged hotel, motel, and small business signs on display there. Afterwards, participants in the group shared their own stories of connection with individual signs.
During the following sessions, teaching artist Ryan Elisabeth Reid introduced the concept of "Creating a Performance Score." Participants considered project title, intention, people, sound, actions, time, props and resources, and developed stories to perform in pairs as well as in larger group collaborations.  Ryan also shared videos and her own experience learning from, and performing with, inspirational ninety-nine-year-old dancer and choreographer Anna Halprin.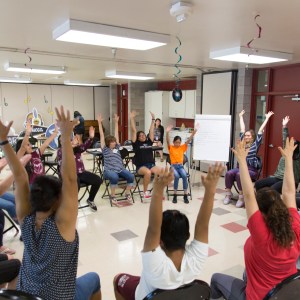 As the Neon Museum had previously worked successfully with Ryan's intergenerational Sprat Teaching Artist program, the group was composed of equal numbers seniors and teens from the Rogers Foundation's Core Academy program that focuses on the development and empowerment of Southern Nevada's under-resourced youth. Feedback from the participants illustrated the mutual respect and learning that occurred between the age groups. Teenager Pablo commented:
"It feels good because it's something that I would not do everyday…. It helped change me better because I learn from them—they know more than me. I feel happiness because they're all energetic and well to be around compared to some people that I'm most around at school."
And senior participant Cherina noted:
"Actually it was pretty refreshing because there is a myth that there is a generation gap, but I found that with this group of youngsters, the gap wasn't really there. I think it's more of a communication. It's like their energy just flowed over to us…Perhaps that's what we need, more workshops like this to close the gap so we get to know each other and there's so much we can learn from the youngsters. These days I know the younger generation know so much more than when I was the same age. There is NO comparison."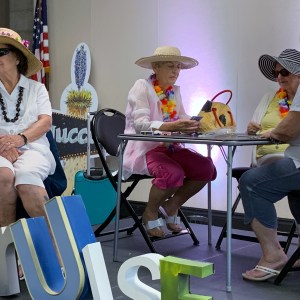 For this first series, the Neon Museum partnered with the Winchester Dondero Cultural Center, a multi-cultural hub with a strong program for seniors. Cultural Program Supervisor Irma Varela and her team organized participants and resources for the program, including hosting the culminating event. Family and friends were invited to experience the final collaborative performances and to celebrate the new skills learned and bonds formed over the duration of the workshop series. A short video gives more details of the participants' experiences:
Teenager Marybeth summarized her impressions of the benefits of working closely with the senior participants:
"It's interesting because they're like older than you so its kinda like the things that you're freaking out about now, they can give you advice. It's just nice hearing about like their stories and it helps you look forward to your own future."
About the author:
Joanne (Jo) Russ, Arts Programs Manager, has been with the Neon Museum Education and Outreach team since February 2017. She coordinates the Neon Museum's National Artist Residency, as well as artist-led workshops and community-activated projects. Jo is originally from New Zealand and holds a Bachelor of Visual Arts from MIT Faculty of Creative Arts, Auckland and has a background as a practicing visual artist and as adjunct faculty at the University of Nevada College of Fine Arts.
Skip over related stories to continue reading article