In 2005, not long after the advent of tabletop 3D printing technology, the University of Michigan Museum of Paleontology (UMMP; a research institution) used this approach to generate elements missing from a skeletal mount of the Buesching mastodon at its sister display institution, U-M Museum of Natural History (UMMNH). At the time, this innovative use of digital 3D technologies went almost unnoticed, aside from an information panel attached to the railing that explained why the surface texture of a few bones was made up of simple polygons. The 3D models were based on point clouds, data sets consisting of thousands of surface coordinates, collected using a MicroScribe digitizing arm in the lab of UMMP curator Dr. Daniel Fisher. (A digital model of the complete Buesching mastodon skeleton, elements of which have since been enhanced with photomapping technologies, is available on the University of Michigan Online Repository of Fossils [UMORF] website.)
Much has changed since 2005. We're now in a world where multi-million-facet 3D models are being produced daily by institutions of all sizes around the world, and individuals can even download and print 3D models using readily available and fairly affordable home equipment. Meanwhile, UMMP has made dramatic strides in 3D digitization of its collections, using photogrammetry to create a growing number of photorealistic, high-fidelity, high-resolution models.
Over the past year, UMMNH worked with UMMP to populate the gallery Evolution: Life through Time in UMMNH's new home—the recently completed Biological Sciences Building on U-M's central campus in Ann Arbor. Digital 3D techniques played a major role in the project, as tools for spatial planning, for rendering images used in video and print applications, and for creating new physical additions to the gallery using 3D printing technologies.
Digital 3D technologies played prominently in the last-minute re-development of one major feature of the new museum after our original plans fell through. Due to unforeseen complications with the specimen we planned to display, we had to quickly devise an engaging feature to take advantage of a space designed to accommodate a shallow panel mount viewable from two viewing angles on separate floors above and below. It was at first hard to find a practical alternative solution, but when we decided to try quick 3D mock-ups of potential skeletons in the space, we were able to plan an installation that made better use of the space than even the original had, while keeping skeletons out of reach of visitors. We ultimately decided on a dynamic depiction of an underwater scene from the Cretaceous Western Interior Seaway. We relied on 3D digital models and 3D printing to make an entire school of fish skeletons to serve as the focal point of a feeding frenzy that features the short-necked plesiosaur Dolichorhynchops, the toothed diving bird Hesperornis, and barracuda-like fish Cimolichthys. The end result is a one-of-a-kind display made possible through digital 3D design and production technologies.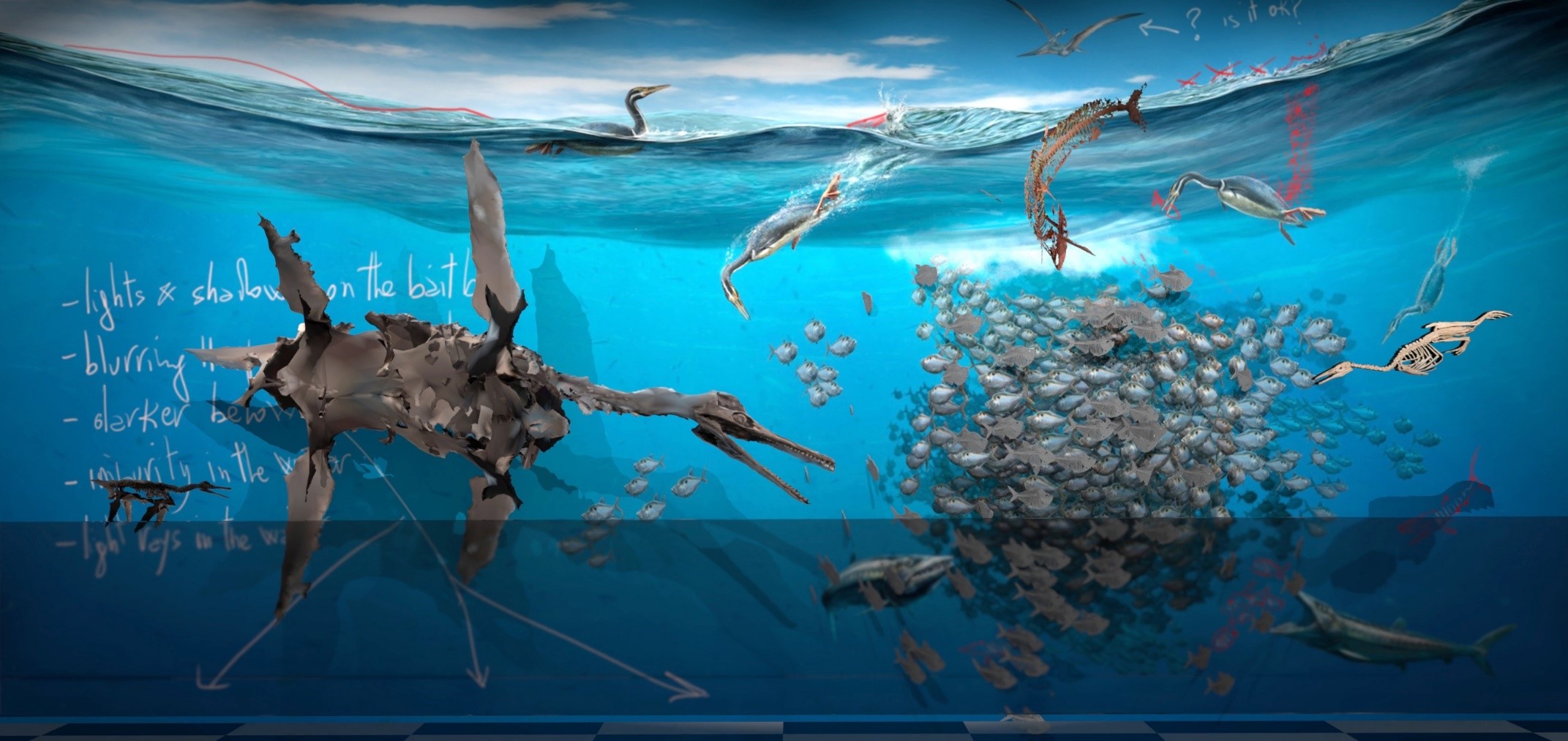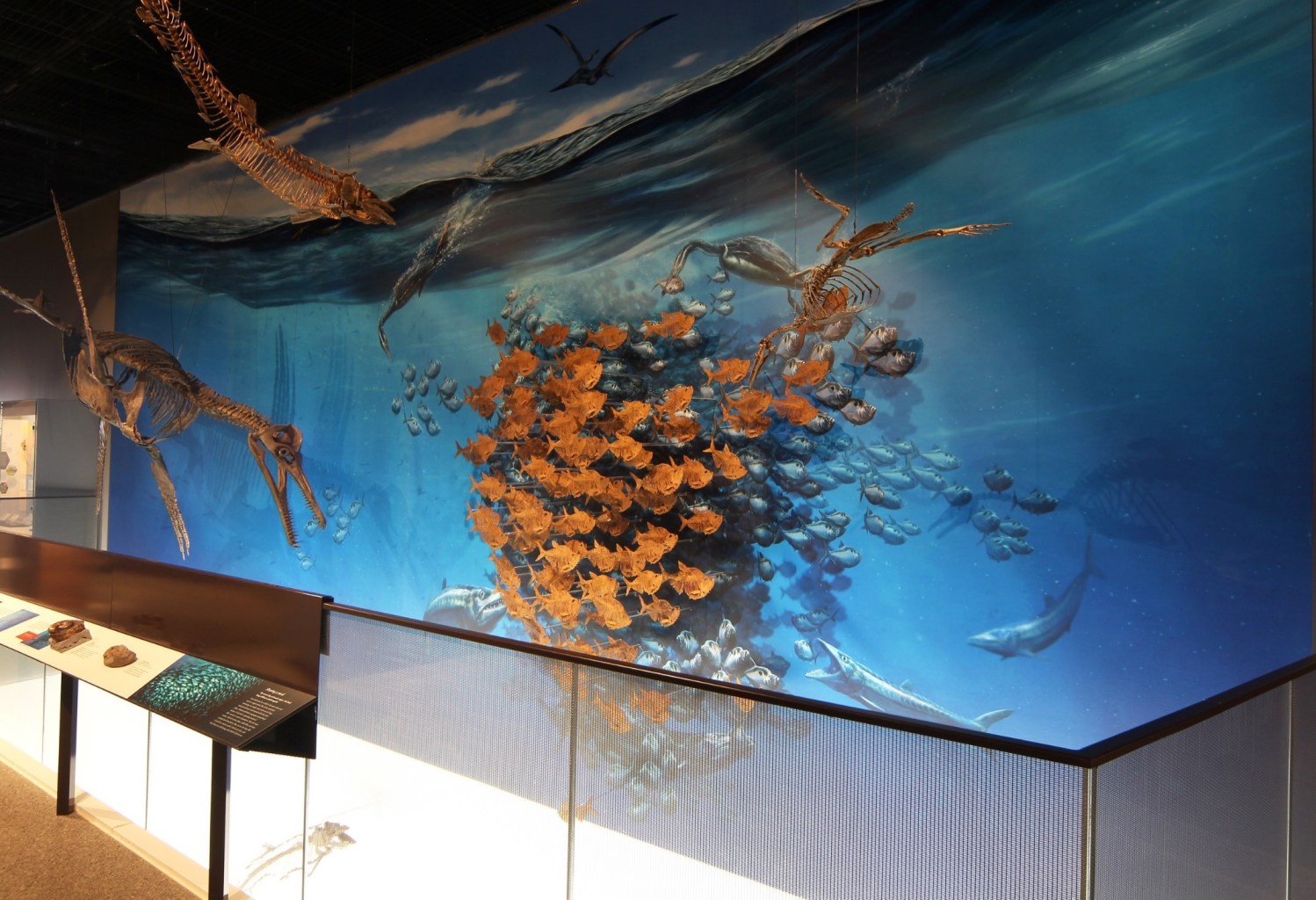 We also used digital models to help plan specimen layouts in other parts of the new galleries. The models helped determine final placements of specimens too difficult to test fit in the physical spaces, and to precisely position a mastodon skeleton mounted walking in the footprints of an actual mastodon trackway. With increasing access to 3D digital models of specimens and easy-to-use CAD programs, the use of virtual models of specimens and artifacts intended for display will undoubtedly become standard design procedure in the near future. During this digital 3D revolution, experience with methods and software needed for producing and manipulating 3D models will become increasingly important for exhibit designers, whether working for a big studio or a small institution limited to in-house exhibit development.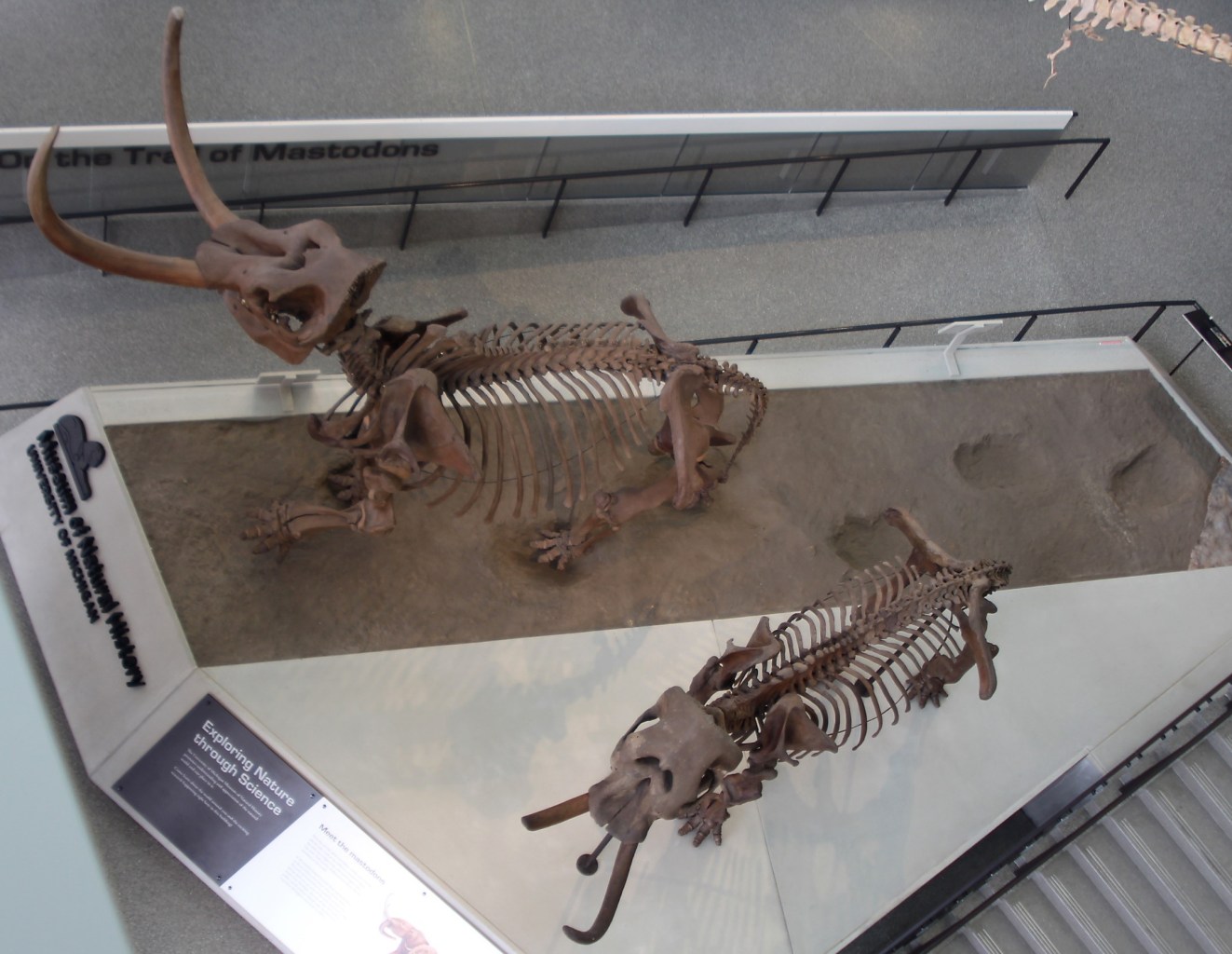 Another unique application of 3D models that visitors can see at the new UMMNH is what we have been calling "virtual dioramas." In the museum's former location, the Alexander G. Ruthven Museums Building, some of the most popular displays were the large number of physical dioramas. But early in the planning process for the move, it became clear that the new galleries did not have enough space to accommodate the complete set of these classic displays. UMMP mobilized a team of students and staff to create highly detailed digital 3D models of the scenes using photogrammetry. We then used these virtual manifestations of the dioramas to populate interactive monitors in the exhibit gallery.
Though many of our long-time patrons will miss the physical dioramas, the digital surrogates do have a few notable advantages. First and foremost, they convert what were displays with rather large footprints into visual elements that only occupy the space of a flat-screen TV on a gallery wall. Other advantages include the ability to introduce camera motion into these previously static displays and to enhance the visual with environmental effects. There is also the potential for future enhancement with moving computer-generated elements, user-controlled interactivity, virtual reality experiences, and mobile manifestations. Our "swim-through" video renderings are modern displays that transport visitors from their previous positions behind glass to a more immersive perspective, moving around inside these recreations of our classic displays.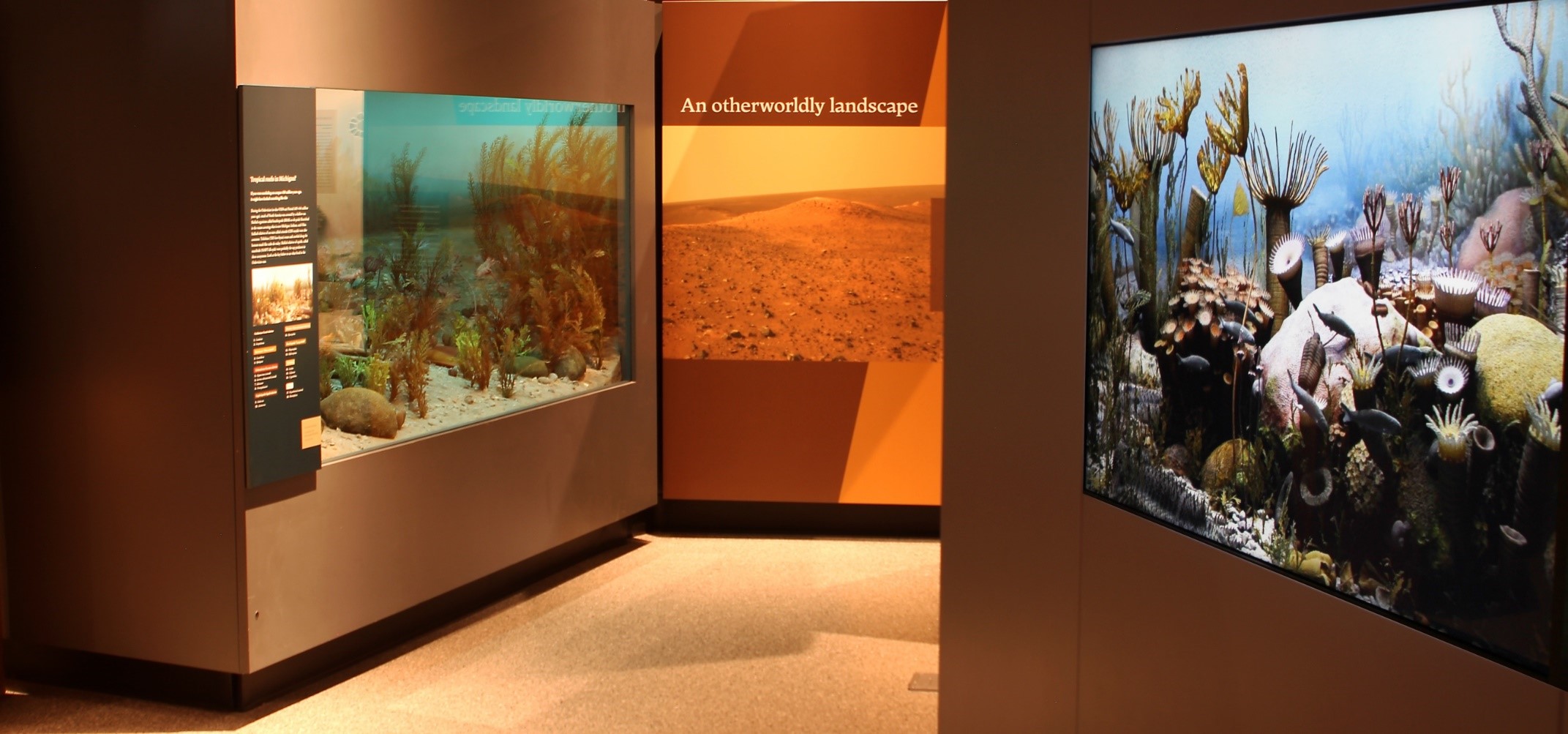 This "virtual diorama" application is one of many potential ways to digitally display computer models. At UMMNH, we have been discussing ways to use our brand-new smartphone app to enhance the displays with things like virtual reality, augmented reality, and QR codes that link visitors to online versions of fossils that they can "take home" with them to manipulate, measure, and inspect in detail.
Digital models also helped us populate UMMNH's new home with physical specimens, thanks in large part to the UMMP's large-volume 3D printer (Gigabot XLT 3+) with sub-millimeter resolution. With careful and detailed painting, we were able to use 3D-printed models as display specimens that are similar in appearance to traditional resin casts. As with the virtual dioramas, these printed representations have a number of advantages over traditional casts. For one, digital 3D specimen data can be much easier to obtain from other institutions than molds or casts. As with spatial planning of displays, we expect that our extensive use of 3D-printed specimens will soon be the rule rather than the exception.
But with all the advantages of digital 3D models, there are also challenges related to process documentation, associated metadata, ownership and licensing, and long-term digital preservation. Realizing that the technology to create and share 3D data was rapidly advancing, while progress on standards and data preservation was lagging behind, in 2017 the UMMP and joined the libraries at Washington University in St. Louis and the University of Iowa to initiate the Community Standards for 3D Data Preservation (CS3DP.org) project, funded by the Institute of Museum and Library Services. This open effort seeks to build a system of standards and guidelines for 3D data preservation with input from the diverse community of 3D practitioners, data curators, and other stakeholders at libraries, archives, museums, universities, and commercial enterprises.
These collaborative efforts between UMMNH and UMMP played a major role in developing UMMNH's new exhibit galleries that opened to the public in April 2019. Ongoing efforts will undoubtedly take these collaborations further. With recent advancements in 3D digital technologies, computer models are starting to make dramatic impacts on museum displays. At the University of Michigan, the process is already well underway.
About the authors:
Dr. Michael Cherney, an AAM member, started working at the University of Michigan Museum of Natural History (UMMNH) as an undergraduate student helping plan and fabricate exhibit components in the fall of 2000. He participated in the planning, development, fabrication, and installation of some of the museum's most iconic displays, including the Buesching mastodon and the 50-foot-long prehistoric whale, Basilosaurus isis, that now greet visitors as they enter the museum's main atrium. He has an interest in the intersection of modern technologies and traditional museum exhibition. While on the UMMNH exhibit staff between 2004 and 2011, he advocated for the use of digital technologies in the museum and produced its first permanent computer-interactive displays. Most recently, he was the lead developer for Evolution: life through time, the fossil gallery in the new UMMNH that opened in April 2019.
Dr. Adam Rountrey is a Research Museum Collection Manager at the University of Michigan Museum of Paleontology. He has been involved with acquisition, analysis, visualization, preservation, and dissemination of 3D specimen data at this institution since 2004. During this time, Adam developed the photogrammetry workflows and 3D web viewer for the University of Michigan Online Repository of Fossils, and he currently manages the online repository. He is a co-PI on the IMLS-funded Community Standards for 3D Data Preservation project and is particularly interested in issues related to rights and ownership of 3D data in museum settings.
Skip over related stories to continue reading article