Museums are constantly experimenting with how we can present content in ways that engage and inform a wide audience. Part of the challenge is to consider issues of accessibility and disability, to develop different ways of communicating and perceiving ideas in response to them. While museums have made great strides in addressing the needs of these communities, their efforts are often focused on mobility, legibility of labels, and other guidelines that have been deeply codified by the groundbreaking work of the ADA. But the definition of disability and accessibility encompasses even more than this, and museums have only begun to scratch the surface.
This became especially top of mind for me about four years ago, when a shift in my personal life altered the whole way that I think about communication, disability, accessibility, and how cultural institutions can provide a broader scope of meaning to our communities. This experience gave me the idea for an exhibition rooted in synesthesia (the blurring or merging of senses) and sensory shifts (when one sense substitutes for the function of another). As a specialist in the field of design, I imagined we would create immersive environments within the setting of a museum gallery space that allowed people to explore the senses and think about how objects can be experienced without using text as a mediator.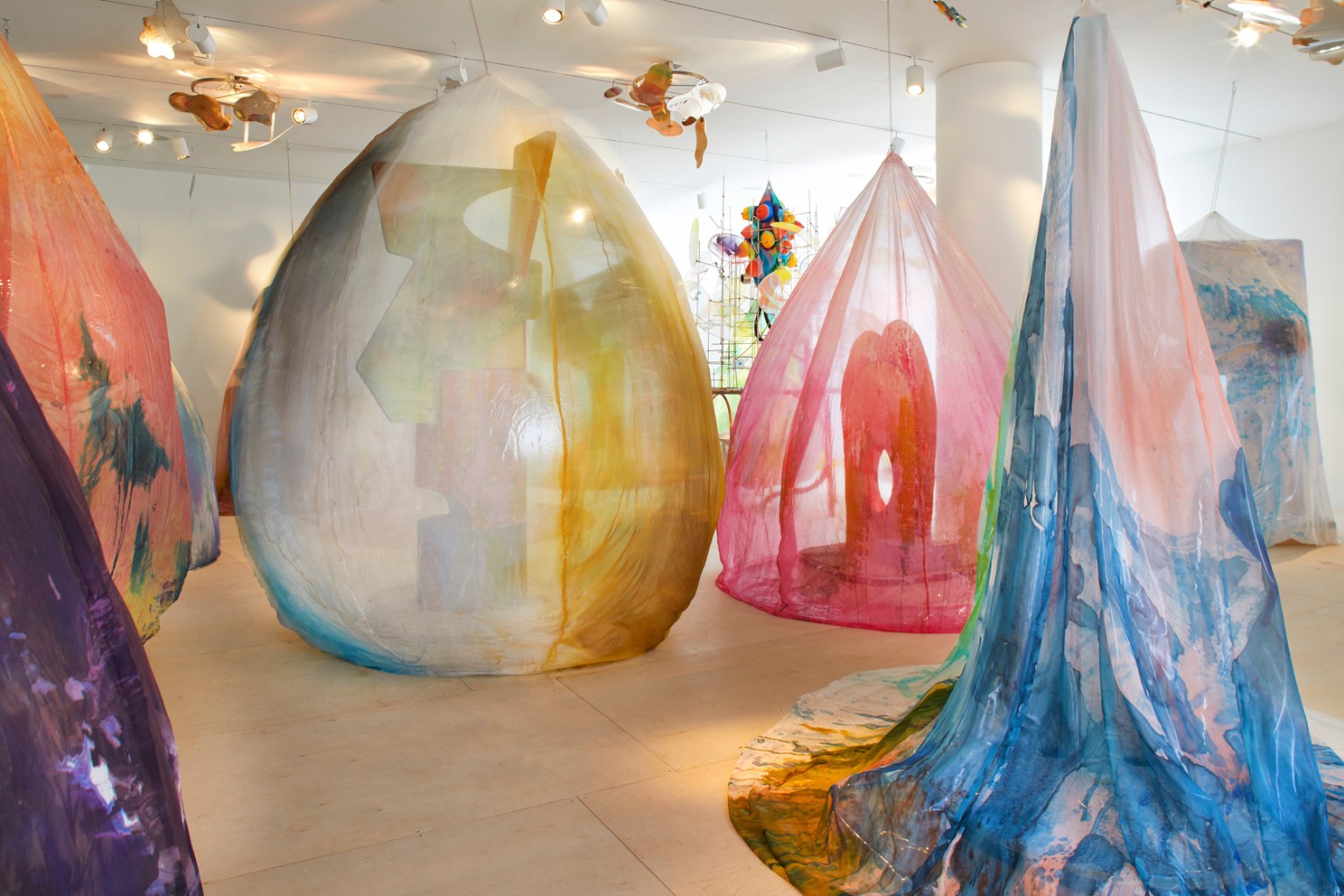 As I began my research, I pursued and was fortunate enough to receive a catalyst grant to visit peer institutions and look at exhibitions that explored things like scent, sensory experiences, and immersion rooms. I went to conferences like the Leadership Exchange in Arts and Disability (LEAD) conference, trying to get a better sense of ongoing thought about accessibility, design, and inclusion. I had gone into the process focused on how we could innovate with the exhibition's content and engage leading designers and artists to explore these ideas, but my curatorial parameters soon morphed and expanded, giving me a different idea of how the exhibition should be conceived. Developing the exhibition became a dynamic group process that occurred over the course of eighteen months.
The Convening
After a long research phase, I developed a list of artists, educators, and members of the medical community to work on the project. I came to understand that bringing together scientific, experiential, and design-oriented minds could offer new insights into various communications needs, as well as opportunities to introduce ideas and innovations to address them. I included artists who would develop new commissions that would be interactive and potentially ephemeral. I sought artists who were comfortable with the amorphous and collaborative nature of the project, who felt a deep affinity and openness to difference and disability, and who wanted to be challenged by the opportunity to make new work that explored a new path of understanding. Their works were commissioned by the Dallas Museum of Art and the High Museum of Art, the co-organizers of the exhibition.
Skip over related stories to continue reading article
A year before the exhibition, we brought together the participating artists—Ini Archibong, Matt Checkowski, Misha Kahn, Steven and William Ladd, Laurie Haycock Makela, and Yuri Suzuki—with key people from both organizing museums, two leaders in education and evaluation for the arts, and six leading Dallas-based neurological specialists who ranged from theoreticians to practitioners. This group included a neuroscientist, an autism specialist, a dementia specialist, and a speech-language pathologist, among others. Over a two-day session, these conversations informed the artists' respective projects and their understandings of sensory abilities and disability.
The conversations continued well past the convening. The artists came back to the scientists often to ask questions as they conceptualized and produced their new works. Perhaps even more incredibly, the projects encouraged many to be more forthcoming about their invisible disabilities—like dyslexia, ADHD, or epilepsy—and working to normalize difference. Overall, the convening was incredibly enriching for us as museum professionals, for the artists and their thought processes (which they continue to reference in their broader practices), and for the medical professionals in our community. As one member of the scientific advisory panel relayed, "Interacting with the artists and seeing their unique interpretation on life, art, and communication has inspired my own creativity to think outside of what is typical and challenged my work to be new and innovative."
The Exhibition
speechless: different by design is laid out almost like an octopus, with six installations as tentacles that spoke out from a central core, which also serves as the entrance to the exhibition. Informed by insights from the convening, we envisioned this room as a de-escalation space. A visitor can never go from one installation into another. They always come back to a neutral space between each interactive space. The room uses very few words to introduce the exhibition.
Four of the six installations are highly immersive spaces by Ini Archibong, Misha Kahn, Steven and William Ladd, and Yuri Suzuki. The final two spaces explore the creative processes of filmmaker Matt Checkowski and graphic designer Laurie Haycock Makela. Checkowski's and Makela's distinct works provide insight into the evolution of the project, the creative process, and the role of empathy in the creation of each designer's work.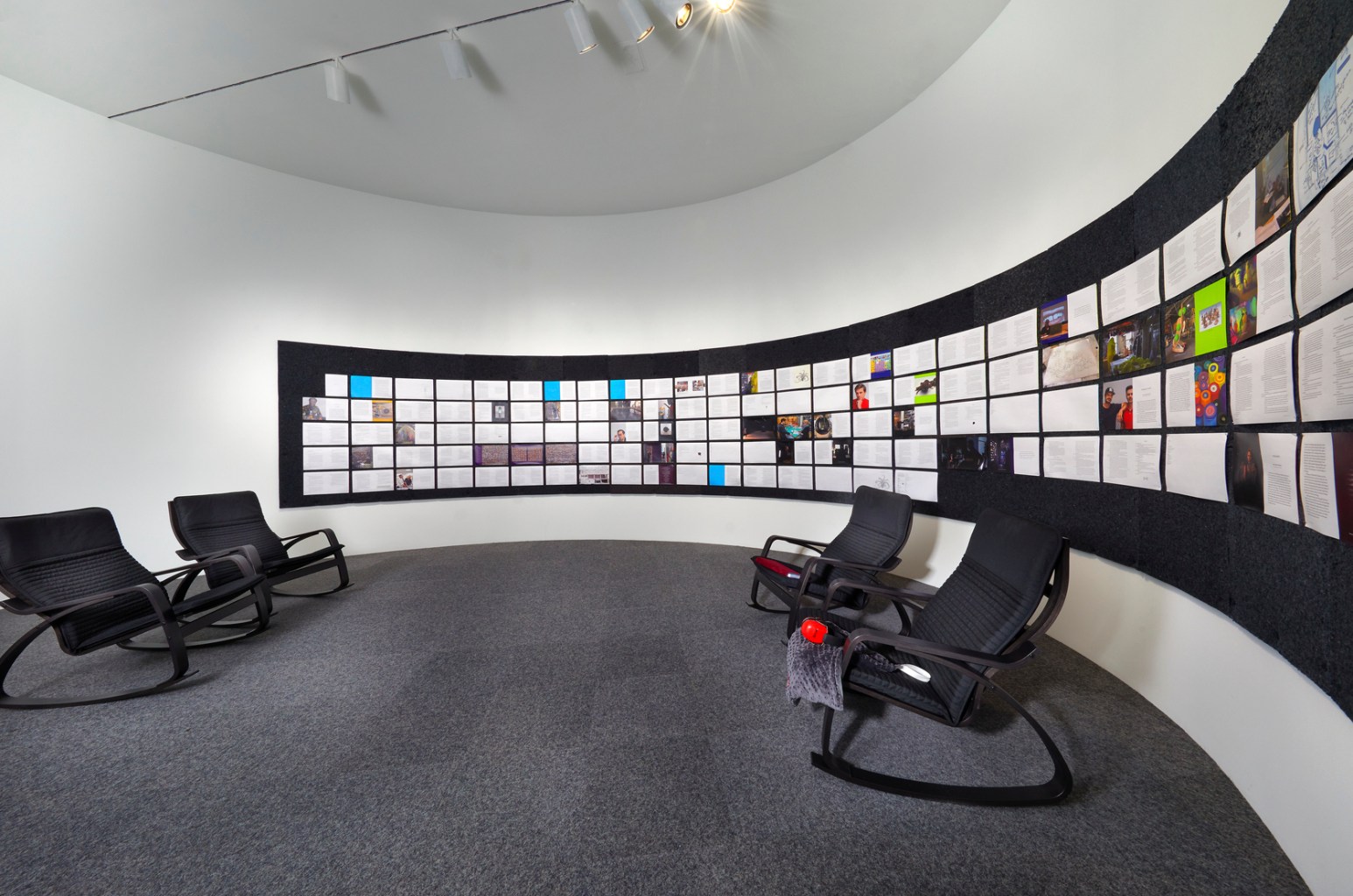 Makela's room additionally functions as a through-line or stabilizer within a de-escalation space. We worked closely with an occupational therapist to create a room that has rockers for self-soothing, weighted lap blankets, and Makela's works as a point of focus in a calming environment. It was critical for us to place that room as a central part of the exhibition to relay that this type of sensory need should be de-stigmatized, not placed separately.
The exhibition also has a pop-up cart that provides tools like noise-canceling headphones and sunglasses to enable sensory shifts for people who might be sensitive to sound, light, color, or other sensory inputs. These tools can also be used by those who are not as sensitive, to shift the dynamics and sensory inputs of each space and experience them in multiple ways.
Evaluation
Though we tried to embrace a wide spectrum of abilities and differences, by no means have we covered every angle and aspect of accessibility, sensory experience, or disability in the convening or through the exhibition. This is just a part of the pathway to being a more inclusive museum. To help us progress toward that goal, we invited a participant observer to the convening, Dr. Marianna Adams of Audience Focus, Inc., to structure an evaluation matrix for the project as it has progressed. We all felt from the beginning that this project had the distinct potential to be an innovator, an incubator of a new kind of process for producing an exhibition and shaping how visitors would experience it. Therefore, we wanted to make sure we had a framework to capture that information and be transparent and reflective about what worked and what didn't.
The exhibition is currently open, and we are still in the process of evaluating our audiences' experiences. But even as we wait for those results, it is already clear that the dynamic collaborative process that enabled this exhibition and its structure is a potential new model for museums, particularly art museums, to leverage the creative leaders we work with, as well as a larger community of experts and stakeholders, to broaden the spectrum of what disability and accessibility mean, and contribute to scholarship in this area. Perhaps even more importantly, it suggests a path for directly addressing the needs of our audiences today with our programming and approach to exhibition-making.
About the author:
Sarah Schleuning, an AAM member, is the Dallas Museum of Art's Interim Chief Curator and The Margot B. Perot Senior Curator of Decorative Arts and Design, and the curator of speechless: different by design.