In 2018, twenty organizations enrolled in a special museum cohort of Aroha Philanthropies' Seeding Vitality Arts program. With funding from Aroha, and training provided by Lifetime Arts, these museums are developing high-quality, intensive arts learning opportunities for older adults. Many of these museums are contributing guest posts to this blog sharing what they've learned. Today's post is from Denise Scammon, Director of Marketing and Programs at Museum L-A in Lewiston, Maine.
---
As one of twenty museums receiving a grant in 2018 funded by Aroha Philanthropies, Museum L-A developed three senior arts workshops as part of the Seeding Vitality Arts program. The funding was instrumental in the museum's ability to share these high-quality arts learning opportunities with adults "fifty-five and better."
Museum L-A is located in Lewiston, Maine, in a former textile mill with a rich heritage of industry and innovation. We are one of the only history organizations in our community and serve as an extended classroom, spurring economic growth, welcoming tourists, and encouraging collaboration at the community and statewide level.
In our community's history, we find ingenious developments in major industrial sectors that include shoes, bricks, and textiles. Among the mills, factories, and smaller shops, local individuals became industry leaders in technology and the development of popular national styles. Due to mass immigration, the Lewiston-Auburn Maine area is rife with diversity in people, language, music, and culture. All of these characteristics and many more make up the rich tapestry of life in L-A.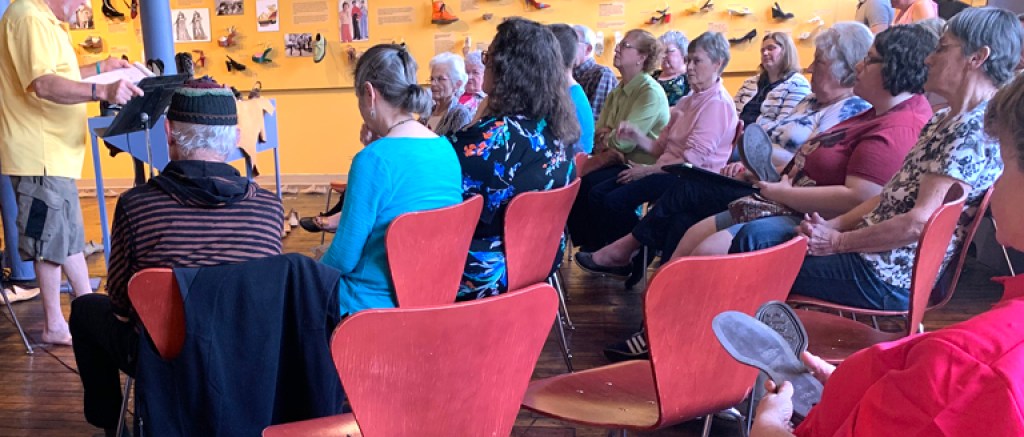 The museum's storytelling, collections, and exhibits served as inspiration for the participants of our three SVA-funded workshops. Our first workshop, "Seeing with the Heart's Ear," started in April 2018 and was focused on poetry. We were fortunate to have as our teaching artist Martin Steingesser, Portland, Maine's first Poet Laureate from 2007-09 and author of three books of poems, a celebrated performance poet, and talented teacher of poetry workshops for learners of all ages.
The eleven poetry workshop participants contemplated the museum's artifacts while writing their poetry. The celebratory event brought to life this link between the participants' poetry and their immersion in the museum's exhibits. The poetry students became a tight-knit group by the end of the eight-week workshop, sharing laughter, jokes, and life advice.
Skip over related stories to continue reading article
Our second workshop, "Create in 3-D: Paper Sculpture Art," was focused on paper art. This unique technique of paper sculpture allows artists to expand their creative abilities while cutting, bending, layering, and gluing paper together to create 3-D artwork that jumps off the page.
Local teaching artist Karen Brooks led eleven participants on an eight-week journey through paper sculpture skills culminating in the creation of many fascinating pieces of art. While building the curriculum, Karen was thrilled for the chance to draw inspiration from the museum's exhibits and collections, in particular, our significant collection of bedspread designs that were originally produced in our textile mill. She used that exploration to guide the workshop participants.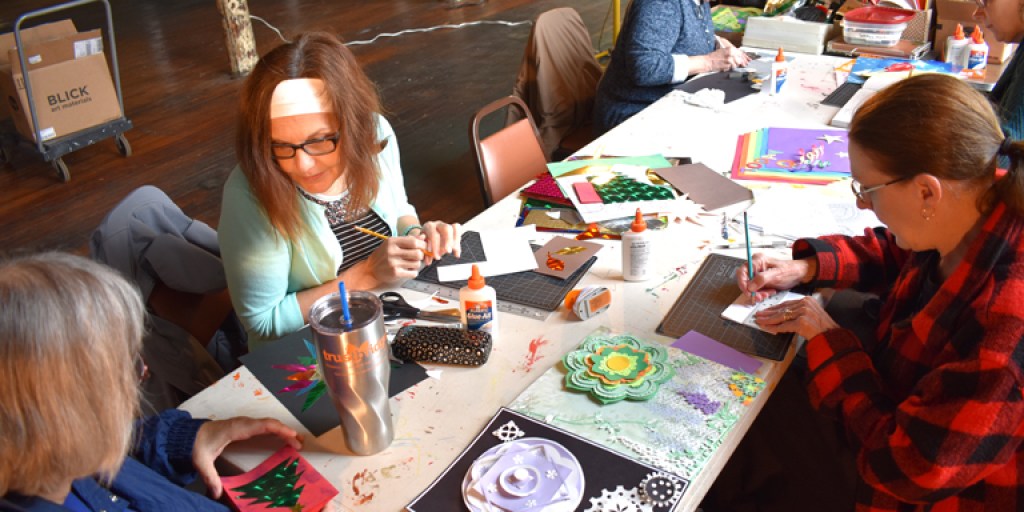 Water once powered the machinery in this textile mill, and the museum's exhibit of wheels, gears, and belts added more inspiration to the participants' artwork. The museum's footwear exhibit was inspirational as well, and several participants created artwork developed from the shoes on display.
The culminating celebration at the end of the eight-week workshop highlighted artwork created by the students and was displayed in the museum's gallery.
Our third workshop began earlier this month with local dance artist Cindy Larock. The participants in this class are learning a selection of traditional dances representing the heritage of the local community. Included will be New England contra and circle dances and French Canadian contres, sets carrés (square dances) and quadrilles, as well as an introduction to Quebecois step dancing (la gigue).
The festive multi-generational celebration at the conclusion of the dance workshop will evoke the spirit of a vintage Franco-American "kitchen party" to which participants will be encouraged to invite family members and friends. Plans are to have live music provided by guest musicians/callers from Quebec joined by young fiddlers and other musicians from the local community. The event will include many of the dances learned during the classes, with class participants first presenting brief demonstrations of the dances and then asking the invited guests to join them on the dance floor where they, in turn, will learn the dances in the traditional way—"by osmosis."
For these three workshops, Museum L-A has been mindful of its own mission, which is to connect generations and cultures, foster a spirit of discovery and human ingenuity, and help people experience the rich history and heritage of work, the arts, and community; and also the purpose of the SVA grants, which are designed to support the development and expansion of successful creative aging programs. The goal is to inspire and enable older adults to learn, make, and share the arts in ways that are novel, complex, and socially engaging.
Museum staff have been enthusiastic about these workshops, as have the participants who have journeyed with us in the widely differing artistic genres of poetry, paper art, and dance. It would be difficult to select just one of the three genres as our favorite! Also, as we have seen the remarkable workshop photos and read stories from the other SVA-funded workshops at other organizations, we are proud to have been entrusted by Aroha to develop the types of programs that are potentially sustainable.
Fostering the spirit of discovery in the workshop participants and incorporating it with what we do here at the museum has been a true gift to us.
About the author:
Denise Scammon is director of marketing and programs at Museum L-A. She works with educators to prepare immersive experiences for school children from elementary to college age. She is a member of the Maine Archives and Museums. Her favorite story is about the museum's shoe industry exhibit and how young visitors all react in the same manner to a touchable display of materials used in shoe manufacturing: skins from cowhide, caiman, bison, antelope, lizard, etc. In reading the tags on the materials, whenever she shows the glove with the tag "kidskin," the response from the kids is always the same: big eyes and a quiet "what?"