Many of today's museum leaders recognize a need to engage more closely with the public, and a related desire to make their facilities and programs more flexible and valuable. In order to achieve these goals, it can be useful to explore new ideas in highly accessible and permeable public spaces that welcome visitors and help evoke a desire to engage.
From outdoor plazas to universally accessible interiors, a variety of useful strategies now being implemented serve as case study examples. A few of these can help cultural leaders with varied institutional missions to innovate and better align building initiatives and capital with their long-term visions and programming needs.
For example, increasing the amount of indoor and outdoor community space can attract people to museums, where they find expanded opportunities for educational activities and other programs. Just as important, however, are design strategies that facilitate unprogrammed public access, including outdoor gathering areas that turn a museum into an integral part of its neighborhood fabric.
Museum as Community Gathering Space
A useful example comes from New York City's The Studio Museum in Harlem. One of the major goals of its new building project, currently underway and designed by architects Adjaye Associates in collaboration with Cooper Robertson, is to help the fifty-plus-year-old center for contemporary artists of African descent better serve Harlem residents, while also drawing in new audiences.
To engage this diverse user group, the new building's design vision centers on the concept of a "living room" or "reverse stoop" for neighborhood residents and visitors alike. Inspired by Harlem's ubiquitous brownstone stoops, this is a flexible, tiered space that invites the public to step down from street level into a lively multi-use venue. Starting at the main first-floor entrance and extending into the lower level, the space will offer free access to the public, including to areas such as a lecture hall, café, and vertical gallery.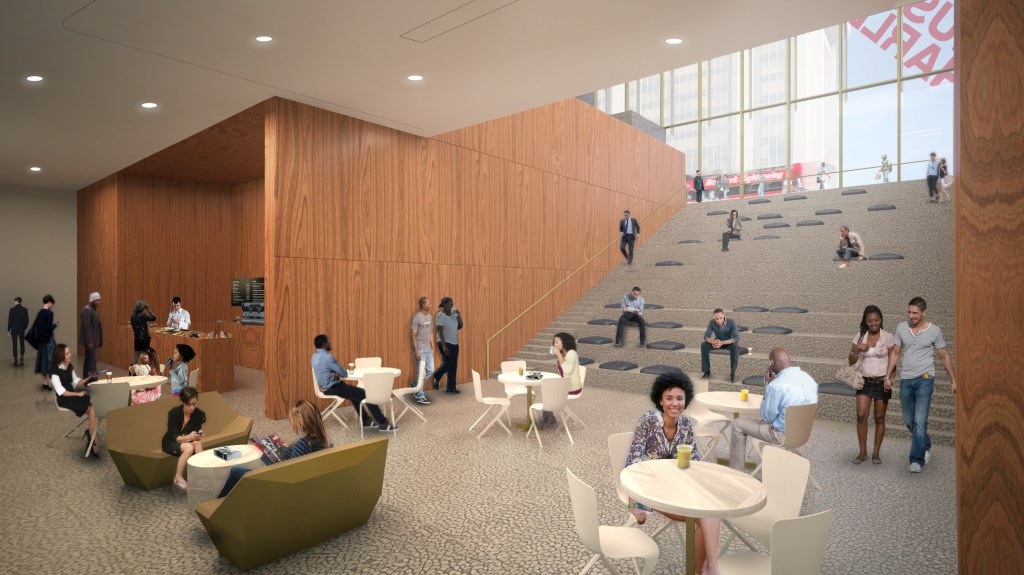 The lecture hall is conceived as a community gathering space for the popular 125th Street thoroughfare. Studio Museum leaders intend that it can be used for lectures and performances, but much of the time it will simply be open to the public. In order for this type of gathering area to be successful, it's important that passersby are able to recognize the venue is open to them. At The Studio Museum, large glass entry doors operate in different configurations and can literally be fully opened to the community, creating direct and obvious access from the sidewalk. Similarly, a twenty-first-century community space must enable connectivity and reflect the needs of potential users. The Studio Museum's "living room," for instance, will offer power and phone outlets integrated into the tiered bench seating, which also serve as the steps down from street level to the lower level lecture hall.
Connecting to the Urban Context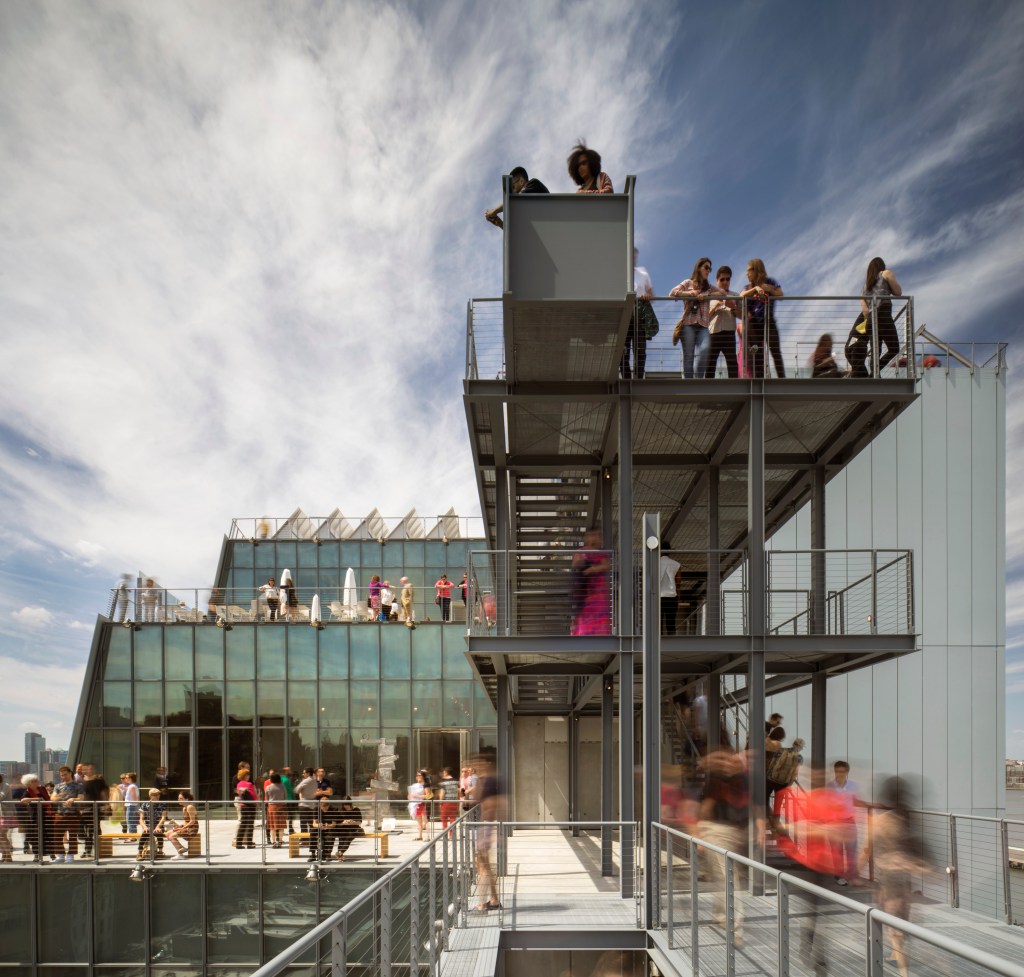 The popular Whitney Museum of American Art, in New York City's Meatpacking District, offers another useful case study on how institutional leaders can make facilities decisions that foster public engagement. A number of thoughtful planning, design, and programming strategies help the museum take advantage of its heavily trafficked location, at the base of the High Line elevated park. For one, the Whitney building's precast exterior walls feature demountable anchor bolts for large installations, allowing even the façade to serve as an exhibition space. Similarly, a mix of public spaces and careful planning turned the High Line's walkways into a gallery free to the public, with a series of terraces on all floors connecting the museum visually to the surrounding cityscape.
The museum's street-level plaza—known as "the Largo"—serves a related purpose. Connecting almost seamlessly to the surrounding public sidewalks, the Largo is often utilized for community days and to host free performances from artists that can appeal to frequent museumgoers and also engage passersby, drawing them to the public spaces and introducing them to the museum's programming. Recent activities included the New York debut of Katastwóf Karavan, a custom-fabricated, steam-powered instrument programmed by artists Jason Moran and Kara Walker with a compilation of jazz, gospel, and other songs. The free, daylong activation drew significant crowds.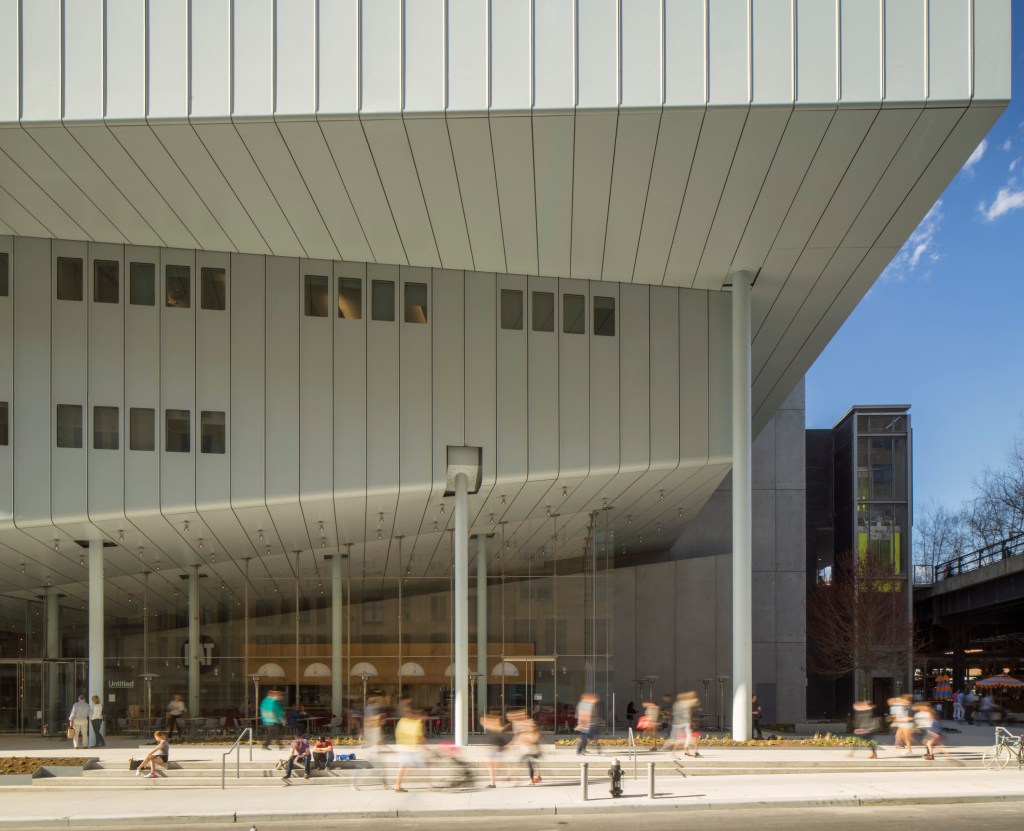 Designing compelling exterior spaces, and activating them with artwork or unique installations, can help draw the public to a museum. There are other ways to encourage passersby and community members to come inside, breaking down barriers to cultural experiences. At the Whitney, museum leadership chose a primarily glass ground-floor façade for the new building—designed by Renzo Piano Building Workshop in collaboration with Cooper Robertson—a decision that combines with a free-to-the-public ground-floor gallery and a free discussion series in the lobby to further create an atmosphere of openness. Even the elevators are turned into artwork, sitting with open doors while not in use to offer passersby a look into their art-filled cabs. The key here is conceptualizing the museum building itself as a permeable array of public spaces that can engage the community in a number of different ways.
Accessible, Universal, and Flexible
The idea of permeability suggests another important consideration for museum design today. Truly engaging communities with public space requires designing to ensure equitable access at a holistic level. A number of museums now employ core principles of "universal design," an approach that allows equal access to navigate, enjoy, and engage. Universal design goes beyond ADA regulations and helps set a new standard for inclusive cultural experiences, striving to create facilities that are usable by all people, no matter what their abilities, and without any need for adaptation.
The universal design approach was an essential driver behind the recent renovation and expansion of Gateway Arch Museum in St. Louis, along with the transformed ninety-one-acre Gateway Arch Park. The vision behind the decade-long project was to reactivate downtown St. Louis by re-casting the park, Arch, and museum as part of local residents' daily lives, rather than a place visited once or twice a year. New and gently sloping at-grade landscaped paths now extend from the downtown across a sunken highway, to the museum and throughout the park—simplifying access and creating a pleasant experience for all users.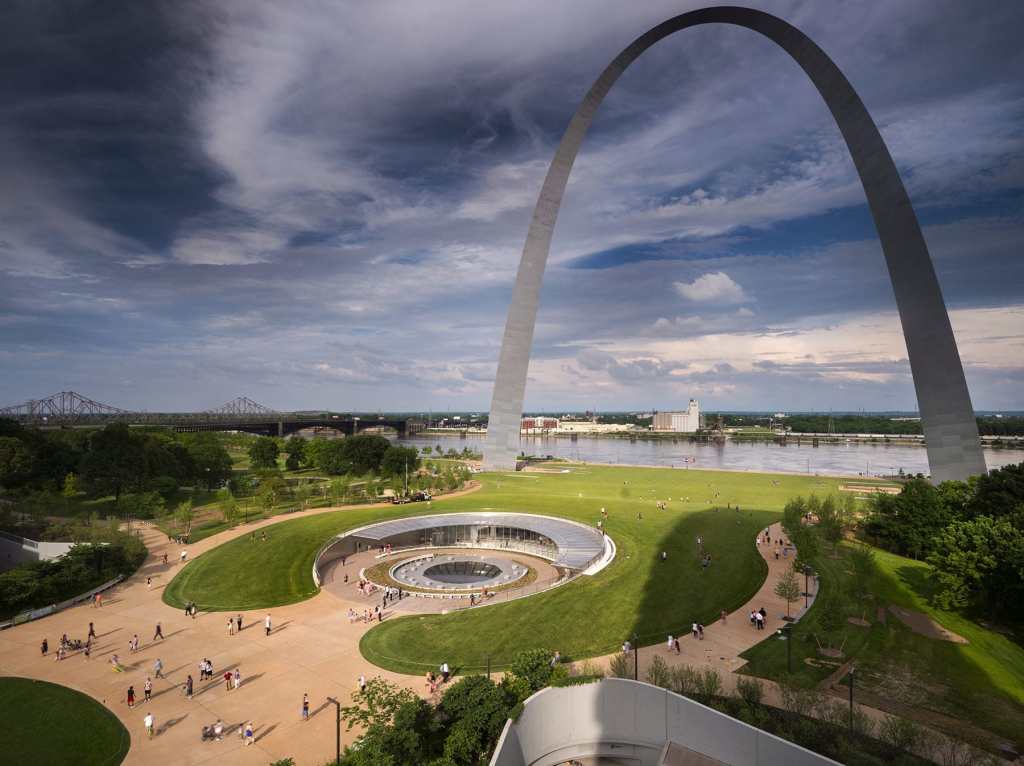 The museum itself—designed by the architect Cooper Robertson, with James Carpenter Design Associates and Trivers Associates—offers a sloped and fully accessible entry plaza, architecturally integrated ramps, and exhibits that engage various senses. Every user, including those with sensory limitations, mobility issues, and cognitive challenges can experience the museum in the same way.
There are other community benefits to this approach: broad and newly accessible outdoor spaces are also ideal for public programming that draws the community towards the museum. The lawn outside the entry and under the iconic Gateway Arch hosts popular Blues at the Arch concerts; Kiener Plaza is home to a free yoga class series. In the winter, those classes move inside into the museum's welcoming entry lobby. The expansive and fully accessible venue is ideal for this type of use, further highlighting how universal design can help institutional leaders engage their communities with public space and form a richer, more complete experience for everyone.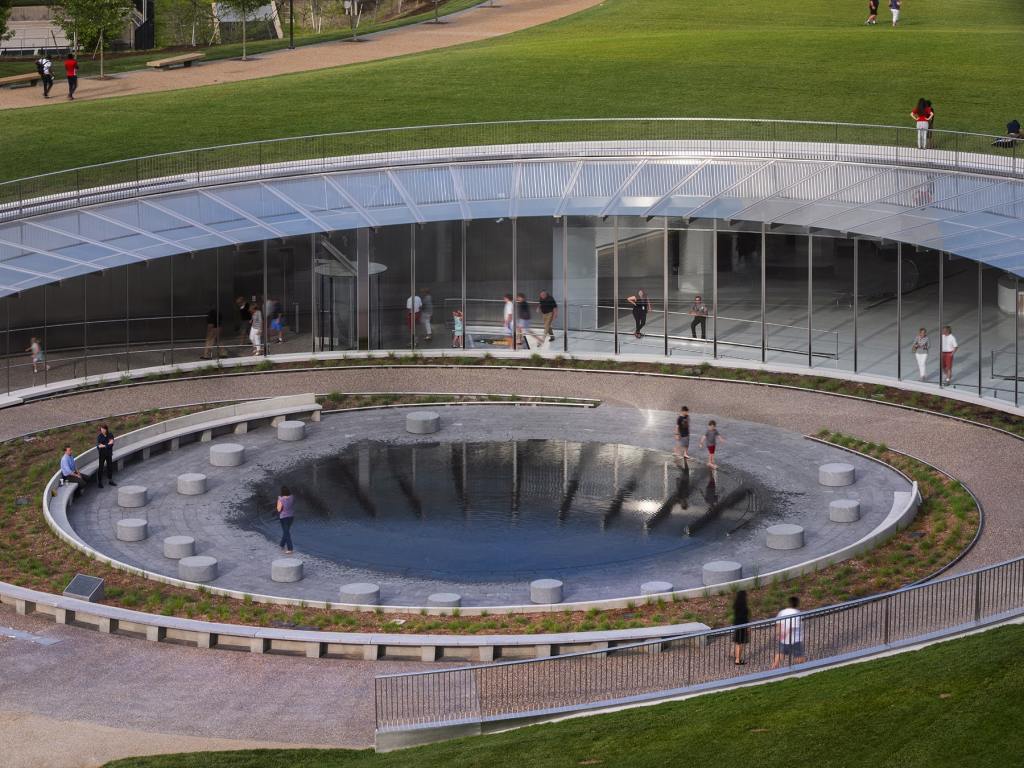 As leaders of museums big and small look to the future and plan for long-range success, expanding their institutions' roles as community anchors will be critical for continued and amplified relevance. By considering ways to open up the museum facility itself, through permeable public spaces and enhanced accessibility, it's possible to establish stronger and more integral relationships that nurture and engage.
About the authors:
Erin Flynn, RA LEED AP, is a Partner and the Director of Architecture at the architecture and urban design firm Cooper Robertson in New York, and a passionate champion of community responsive cultural facilities. She has over 20 years of experience in design and planning work for museums. Her portfolio includes notable commissions such as the Whitney Museum of American Art, the Fowler Museum at UCLA Planning Study, the upcoming Studio Museum in Harlem, and the award-winning Gateway Arch Museum in St. Louis.
Andrew Barwick, RA, is a Senior Associate at the architecture and urban design firm Cooper Robertson in New York. A specialist in design for cultural facilities, he has more than a decade of experience working on public and non-profit projects including the Gateway Arch Museum in St. Louis and the Edible Academy at the New York Botanical Garden.
Skip over related stories to continue reading article