Cradled in soulful New Orleans, the 2019 American Alliance of Museums Annual Meeting offered a variety of new sights and sounds in one of the most culturally diverse cities in the United States. Inspired by the well-crafted NOLA playlist of Judy Rand—who has a fantastic ear for music outside of her professional interpretive consulting, and habitually curates playlists apropos of museum conference locations featuring local artists connected to the area—I've decided to add a few selections to frame my time in New Orleans. I have deliberately selected a few Louisiana artists and connected their quoted lyrics to illuminate my reflections on the journey to a more inclusive conference experience.
---

"I can't relate to my peers

I'd rather live outside

I'd rather chip my pride than lose my mind out here

Maybe I'm a fool

Maybe I should move"

---
Arriving on Friday night, I was one of the first of thousands of AAM attendees to hit the NOLA streets ready for a delightful beignet-filled time. As a Social Media Journalist, I was anxious about delving into the rich culture of one of my favorite cities, while objectively considering the impact this year's conference would have on the local economy, museum practitioners, and conference attendees.
In an effort to address the often-lamented price of conference attendance, the Empathetic Museum, MASS Action, Museums & Race, and the National WWII Museum collaborated to offer a low-cost pre-conference retreat, with the goal to create a space for local cultural workers, artists, and museum studies students to engage in rigorous scrutiny of the field while celebrating their growth as museum professionals. In responding to community need, the three collaborative organizations also shared a local Airbnb, distributing food and housing costs across a group of people to offset the financial crisis often felt by museum professionals when traveling. One colleague, Jackie Peterson, wrote about how she was unable to attend the full conference, but joined in multiple alternative spaces to volunteer and uplift the work of her peers. Is this what equity looks like?
---

"I don't look at myself too long.

I'm afraid that I won't like how

honesty and accountability look up too close."
---
In 2018, New Orleans demographics were majority Black (59.80%), with those who self-identified as white at 34.06%, Asian at 2.98%, and people of two or more races at 1.75%. The Indigenous population ranked at 0.16%, while Native Hawaiian or Pacific Islander amounted to 0.03%, and other races at 1.23% of the total population. I contemplated how the field, and AAM in particular, could "create space" for meaningful interactions in this city while confronting an institution steeped in a long history of colonialist imperatives to plunder and proclaim ownership over people of color. I wondered how DEAI strategies would function at the conference when in museums we know the persistent statistics that "73 percent of staff hired in intellectual leadership positions were white," and despite efforts to train and program our way into a new reality, progressive racial equity is still far, far away.
As arts and culture sites increasingly find their toehold as educational spaces threatened by underfunding, understaffing, and reduced visitation, New Orleans is threatened by the additional challenge of marginalization and post-Katrina gentrification. Very few cultural organizations are undertaking a transparent public process of self-reflection like AAM. Knowing their renewed dedication to DEAI (diversity, equity, accessibility, and inclusion), I entered into the conference hall cautiously optimistic.
Within sight of the registration desks were pronoun identifiers, well-labeled bathrooms, and easily understood land acknowledgments recognizing the tribal communities of Louisiana and especially in New Orleans. There were local artists, teachers, and museum workers actively engaged with practitioners from all over the world. This was undoubtedly the youngest set of AAM members I have encountered after attending and presenting almost every year since 2009. The second line parade leading to the expo hall, complete with a full brass section and followed by tight-lipped museum people, was truly a sight to behold. Is this what equity looks like?
---

"Mm see you had a lot of moments that didn't last forever

Now you in this corner tryna put it together"
---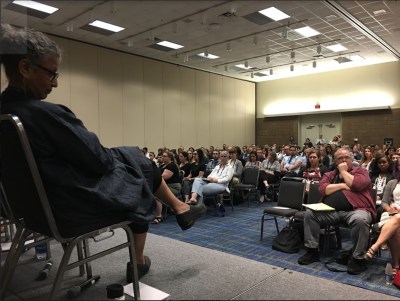 As a member of the Museum & Race steering committee, I am always thrilled by the response to the "ciphers," sessions that are offered in the expo hall space. Often led by people of color, these sessions offer unique insights into the continued struggle of equity and representation for museum professionals. Open to all, the Museums & Race expo space recognizes disproportionate representation in our field and seeks to dismantle harmful and racist practices that limit additional input of Black, Indigenous, and other people of color at our institutions. This year's conversation topics often responded and reacted to conference sessions, like the panel "Is That Hung White: Getting Real About Diversity in Exhibitions." Although participants listened to panelists for more than an hour, they rejoined us in the expo hall space for a cipher that would continue well into the afternoon, offering colleagues an opportunity to challenge each other in safe and respectful ways while grappling with the transparency needed for real change. Is this what equity looks like?
---

"I hear babies crying, I watch them grow

They'll learn much more than I'll never know"
---
Now more than ever, those working in the history and cultural sector must clearly articulate their value and continued relevance, especially when faced with fluctuations in visitor demographics and staff unrest in the face of a rapidly changing contemporary reality. "What a wonderful world it would be if only we would give it a chance," Louis Armstrong laments in his iconic song. The beautiful messiness of the 2019 conference offered plenty of opportunities to reflect a new definition of professional learning spaces. And I consider what a "wonderful world" it would be to lean into the discomfort, the tensions and learning offered at the 2019 conference to create a better, more equitable experience in 2020.
About the author:
Janeen Bryant is the founder of Facilitate Movement and has been an advocate and catalyst for building community capacity since 2000. Janeen, as an intersectional educator, facilitator, and community engagement consultant, has dedicated her work in museums to building capacity for empathetic museum spaces, programs, and experiences. She has been a core member of the Empathetic Museum since its inception in 2013. Ms. Bryant also conceptualized and implemented the Listening Sessions model used by her museum in projects including "Without Sanctuary, LGBTQ Perspectives on Equality" and most notably the Latino New South Project that ultimately became NUEVOlution. As a seasoned facilitator, she helps organizations grapple with issues of race, equality, and social justice related to staffing, programming, and exhibition development. She is active in multiple industry-wide initiatives including Museums & Race and MASS Action.
Skip over related stories to continue reading article