As museums look to the future, it is paramount that we stay relevant to our visitors and continue to meet their needs. Instead of only serving as stewards of the past, museums can put history in context and look to the future and tackle topics that our visitors are interested in, now. Museums broaden visitors' perspectives through real stories and artifacts, and should be used as resources to address topics that are of critical importance today.
At the Indiana State Museum and Historic Sites, we're doing just that, with a new exhibit focusing on a topic that affects everyone, not only in Indiana but across the country: the opioid crisis.
According to the New York Times, opioid overdoses have surpassed car crashes and gun violence to become the leading cause of death for Americans under the age of fifty-five. Every eleven minutes, another life is lost.
Skip over related stories to continue reading article
Indiana once ranked thirteenth out of the fifty states for overdose mortality, but because the state is addressing the crisis head-on, the trend is beginning to change. In 2018, drug overdose deaths declined 12.9 percent in Indiana—more than twice the rate of improvement nationally. In that same year, the number of opioid pill prescriptions in the state decreased 23 percent. These numbers give us hope—hope that solutions do exist and that positive changes are being made. We can end this crisis, but it will take all of us doing our part.
To help people understand their part in solving the crisis, Indiana State Museum and Historic Sites' new, seven-thousand-square-foot exhibit—FIX: Heartbreak and Hope Inside Our Opioid Crisis—invites visitors to our museum to learn about how we got to where we are in this crisis, as well as explore how they can become part of the solutions.
Our goal is to shift perspectives on a long-embedded stigma by inviting visitors to see this issue in a different light. They may start with the mindset of "addicts can just stop if they try harder," but we want to flip that to an understanding that substance abuse disorder is a brain disease, and it needs to be treated as such. Even the words we use can make a big difference. If we can shift vocabulary about this disease, we are one step closer to preventing the crisis from continuing into the next generation.
As we listened to focus groups in developing the exhibition, we heard that real stories about real people is what would help visitors hear the message and become more empathetic, understanding, and educated on this difficult subject. We set out to offer trustworthy information without sensationalism, sharing true stories from people who look like any visitor and could be their neighbor, friend, or family member.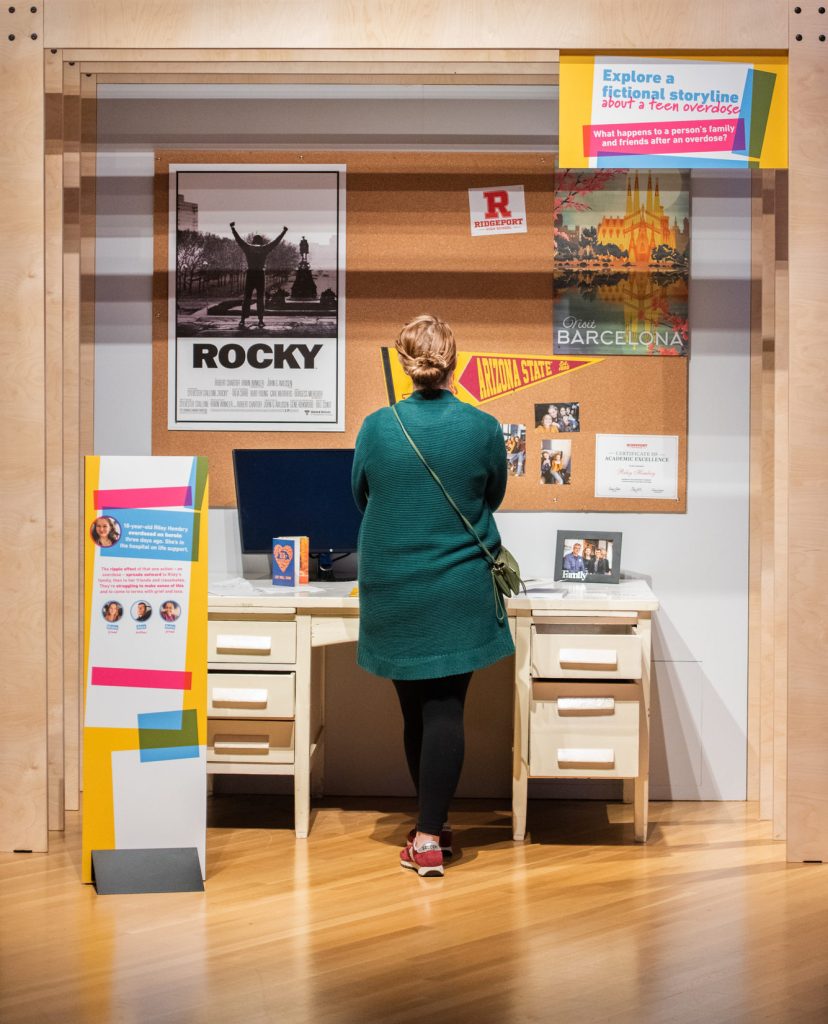 But how do you create an exhibit that does all these things? For the past two years, we have worked to figure that out. We know that we aren't the experts on the opioid crisis. But, there are people in our medical and recovery communities who are. We've looked to more than fifty community partners from around the state who are on the ground in our hardest-hit communities every day, fighting this crisis and working to heal cities and towns. Using their insight, expertise, and stories, we've been able to develop the experience. Sometimes it was hard to get the real stories we sought because of the very stigma we're hoping to break. People have shown a great deal of courage in working with us, and we hope that in the years to come it will not be a shaming and isolating disease, but one we all recognize and work together to manage.
Inside the FIX exhibit, visitors can explore the crisis through several different lenses, based on their preferred learning style or interest. One area explores the science behind opioid use disorder, how our brains are primed to crave. In story kiosks throughout the space, there are videos of people telling true stories of their own experiences with the disorder, or how communities have come together to fight opioid use disorder. Artwork offers different artistic responses to the crisis, and photos from around the state by Pulitzer-Prize-winning photographer Bill Foley show what recovery can and does look like.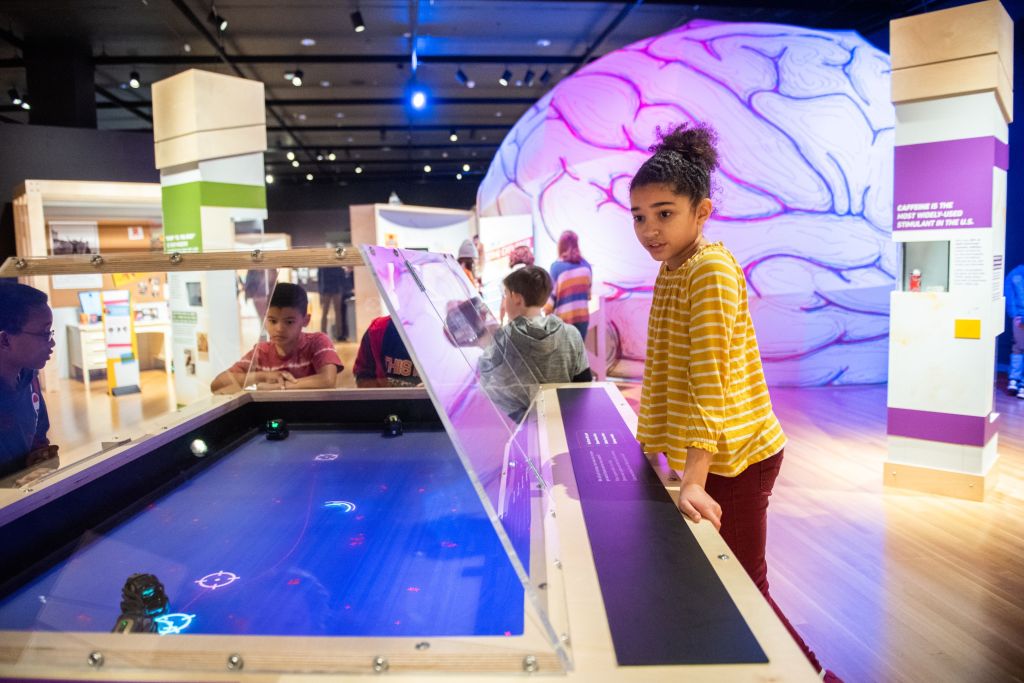 By design, the exhibit is built to meet people where they are, providing multiple entry points into the crisis. People can start with the science, or they can begin with the stories. They can learn through multimedia art experiences or video, or they can see artifacts from previous health crises. There are interactives that will help all visitors connect with the concepts and experiences presented, including a "worry shredder" where visitors can literally write their worries and shred them, a meditation table that responds to inhalation and exhalation as you quiet your mind, an interactive robot that explores cravings, an area to try recovery yoga or learn about music therapy, and more.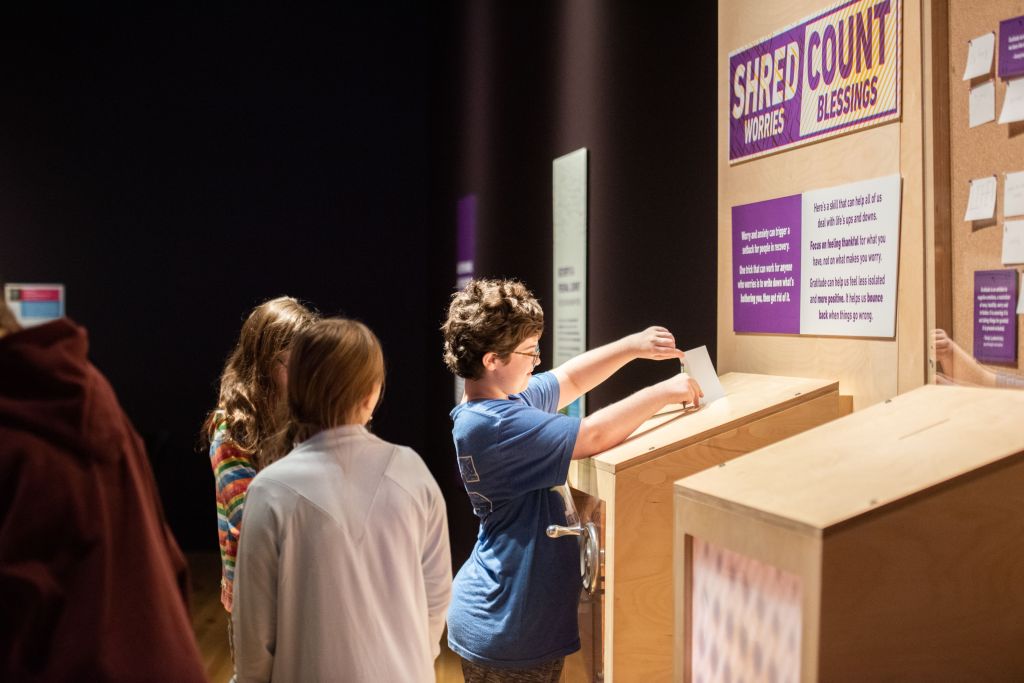 It's our hope that, after learning the complexities of the crisis and hearing personal stories, visitors will leave with a renewed sense of empathy—and that their empathy might drive them to do something about the crisis. A resource area will provide visitors with the latest information available regarding where to get help or how to have a tough conversation with a loved one, and also provide ways that they can get involved in helping heal Indiana during this crisis. During set times, representatives from universities and members of the recovery community will be present in the gallery to answer questions, listen, navigate resources, or provide career advice.
The exhibit will run for a year—from Feb. 1, 2020, to Feb. 7, 2021. Throughout and beyond that year, we'll also be offering programming and events centered on the crisis at all twelve of our statewide locations.
As a statewide museum system, we are uniquely suited to tackle a topic with such universal reach. We will host panel discussions called Courageous Conversations at each of our locations, where community members from local nonprofits or even people who have struggled with opioid use disorder themselves will share their stories with attendees and open a discussion. Using community partners, we will offer trainings on naloxone (also known by the brand name Narcan), an incredible drug that can reverse the effects of an opioid overdose and is easy enough for anyone to administer. We already hosted such an event at our Indianapolis Museum on Feb. 1 with more than 150 people in attendance. We will continue programming in our communities for as long as they need us as a resource.
The stigma surrounding opioid use disorder is real, and we have to help break the long-held perspectives in order to move forward with solutions. This topic can be tough—but by providing a non-judgmental place to ask tough questions, encouraging conversation and giving people information, we can work to be a part of the solution for this crisis.
There's hope in how Hoosiers are already working together to address opioid use disorder. There's hope in how we all can continue to work together toward solutions.
At the Indiana State Museum and Historic Sites, we look forward to working with our visitors to discover and encourage that hope—together.
About the author:
Cathy Ferree, an AAM member, was named president and CEO of the Indiana State Museum and Historic Sites (ISMHS) on May 1, 2017. In her time at ISMHS, she has developed a new strategic plan for the institution, along with refreshed mission, vision, and value statements. She has put relevancy at the forefront for the museum system, opening experiences to address topics important to visitors today, including FIX: Heartbreak and Hope Inside Our Opioid Crisis. She has also put new emphasis on attracting families and creating lifelong learners through initiatives such as a dedicated early childhood programming space called Firefly Landing. Prior to her time at ISMHS, she served as vice president and chief operating officer at Conner Prairie, overseeing facilities, programming, education, exhibits, and more. Before her time at Conner Prairie, she served as the associate vice president of exhibits at The Children's Museum of Indianapolis; director of exhibits, programs, and operations on the very first leadership team at The Children's Museum of Atlanta; and more.