Ever since last week's rash of closures in response to the COVID-19 pandemic, museums have been working behind the scenes to set strategies for engaging the public through remote alternatives. Within days, two hashtags emerged on social media platforms: #MuseumFromHome and #MuseumMomentOfZen—which speak to the need for education, stimulation, and inspiration during our challenging and confusing times. One of the earliest adopters was the National Gallery of Art in Washington, DC, which launched a daily series of gallery-by-gallery tours on its social media platforms. The tours, which were filmed back-to-back while staff were still working in the museum, show viewers the full breadth of each gallery before zooming in on choice details and closing with a contemplative #MuseumMomentOfZen.
We asked the National Gallery of Art's Publicist and acting Social Media Manager, Isabella Bulkeley, to explain this strategy and the considerations that went into it. Keep your eye on the Alliance Blog for more on these emerging strategies in the coming weeks, and contact us if you have something to share with the field as it plans its response.
More #MuseumFromHome strategies:
---
What is your strategy?
With the encouragement of our director, Kaywin Feldman, colleagues across the Gallery mobilized in the final days before we closed to strategize how we could offer a rich virtual visit to our audiences while it wasn't possible to visit us in person. We focused on two efforts: first, quickly creating some content based on what is on view in our exhibitions and galleries, and second, assessing what content and resources were already available on our website that could be highlighted on a redesigned homepage.
For our social media channels, we wanted to replicate the experience of exploring the Gallery. With two buildings and a Sculpture Garden which house a broad collection, the question was where to start? Our thought was that an organized gallery-by-gallery approach would be the closest way to make our followers feel like they were wandering the Gallery—walking into a room, seeing how the works are installed in conversation with each other, being drawn to one in particular, and looking closely. And we thought that ending the tours with a #MuseumMomentofZen could hopefully relieve a bit of stress before visitors returned to their day.
Are you ready? Starting today, we'll take you on a tour, one gallery at a time. #MuseumFromHome

Our tour begins on the Ground Floor of the West Building in gallery 39. Here's a quick look at gallery 39 in under 15 seconds. pic.twitter.com/zX8bCyNnxo

— National Gallery of Art (@ngadc) March 15, 2020
How did you decide on this strategy?
After mulling it over and brainstorming with colleagues, it seemed like the obvious answer. While we had social media content planned for the future, we dropped it all to focus on the series. We felt we had a responsibility to do something different in response to this unprecedented situation.
Kimberly A. Jones, curator of 19th-century French paintings on one of her favorite paintings at the Gallery, Antoine Vollon's "Mound of Butter" (1875/1885): pic.twitter.com/wFIMlO0iLX

— National Gallery of Art (@ngadc) March 15, 2020
When did you start planning for it?
In earnest, not until the morning of Friday, March 13. We immediately started going through the galleries, taking photos and videos of as many as we could. We also put out a call to curators, several of whom stopped what they were doing to meet me in the galleries to record short videos about their favorite works. Since then, we've been organizing all the media and creating a schedule of tours.
The paintings by Lois Mailou Jones and Margaret Burroughs are two of eight works in the gallery that come from the collection of Thurlow Evans Tibbs, Jr.

During his short life from 1952–1997, Tibbs collected more than 600 works by African American artists. pic.twitter.com/NkaI6apLDU

— National Gallery of Art (@ngadc) March 18, 2020
What kind of responses have you seen so far?
The response has been incredible, especially the many "thank you" messages. We've heard from followers who had to cancel trips to visit the Gallery, families who have been watching together, and many who have shared the sense of peace the tours have brought them during this difficult time.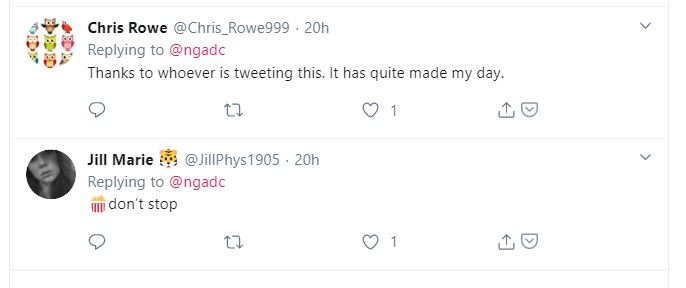 What safety precautions are you taking while producing the tours?
All the content was gathered in the final days before the Gallery was closed to the public and staff. We remained at a safe distance from each other while capturing the videos of the curators. Otherwise, the spaces were already empty.
What would you like to experiment with in the future, if the temporary closure continues for a long time?
We photographed nearly every gallery, so hopefully we have enough to last us. While we were able to record commentaries from several curators before we closed, not everyone was available—finding a way for them to contribute from home could be a possibility. We'll also explore new ways of creating content—perhaps through video or stills our staff might create from where they are working at home. We want to meet our visitors where they are, but we can also be open about where we are as museum professionals.
What technology or capability do you wish you had that you don't (either because it doesn't exist or it isn't feasible?)
There are plenty of things we wish we had—everything was recorded on an iPhone. A gimbal and better microphones would have been helpful. Ultimately though, I think everyone understands that we did the most we could with the resources immediately available to us. With more time and planning, it certainly could have been more polished. But in this circumstance, it felt more important to share something, even if we had to accept that it wasn't going to be perfect.
And now, for today's #MuseumMomentofZen: a closer look at Joan Mitchell's painting, "Salut Tom" (1979). pic.twitter.com/0fXyM3fnUT

— National Gallery of Art (@ngadc) March 16, 2020
What suggestions would you give to other museums figuring out their strategies?
So many museums have mobilized to share their collections and find creative ways to connect with their followers while they're closed. We all have so much to offer during this time—think about what would be meaningful to your audiences.
Skip over related stories to continue reading article