Older adults are a population especially vulnerable to contracting severe cases of COVID-19, and are therefore advised to take special precautions to avoid infection. This may intensify the isolation they experience during the pandemic, making it all the more important for museums to continue reaching them through remote alternatives to on-site creative aging programs. Furthermore, because older adults may face a variety of mobility issues that make it difficult or impossible to come to a physical museum in the best of times, it's useful to consider how remote alternatives could be deployed in creative aging programs even when museums reopen.
We talked to museums participating in the Seeding Vitality Arts initiative about the changes they're already making to ensure their program participants are able to stay connected to each other. Read on to find out how Naples Botanical Garden and the John Michael Kohler Arts Center are carrying on with their important work.
---
Naples Botanical Garden
Nature journaling and social engagement can reduce stress and increase joy, which are both important in today's uncertainty. But what do you do when you must practice social distancing? You share virtually! At least that's what a group of people who had participated in a Naples Botanical Garden's creative aging program are doing. During their eight-week Nature Journaling: Botany Through Art course, they learned how to express themselves, record their personal interactions with nature, and process their environment through journaling and sharing with one another. After the series ended, they continued to meet at NBG weekly to journal and share. The group called off the in-person sessions due to COVID-19 concerns, but they didn't halt their practice or interactions. They launched a Facebook group to share their work and support each other, hoping to stay occupied, stay engaged, and stay connected—all of which are important practices to combat social isolation.
—Mary Helen Reuter, Curator of Education & Visitor Experience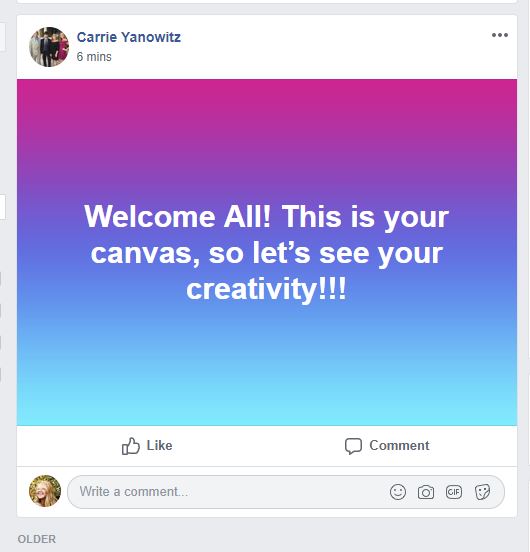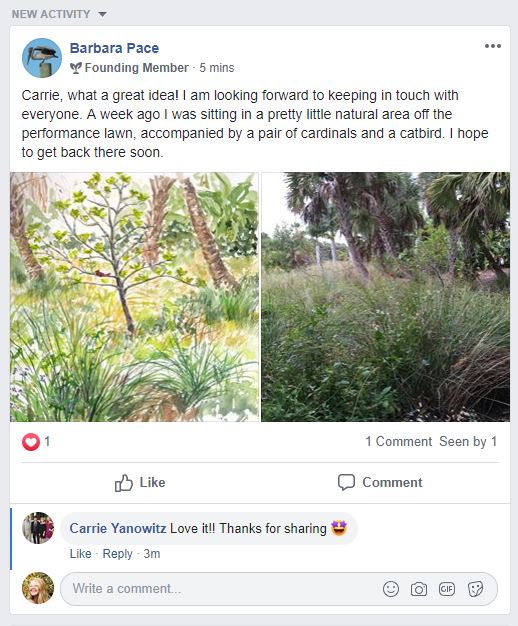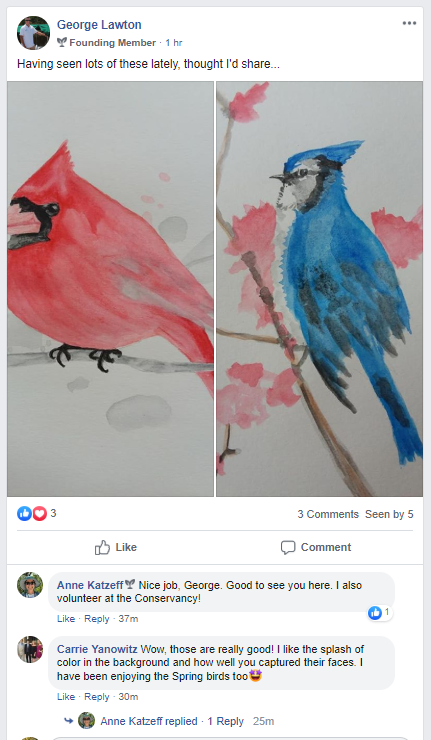 John Michael Kohler Arts Center
The first idea we thought of was connecting using Facebook. Many of our participants have already become friends with us on Facebook through the program, and we know that they frequently post about their art-making, different resources online and in the community, and just fun and inspirational messages. We wanted to test Facebook as a space of connectivity specifically for our Art Links Sheboygan participants to generate conversation, reach out, and discover how we can best serve this population during this difficult and uncertain time. Knowing that many already used Facebook allowed us to immediately give the participants the power to post as well instead of reaching out by e-mail first, which would not have allowed them to connect in the same way with each other. The initial response in less than one full day has been overwhelming. I am sure as more participants join us we will have conversations, opportunities to share, and find new ways to connect that may even continue into the future after we are able to resume joining together in person as a community.
—Xoe Fiss, Education Program Director
(Click the images to enlarge)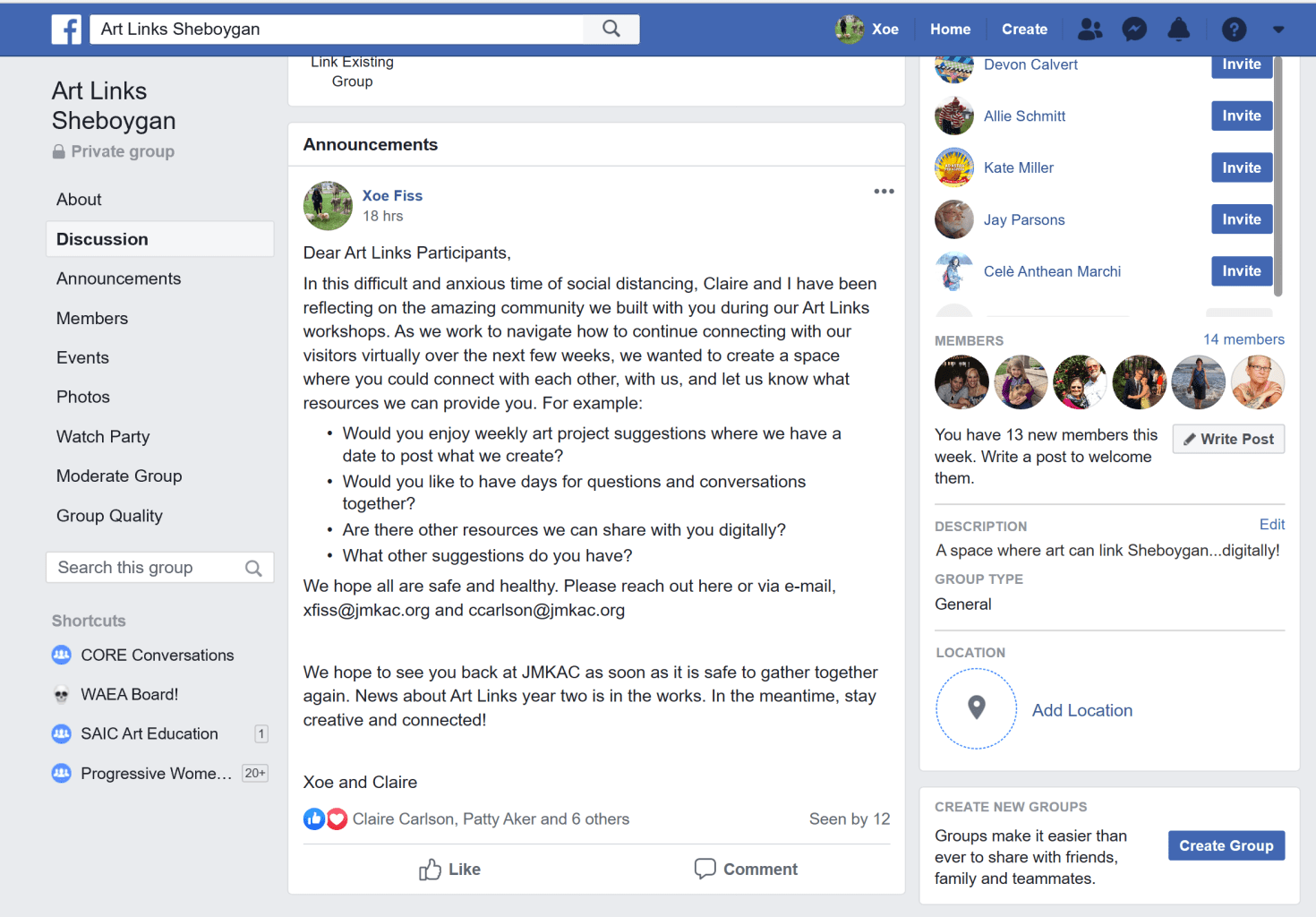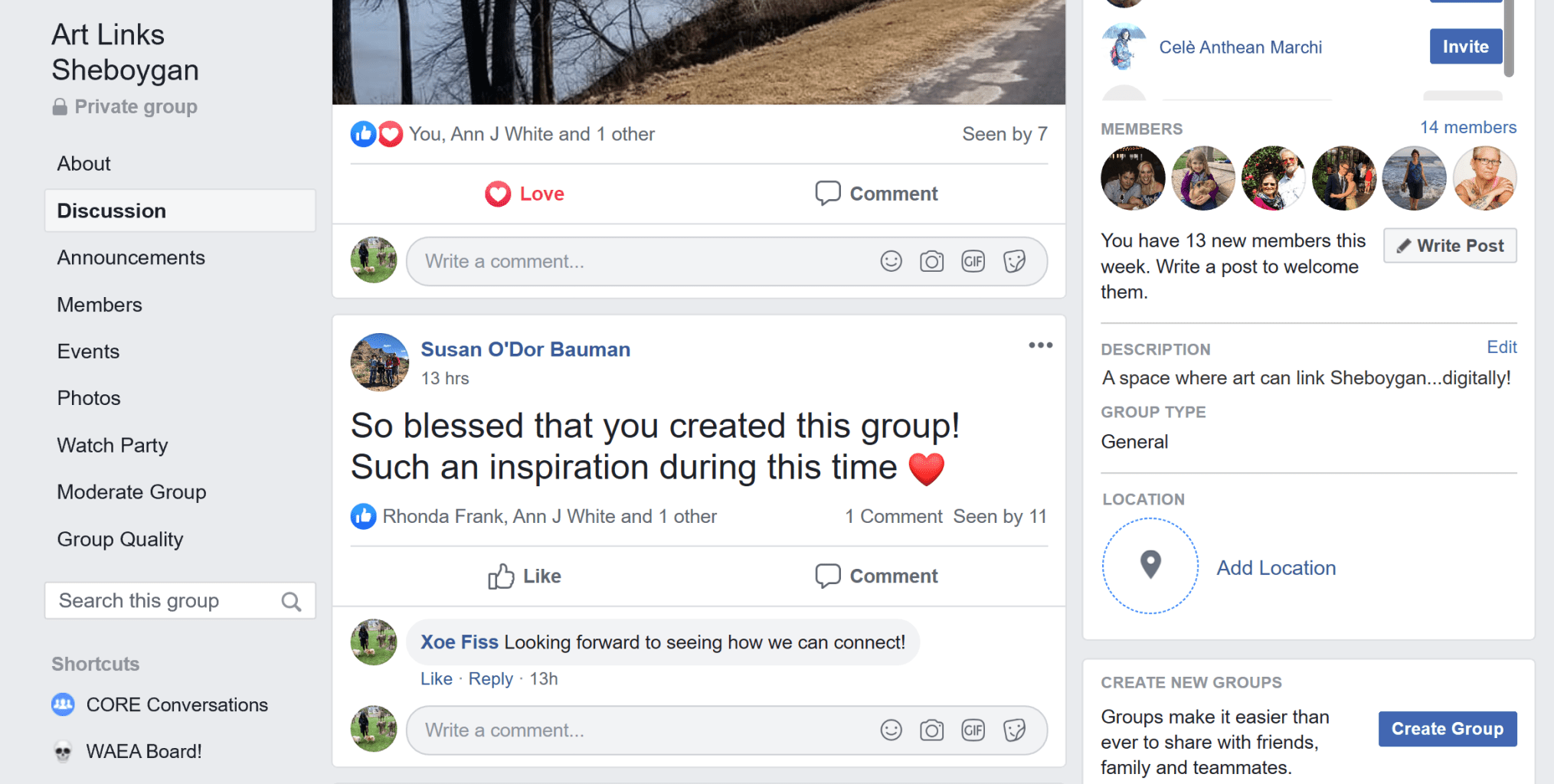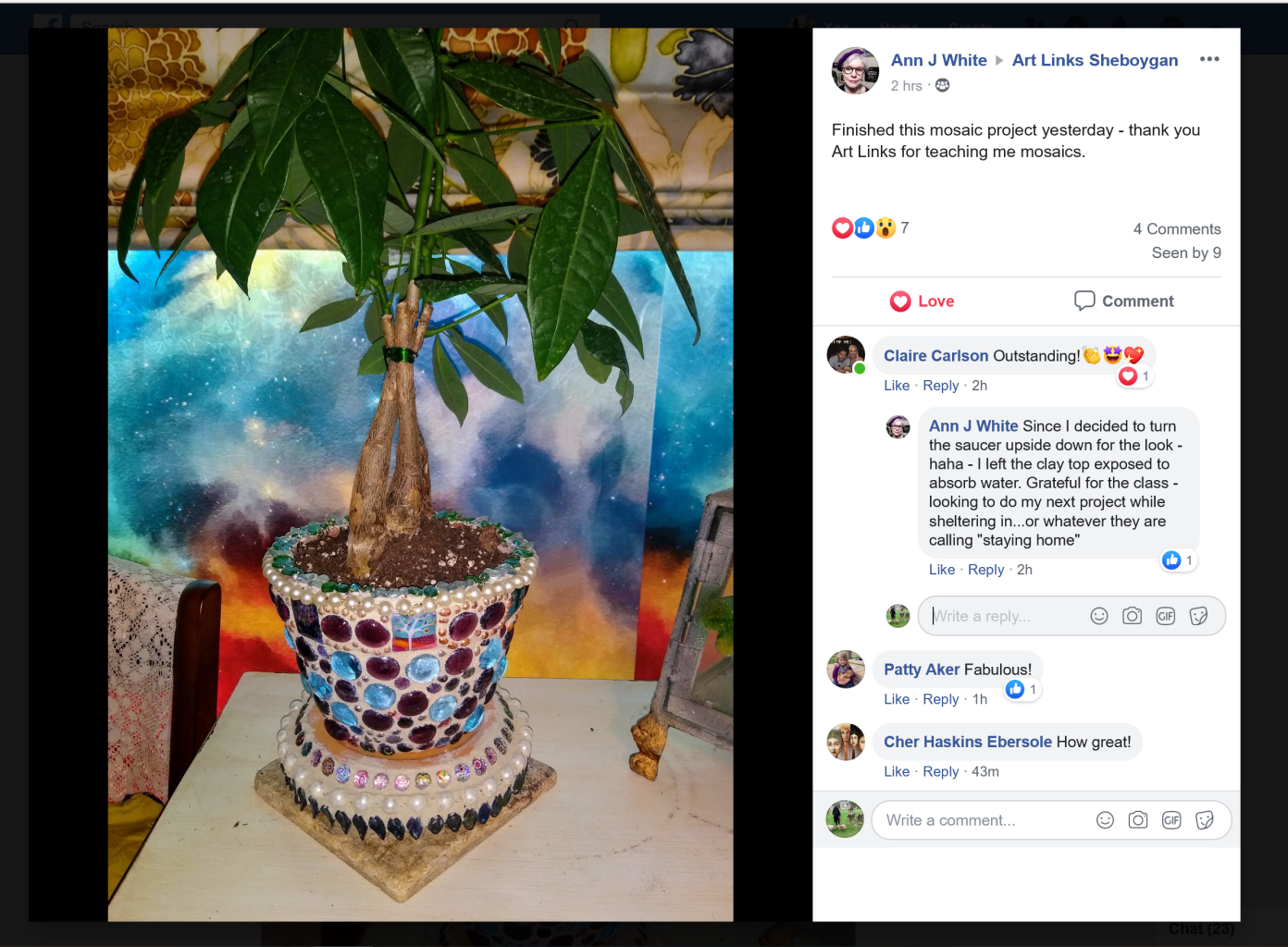 Skip over related stories to continue reading article