When our institutions shut their doors for the foreseeable future just over a month ago, museum educators did what they do best. That is to say, we pivoted. Across the continent—and around the world—those of us who spend our days designing and implementing informal learning experiences re-calibrated our plans for the busy spring season and started talking with teachers, parents, and other caretakers about what they want and need to get through this unprecedented experiment in learning at home. The firehose of resources and programs has been frankly overwhelming, but we are learning to pace ourselves. This is a marathon, not a sprint. 
As learning at home becomes the new normal, those tasked with keeping others engaged and out of trouble are looking for authentic learning opportunities, both for "school" and "out-of-school" time. How can we, the museum educators of the world, make ourselves as user-friendly as possible? Enter the Museum Distance Learning Repository, a truly simple, one-stop shop for distance learning programs and resources, built with a Google Form, a Google Sheet, and a Google Site, and enhanced with the sorting features of Awesome Table.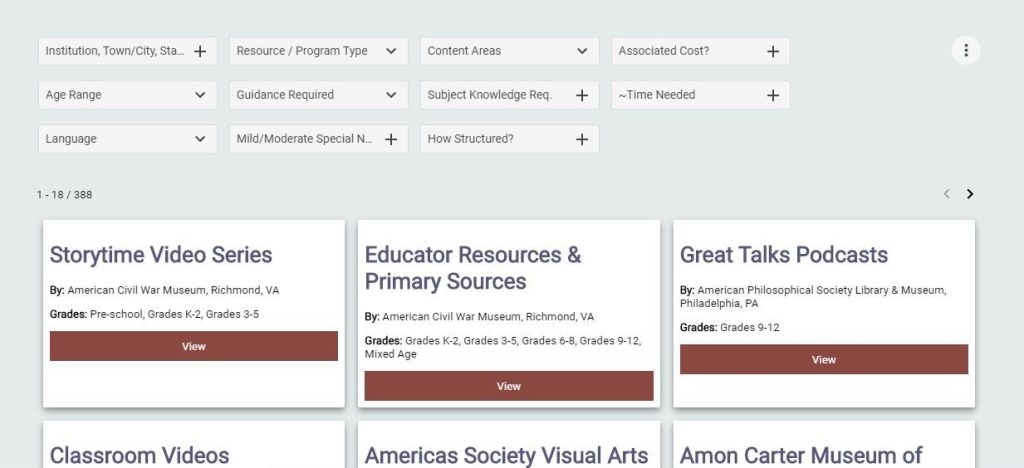 Now, anyone looking for a trusted museum activity or resource can go to one site and find (at present) almost four hundred submissions from more than seventy-five history, art, and science museums, as well as zoos, children's museums, and other sundry cultural institutions. (Update: as of 9/2/2020, the repository has grown to almost one thousand resources!) To sort through this mass and find the right resource for their needs, users can narrow the options down by fields like content area, age range, and language.   
If you haven't yet, please add your resources here, and help us share this site widely so that we can increase our impact. Perhaps one of the few good things to come out of this awfulness will be ways that we can collaborate to increase our visibility. Thanks to EdCom, this one exists.
Skip over related stories to continue reading article