As of May 7, the Buffalo Bill Center of the West is officially reopened to visitors. The BBCW is a massive AAM-accredited facility located in rural Wyoming in the Yellowstone National Park gateway community of Cody, with a budget of around twelve million dollars. We employ around eighty year-round staff, with an upswell in the three months of summer season when 80 percent of our 170,000 annual guests typically make a visit to us.
Knowing that many other museums have yet to reach this milestone, and may be wondering what reopening is like, I wanted to share what the experience has been like. While I am not a diarist, a diary format is the best way I can think to do that. Before I go on, I should say that we are all different both in the nature of our museums and our communities. My suggestions and timing reflect only my experiences and would need to be modified for anyone who might want to use them.
Day 1
We knew a closing was coming. While our town had a single case of COVID-19, fear was everywhere and the store shelves were empty. In the span of about twenty-four hours, the governor shut us down, along with other museums, rodeos, schools, and so on. Thankfully, we had a memo in the hopper to send to staff already vetted by outside counsel. I use our attorneys on all staff memos now regarding COVID-19, since I have found these memos have lives beyond our walls. We also had begun work to create signage that addresses our closing in as positive a way as we can. Big "CLOSED!" signs or yellow hazard tape on our playground is the stuff of bad social media postings. So, we opted for softer language noting that it was for the public and staff health that we closed. Messaging is truly important.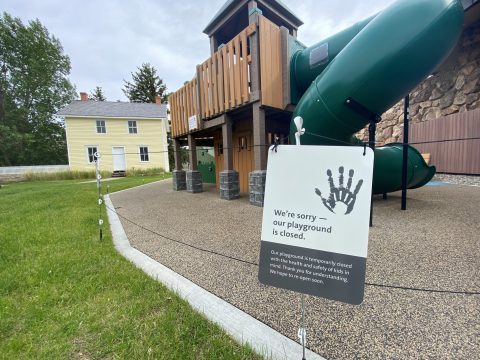 Day 7
Okay, so we have had to figure out a strategy for this. Talk about nailing Jell-O to a wall, as events change hourly! Our framework for survival is thus:
Focus on our donors, which in this case begins with our board and advisors. So, bi-weekly emails go from me to them all. Development starts making calls to everyone else, just to let them know we are concerned about them. Open the floodgates of email and phone calls!
Focus on our virtual presence. For us, this means figuring out how to excite cabin-fever-bound folks excited to come to Wyoming. (Interesting that our Google Analytics seems to show that the age of our web-visitors dropped significantly during this period.)
Get ready to reopen. We start stockpiling supplies and working on plans for sanitizing stations. Those cannot be built in a day, so it will take us some time. In the meantime, I embed the CDC guidelines in every communication we send.
Start the process of figuring out what we financially cut, since even with PPP, the impact is going to hurt. Insurance, equipment upgrades, and a host of other topics are on the block. Does a ten-year-old truck need full collision coverage?
End of month one
Skip over related stories to continue reading article
Cripes…talk about lonely at the top. The senior management team is alone working in the building, and despite the huge size of the structure, we see each other probably too much. We are watching every press conference with the governor together in our giant empty conference room. There are myriad opinions about how we should handle everything from previously approved vacation time to recoding the time clocks. The positive in this is that it does force us to make sure our processes and procedures are really tight. Making it up as we go is not the way!
The board is remaining focused and upbeat, and checks are coming in from trustees who want to help. I am thankful, though, that our key trustees have lined up to support retaining all the staff. My messaging has been twofold about the staff: 1. We cannot gut our programs so that when we reopen we are unable to serve our audience. 2. Finding qualified replacements for staff in rural Wyoming, particularly for specialized jobs, is nearly impossible in many cases.
Two weeks later
Huzzah, so it looks like we may have a re-opening date. We had already begun meeting with the health officer and set up an internal working group to get us ready. Our strategy is easy. We want to not only meet but exceed both the requirements and the recommendations of the health department. So, we review the minimums and then get creative on how we can take that up a notch. As a result, the first and last thing visitors will see in our building is someone sanitizing. To my mind, public perceptions about cleanliness will be as important as anything we do. I call in extra cleaning staff. We spend hours on signage ensuring that we have clarity on our operations. The hard work has paid off, and in anticipation of an announcement from the governor, we put in place a seven-day countdown to get us ready to open.
Staff is back!
Well…I thought this would be a joyous day for everyone, but I sure misread that one! Most of the staff is happy to be back, and they have now disappeared into their offices. But for a small number, there is fear about the reopening, and even fury about being called back to the building. Their anger is manifesting in a campaign to pick holes in all our safety precautions, including suggesting that our cleaning and security staff should force visitors to wash their hands after using the bathroom, which seems impossible to enforce.
Then I have a countermovement from another group of staff who find the sanitation concerns to be excessive, with some even making fun of those wearing masks. It got nasty very fast between the two sides, and I had to intervene and remind everyone that teasing and bullying are not part of our values.  My hope is that after we are open that emotions will calm down and we can focus on our guests.
First day open!
It has been a long week running up to this. I had the exterior of the building cleaned up so that we would look good if we had media coverage. Then the day came, and we had, drumroll please…all of about twenty-five people! In a normal year, we should have had five hundred on that day, but this is the first COVID-19-era opening for us. Still, those twenty-five not only paid to come in, but eight of them bought memberships and four of them bought raffle tickets. I saw a smattering of shopping bags leave with them as well. Half were local and half were tourists. Will their generosity hold?
15 days open!
So, the numbers are slow to rise. The reopening of the National Park has helped, for sure, but we are not tracking well. To date, we are down about ten thousand for the year, but that of course considers the eight weeks closed. Interesting that we are still selling memberships, raffle tickets, and having solid store sales. What is the story there? I think the folks who are coming in are cognizant of us being a charity and being open in tough times, and as a result they are supporting us. It is a little like giving an extra big tip to a server after seeing them for the first time in months.
Lots of lessons learned here. For us, being back open to the public is central to our mission and existence. We don't have the luxury of staying closed for protracted periods. Right now, our draft budget (July 1–June 30) has scenarios that all include lots of fundraising, and a few that contain staff reductions. I fear the latter more than anything. Having seen the effects of wanton cuts in a prior job, I know the destructive force of death by a thousand cuts. Being back open, I can at least fight to keep us intact.
The Grateful Dead were right that this is a long, strange journey. While I'm not sure Jerry and the boys were anticipating COVID-19, I think it certainly applies to what we have been through. Like all of us, those strange days when this began will forever be etched on my memory. When my grandfather died in the 1970s, we found ration stamps from World War II in his wallet. I suspect that when many of us age out, they will find cloth masks in our pockets we'd been holding on to just in case.
About the author:
Peter Seibert is currently the Executive Director and CEO of the Buffalo Bill Center of the West, located in Cody, Wyoming. An original museum geek, he was first named executive director of a museum at the age of 21. Since then he has run museums, historical societies, living history museums, and national historical organizations across the United States.