After the start of protests over the killing of George Floyd and the subsequent looting of businesses, hundreds of plywood boards went up in Greensboro, North Carolina's downtown. But these boards, which could have been an angry reminder of loss and emptiness, ended up as something much more powerful—blank canvases for murals, and a focal point for community engagement.
Witnessing this, the Greensboro History Museum (GHM) immediately started working to collect these murals, as well as other stories and artifacts from the Black Lives Matter protests, and plan a rapid response exhibition co-curated with our community. But in the process, we've had to navigate some complexities inherent in this endeavor, starting a dialogue which is changing our identity in the community. As we move quickly, we are asking ourselves to consider: in this work of "rapid response collecting," what, or who, are we responding to?
June 2020: The Murals Go Up
Amid a painful reckoning with racism, the murals were a positive, uplifting phenomenon. Many of them were the result of a grassroots effort between downtown business owners and community artists. As the artists worked, people walked up and down S. Elm Street, talking to their fellow community members of all ages and ethnicities. Some even picked up brushes to add their own thoughts. It was a moment many hoped to hold on to, even as the boards were coming down and businesses reopened. The community was united in calling for preservation and continued platforms of representation, but how that should happen? There were a lot of strong feelings.
To start with, when a national museum quickly acquired one of the murals, word began spreading through the local Black arts community. Some were upset that this museum had swooped in, taken the mural out of downtown, and chosen a piece that was painted by a white artist. That shifted some of the conversation about preservation, fueling outrage and declarations that the murals should stay downtown.
Skip over related stories to continue reading article
Hearing these calls, city arts organizations, non-profits, and local chambers of commerce—mostly white-led organizations—as well as our local International Civil Rights Center & Museum (ICRCM), began discussing how to preserve the murals. Containing messages of support and love, they were who we imagine ourselves to be as a city, and we recognized they were important to preserve.
So we set out to begin acquiring them. We got on the phone and on the streets and talked to people. We told them we were just as interested in the brushes, paint cans, and clothes the artists were wearing as we were in the work of art. This emphasized that the value to our history museum was in the stories of the people connected to the works. It shifted the focus from the art itself, and its potential monetary value, to the artists and the community response. But still, we did not find great enthusiasm, initially. As we talked, many said they felt the ICRCM or our local HBCU, North Carolina A&T State University, were the best places for the murals, although these institutions didn't have the space, staff, or mission to attempt a collection of any size. The Greensboro History Museum was not at the top of anyone's list as the best home for these works.
As I reflected on this, the "responsive" part of rapid response came to mind. Sometimes, we have to simply be ready to respond to a community need, rather than our own. So we waited. In the meantime, though, I felt we needed to preserve something. Looking through photos documenting the murals, I noticed a mural based on a photograph of a protestor marching with a child. There was also a photograph of the artist, the photographer, and the owner of the business where the mural was displayed. With so many connections in one piece, I reached out to get permissions to acquire it. We also collected the brushes and paint cans used by artist Marshall Lakes, and Pastor Michael Harris and young Emery Welling donated what they were wearing as they marched. Our Curator of Education, Rodney Dawson, led a Zoom program capturing the story of the inspiration and creation of the mural.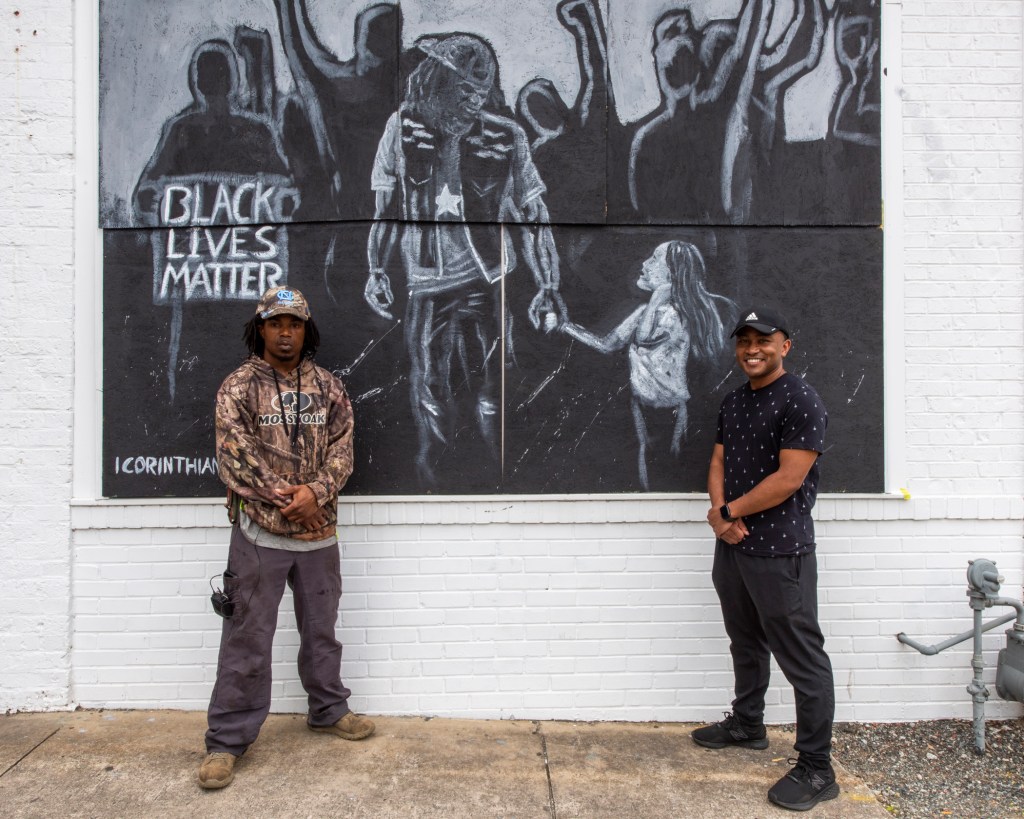 …And We Collect as They Start to Come Down
Early on Monday, June 22, I got an urgent call from one of the downtown organizers concerned that businesses were starting to take the murals down. She was concerned that they would be discarded or lost. It was apparent to all that while there were some in short-term storage, no one else was going to collect and preserve them. People also knew that the museum had acquired Lakes' work the previous Friday. The next morning, museum staff and movers met downtown. Business owners and artists were present, so as we moved down the street we were able to collect stories, get paperwork signed, and set up a film shoot. Watching us pass, more owners began to ask us if we would take theirs too. We were crafting a collection plan as we walked, and specifically wanted to make sure we acquired things painted by Black artists and from Black-owned businesses. In a few hours, we had removed and collected thirty murals from over a dozen businesses.
Acquiring the murals was a case of collect first and then figure it out. The need expressed by many in the community to preserve them couldn't be met with museum speak about space restrictions and policies. Still, there were concerns to address. In particular, one of the early concerns in collecting such big objects was how we would take care of them and where we would store them. Were they all to be accessioned? Did we create a new collection category, a community engagement collection? How would they be exhibited?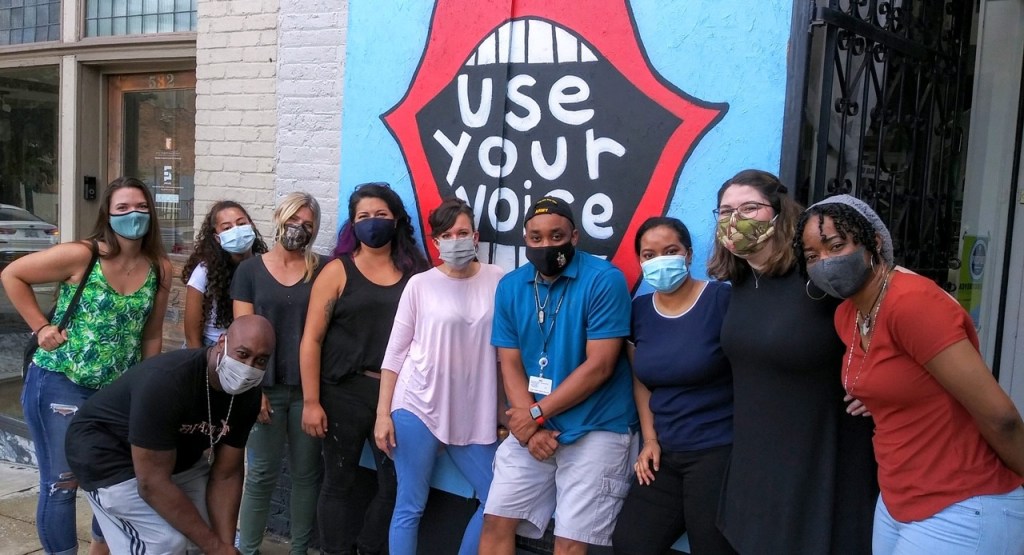 As valid as those concerns were, the response to collecting the murals showed that the risk we were taking in acting without planning was worth it. I heard Marshall Lakes explain how he felt about his work going to the museum. He expressed how much it meant to him, and how proud his mother would be to see his work in the history museum. After a few weeks of cautiously making our way through a process, it was a strong reminder that some in the community, either despite or because of the widespread perception of us being the "white folks" history museum, would place great value on having their work in the museum.
After our day on the street, we became more aware of the protest leaders and the fact that many were artists themselves. Pastor Harris helped us contact Virginia Holmes, a young woman who with other artists planned and led downtown protests, and through her we were able to invite a group of organizers to the museum to be interviewed for a video. As I met them coming down the stairs, they thanked us for listening to them, for inviting them in. They felt they had been pushed to the back of some of the downtown mural discussion because of their lack of relationship with the white organizations. They worried that their cause was now old news.
As we've continued speaking, Virginia and I have had many conversations about her perceptions of this museum, as well as her life's work. A self-described "little Black girl from the projects," she grew up in Warnersville, a local community that thrived for decades until the urban renewal projects of the 1960s forever changed it. The museum had done a truly collaborative community exhibition on Warnersville six years before, and that gave us a lot of credibility with her. She told me we were changing perceptions that we are the white folk's museum, and that she feels disconnected from arts nonprofits who try to box protest art into zones that are safe for them, not her.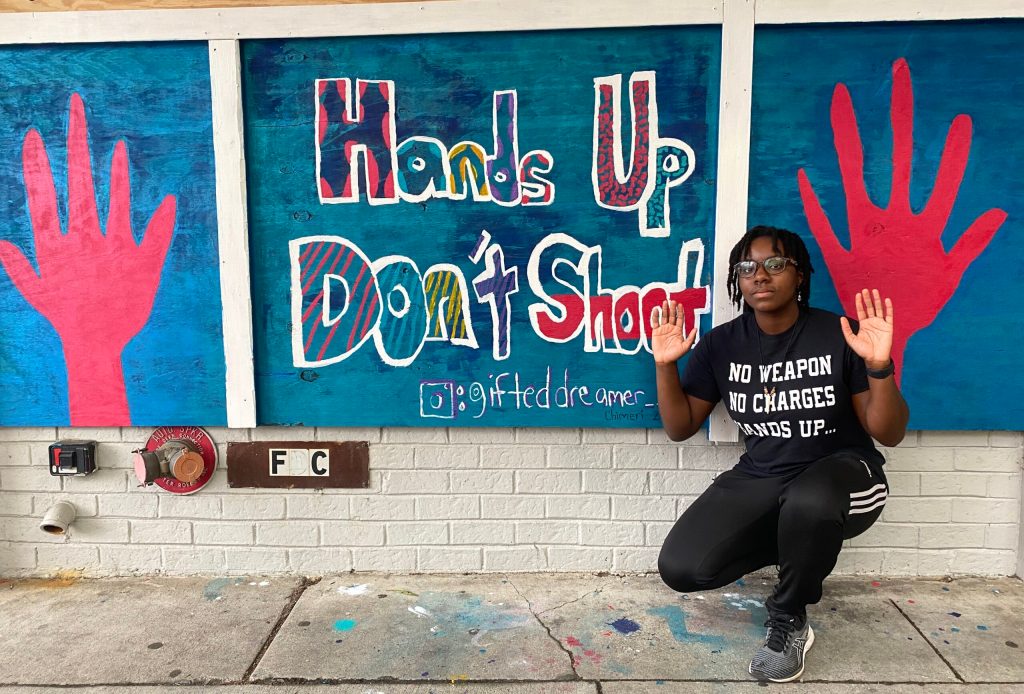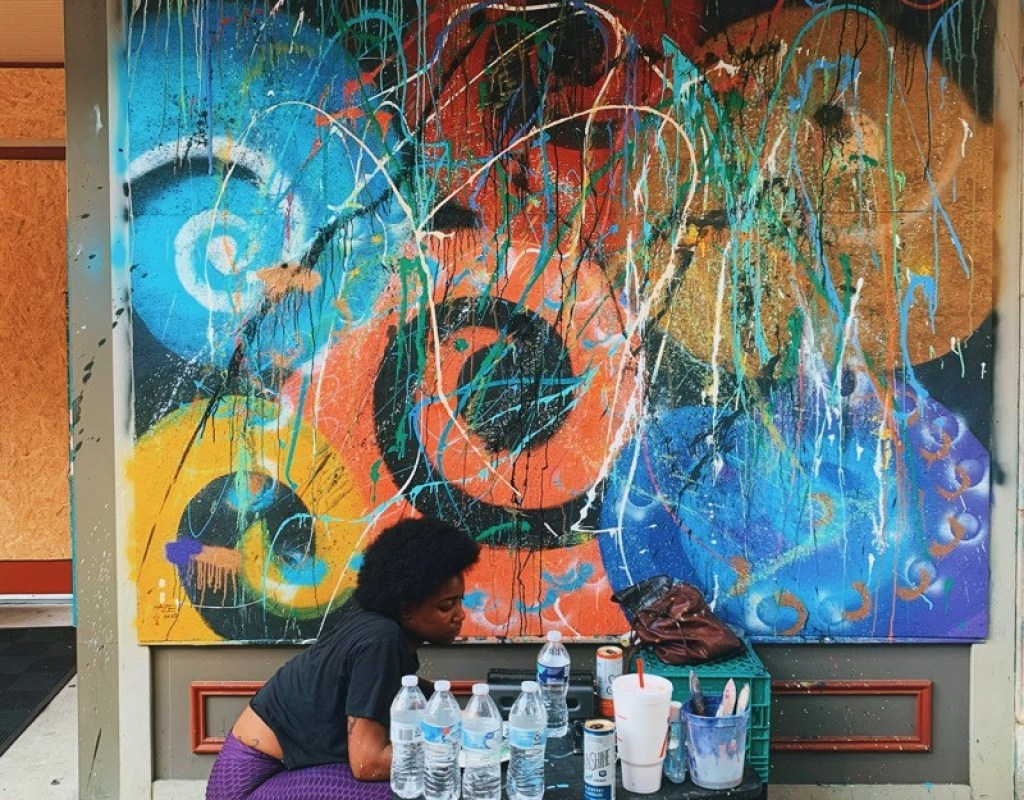 The Exhibition: Pieces of Now
Though we had been scheduled to install another exhibition in the summer, called NC Democracy: We're Working on It, we quickly decided that our community would be best served if we delayed that exhibition until late 2021 and instead installed all the murals we had collected as soon as possible, alongside other stories we had collected about the pandemic and economic stress of 2020.
Once we announced what we collected to document the moment would be part of an exhibition, word spread quickly, and enthusiasm grew. People who were originally dismissive now wanted to be included in the project. The prospect of an immediate exhibition seemed to convince more people to give their work to us, as it gave them an idea of where their work was going. This was reaffirmed for us when a large state museum asked two young artists to acquire murals we had planned to accession. We didn't want to stand in the way of them having their work as part of a large museum, so I told them it was up to them to decide. Their question was how the works would be exhibited by each institution, and while no museum can make those kinds of promises, we were able to say they would be included in the upcoming exhibition, and they decided they wanted their works to stay in the community.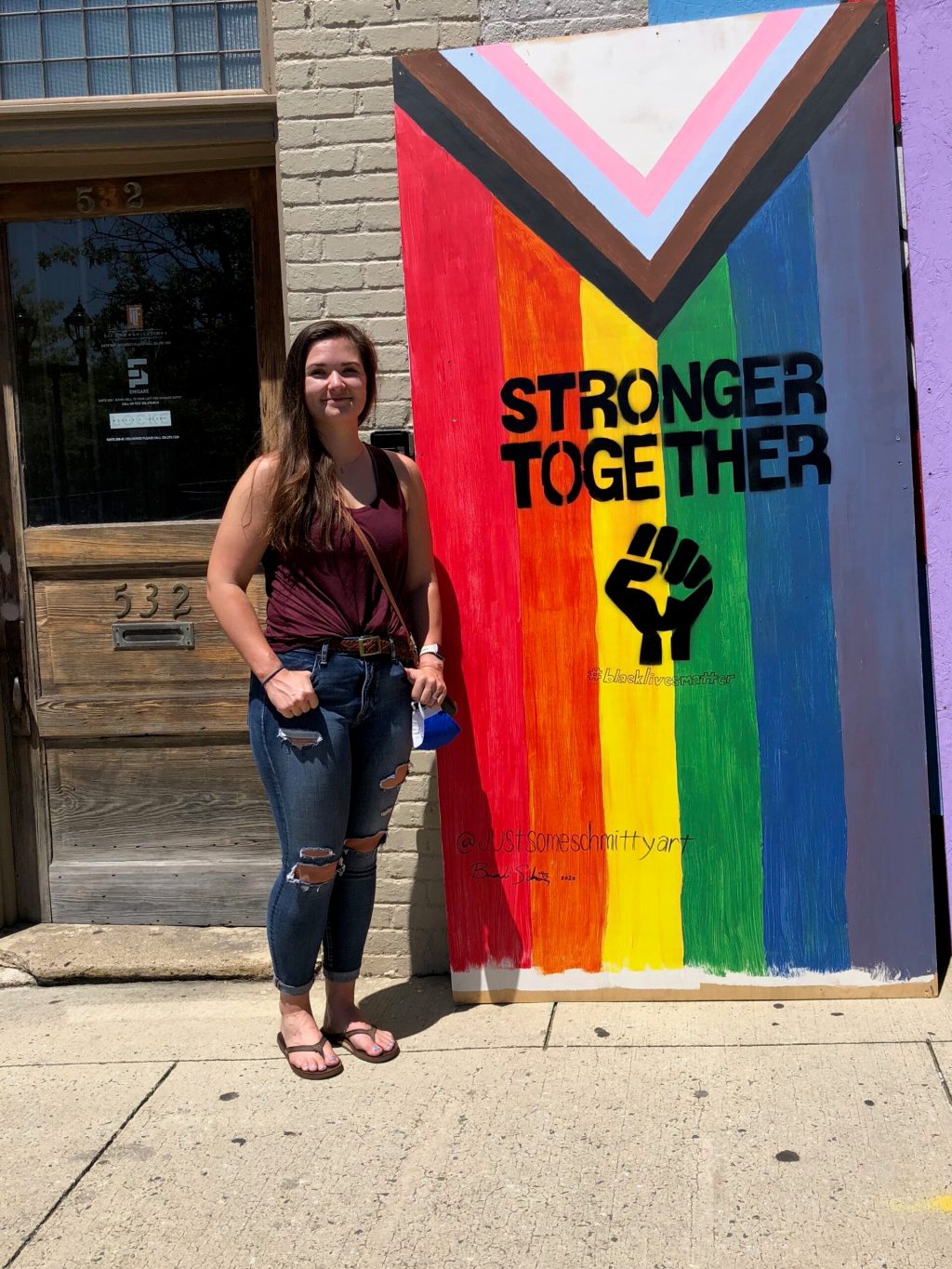 The physical exhibition, Pieces of Now: Murals, Masks, Community Stories and Conversations, which opened on September 26, states clearly that it is incomplete and features minimal interpretation. Instead, the video interviews with artists, protesters, and community members—as well as our programs and the companion virtual exhibition—do the work of contextualizing this moment. The exhibition is just as much a call to action as a display. As people visit our physical and accompanying virtual exhibition, they are working with us to include more voices and fill in the missing pieces. In response to one of the needs expressed by our community, we are providing a space to be heard, unfiltered and with feeling.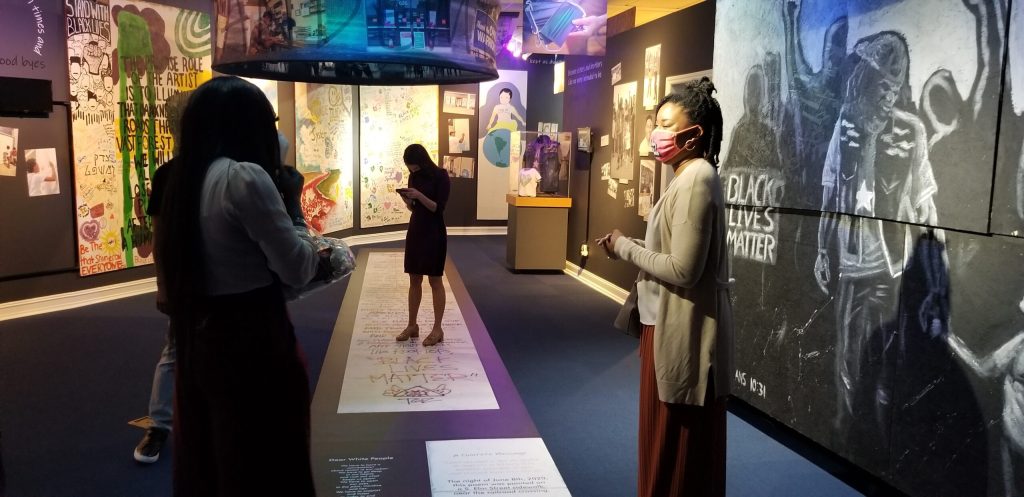 The statewide media attention—especially the requests to meet with the artists, photographers, and protesters whose stories we share—has brought new life to the stories months after the protest. And so the conversations continue, as well as the interest to be part of the exhibition and programming. Because we designed the space to keep adding pieces, we can say, "Yes, tell us your story. It will be included."
In addition to the visual arts, some poets and musicians are included in the exhibition. We connected with Nakeesha Writes, who wrote and recorded a poem for us, "I Am Human," which features on walls running throughout the exhibition space. Another poem, which showed up spray-painted on a downtown sidewalk, is recreated on the floor of the exhibition from a documentary photograph.
We are including some of the artists and protestors in our program planning, like Virginia Holmes, who we asked to create the exhibition title mural graphic on-site. In coming up with the design, she reflected on how, even though her background has taught her about persistence and "not to take things personally," she still gets tired. So the title graphic features a tired young woman's face in the midst of swirling paint. As Virginia was interviewed by a local cable news reporter on the opening weekend, I was moved to hear her keep referring to the work "we," she and the museum, were doing to tell people's truths and continue the conversation.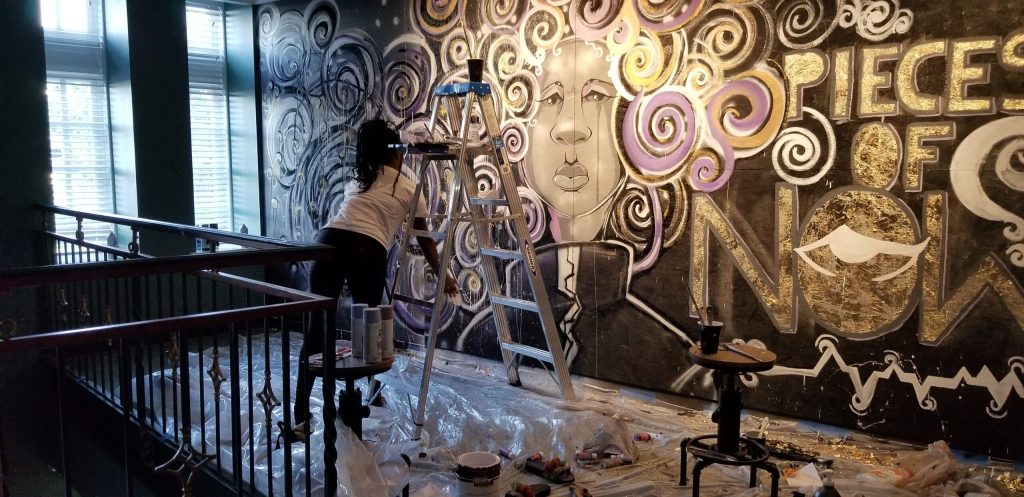 An Opportunity to Fast-Track Change
The ongoing process of collecting and exhibiting this moment has highlighted some of our communities' perceptions of what a museum does and who we serve. It has emphasized that sometimes the public has a different idea of the mission and capacity of organizations than the organizations themselves.
In our case, even though as a free, public-private partnership museum our visitors are as diverse as our community, some still see us as a museum for and about the white community. This persists despite our efforts over the past decade to change it, including changing our name from "Historical Museum" to "History Museum," installing more inclusive permanent exhibitions, de-installing a long-running Confederate weapon exhibition, and producing community-driven temporary exhibitions like  Warnersville: Our Home, Our Neighborhood, Our Stories and Second Generation: Asian American. But now, in this moment, we have found an incredible opportunity to firmly shift the perception. The act of bringing the current stories of the public art streetscape and social justice protests into the museum is successfully changing our reputation as keepers of primarily old, white people stuff. It has also shown us how important it is to maintain a balanced tension of releasing while embracing our authority as the city's history museum.
There is no one "community" of Greensboro. There are multiple communities and layers of context. We must figure out when to wield our inherent power and authority as a museum for good, while we work to expand our network and share that power to include those who are the experts of their own lives and communities. Within just day of opening, people began to bring us more stories, artifacts (like an "I Can't Breathe" mask, a shirt, and a megaphone) and even a music soundtrack for the exhibition created by one of the protestors. Those who have come into the exhibit to share their stories, some of them first-time visitors, have said, "This is dope."
As they were created, people focused on the boards as art. They went up unplanned and so seemed destined to disappear. The museum responded by rapidly installing an exhibition that creates a space and time for continued community response and conversation, connecting to all aspects of an extraordinary year, 2020. What the murals truly represent will be uncovered, reimagined, rediscovered and documented in the coming year, and by future generations. We don't own or control that story.
View this post on Instagram