Any cultural institution can benefit from understanding and fostering meaningful, emotional experiences for our audiences, especially those whose missions emphasize individual, community, or societal change. For zoos and aquariums, this often means our goal of motivating guests to act to conserve wildlife can be achieved through instilling empathy for animals. At Woodland Park Zoo, we aim to turn empathy into a social movement for conservation, with a series of initiatives all based on a carefully developed framework we call the Empathy Bridge.
Understanding Empathy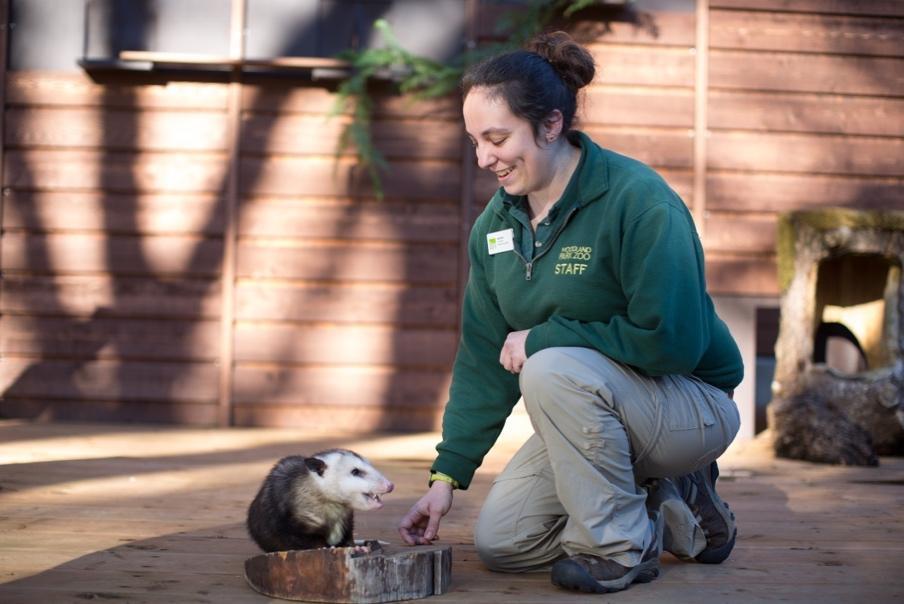 When infusing empathy into our outcomes and integrating it into our programming, it's important to understand its foundations in social science research. Through the Measuring Empathy Collaborative Assessment Project (MECAP), a collaboration with Seattle Aquarium and Point Defiance Zoo & Aquarium, we developed our foundational understanding and a definition of empathy.
Empathy is a stimulated emotional state that relies on the ability to perceive, understand, and care about the experiences or perspectives of another person or animal.
There are three main types of empathy we consider:
Affective empathy is feeling the perceived emotions of another.
Cognitive empathy is putting oneself in another's situation, taking their perspective and thinking through their circumstances.
Motivational empathy is an empathy-driven desire to act in the best interest of another. Rather than thinking about your own needs, motivational empathy—often a combination of cognitive and affective empathy—inspires action based on another's actual needs and feelings.
Skip over related stories to continue reading article
While all three are important, providing experiences that encourage and reinforce feelings of motivational empathy is at the core of our practice aiming to inspire our guests to take action on behalf of animals, both in the zoo and in the wild.
At Woodland Park Zoo, all employees contribute to our guests' experience and are an important part of fostering empathy. Building from preliminary program observations, interviews with expert advisors in the field of conservation psychology, and a literature review conducted by Seattle Aquarium, we developed and implemented a framework, the Empathy Bridge, which outlines how we integrate empathy throughout our entire guest experience. We use this framework as the foundation to our staff training, encouraging consistent and intentional use of effective empathy-building practices.
The Empathy Bridge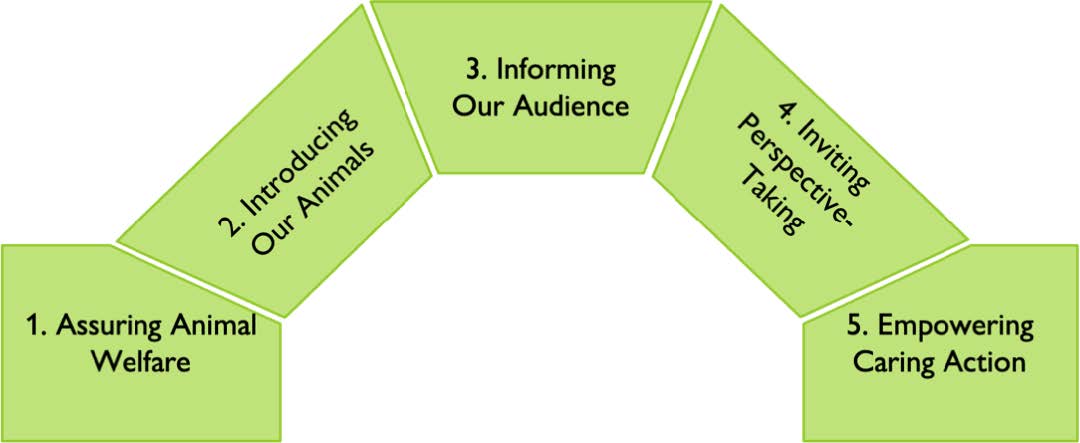 The Empathy Bridge has become a keystone for staff to collectively understand how and why we foster empathy at Woodland Park Zoo. It organizes a set of tools and practices that cultivate empathy for animals and ultimately motivate the social outcomes we seek.
Our bridge starts by laying the foundation for empathy development in ensuring guests are aware that we provide the highest quality of animal care. We establish trust and confidence in our animal welfare as it is core to our mission, and it enables our empathy work to build off of one of our organizational foundations.
Next, when we introduce our animals, we use their names and tell stories about their personalities and preferences, so that our guests can build connections to them as individuals. In turn, people can see the link between the individual animals living at Woodland Park Zoo, their wild counterparts, and the ecosystems that support them.
We use storytelling and animal interactions to inform our audience about what the animals need, explain the possible meaning behind their behaviors, and illustrate their autonomy and individual agency. In doing this, we can help our guests build knowledge about our animals' natural history and context. Knowledge alone is not a strong motivator for pro-conservation or pro-social action, but in tandem with our empathy practices and storytelling, it can increase our impact.
With this context in place, we activate our guests' imaginations through intentional perspective-taking, where we encourage them to consider how they would make decisions and react as an animal.
Lastly, we empower caring actions for individual species, the ecosystems that support them, and the environment overall. Beyond fulfilling our mission, enabling a pathway for action can be a necessary outlet for recently strengthened empathy, as empathy without action can lead to burnout and disengagement. We encourage people to channel their empathy into action with the ultimate goal of creating lasting social change. Once motivated, that social change can be anything from small changes to large lifestyle and community impacts, all rooted in pro-environmental behavior.
While elements of our empathy bridge framework are largely translatable across a variety of institutions, anthropomorphism is an important consideration in our framework. Historically, anthropomorphism has been discouraged as an educational tool by zoo and aquarium professionals because, when used without perspective taking and informed empathy, it can quickly become anthropocentrism, inaccurately projecting human characteristics or needs onto animals. However, once a foundational connection through the empathy bridge is built, anthropomorphism can become a valuable tool in our framework to help strengthen an emotional connection with animals that are less familiar or dissimilar from humans. Combining anthropomorphism with the disruption of anthropocentrism can not only help guests relate appropriately to an animal, but turn that understanding into meaningful empathy.
Implementing our Empathy Bridge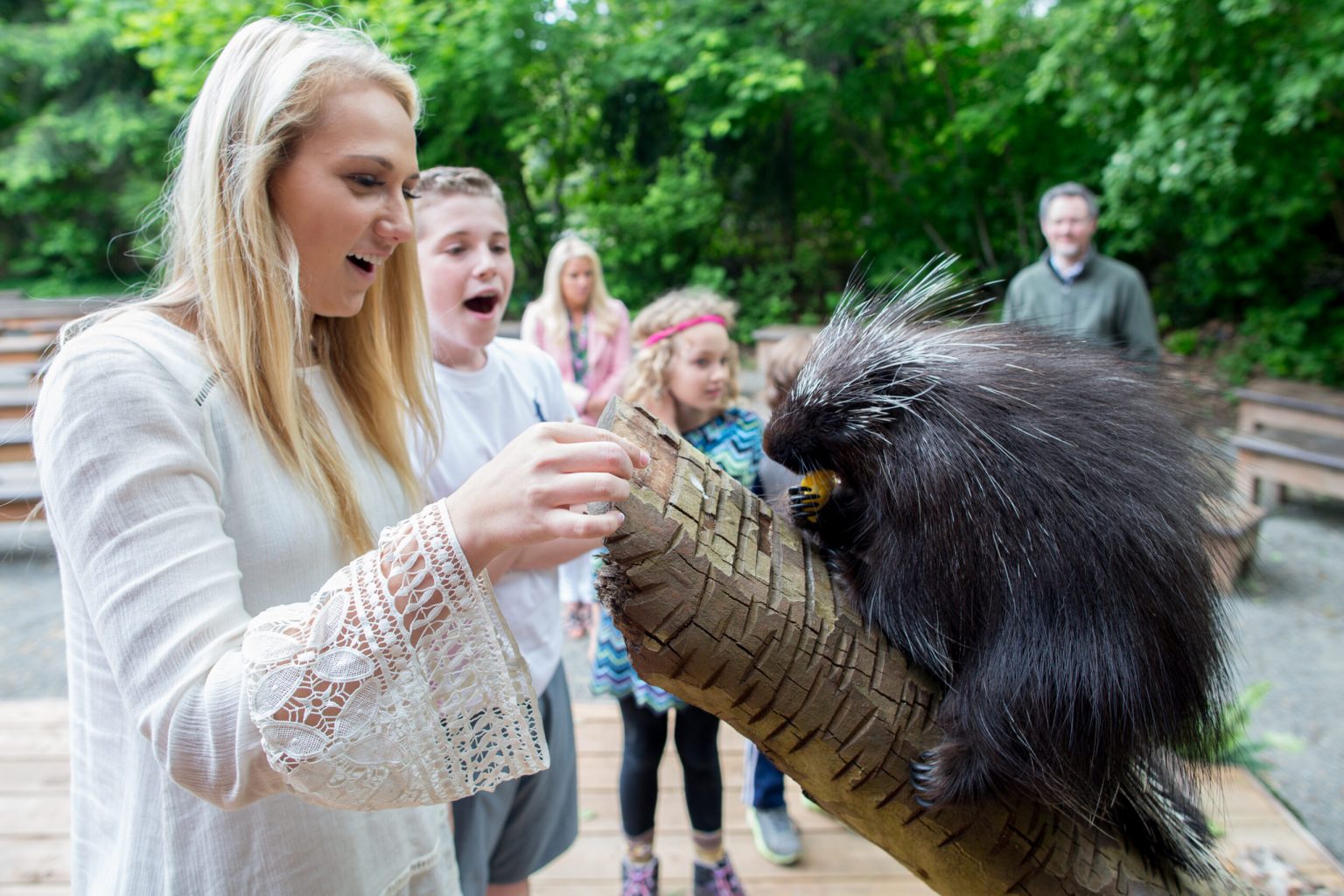 To train staff in using the Empathy Bridge, the zoo's empathy team joined department conversations and hosted trainings tailored to individual teams. This way, each department could understand why we are fostering empathy and how it relates to their roles. After our initial year of customized empathy training, we now introduce new team members to the Empathy Bridge in their onboarding. That onboarding, in combination with the newly ingrained culture of empathy, allows our teams to perpetually keep empathy front-of-mind.
In addition to training our staff using the Empathy Bridge, we made changes to the way we interact with many of our animals during our ambassador animal programs. Ambassador animals star in many of Woodland Park Zoo's educational programs, including up-close experiences at the zoo's theaters, Zoom calls during virtual programs such as Call of the Wild, and through other programs across the zoo. Through interactions with our ambassador animals, we consciously provide choice and agency to our animals. Rather than holding or moving them, our animal keepers allow our ambassador animals to decide when they are ready to participate in programs. During a program, animals have the option to go back to their carrier or to not participate in a touch opportunity with guests. When out on a program, we provide our animals with opportunities to exhibit natural behaviors, while we use messaging informed by our Empathy Bridge.
Our Empathy Bridge is rooted in social science literature, but we also wanted to learn about our guests' perceptions of these changes, so we conducted a study of how our empathy practices inform their experience. In a series of on-site interviews and an online survey, guests recounted experiences that left lasting impressions, often in seeing animals up close or watching them exhibiting agency and clearly making their own choices.
We learned two important lessons from this. In the online survey, which asked participants to view a series of recorded animal programs that varied in the use of animal-handling techniques and the use of empathy-based messaging, we found participants who saw animals making choices had positive changes in empathy and perceptions of animal welfare, regardless of whether empathy-based messaging was used or not. We also learned that if the animals are perceived to have less autonomy (for example, they are held or moved during a program), the use of empathy messaging from the Empathy Bridge can increase a guest's empathy and positive perception of animal welfare. In other words, our Empathy Bridge's messaging works, but our actions speak even louder than our words.
Our Current Empathy Initiatives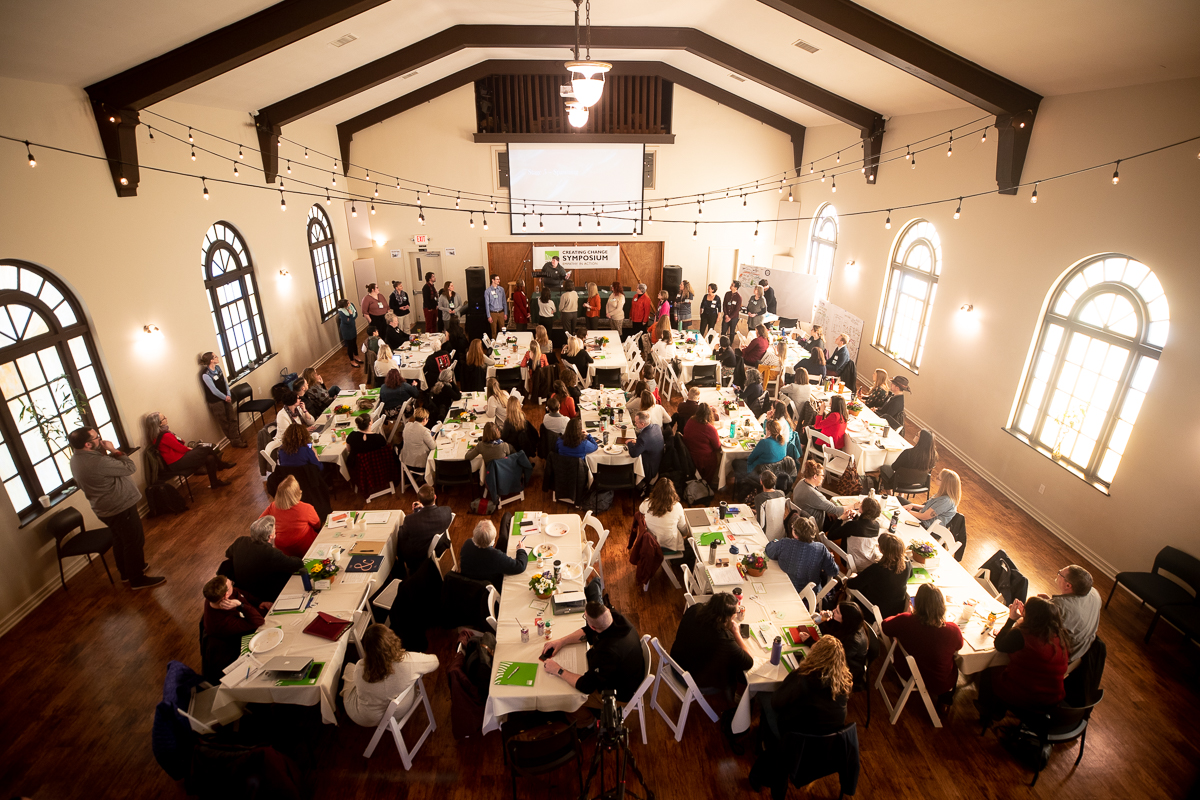 Through our implementation of empathy practices at Woodland Park Zoo, we began to realize how much there was still to learn. We knew there were other institutions working to achieve their missions through empathy, and we recognized an opportunity for sector-wide growth by convening these organizations. By providing opportunities for these organizations to come together, we started the Advancing Conservation through Empathy (ACE) for Wildlife. ACE for Wildlife, which includes 20 AZA-accredited institutions in a seven-state region from Alaska to Wisconsin, creates and shares effective practices to foster empathy for animals and people. As a network, we can learn more and go further into our empathy work together than any one organization could alone. We value the diversity in our network, from organization size and location, to audience, and the types of animals in our care.
To continue the momentum of sector-wide empathy growth and address the barriers to the implementation and evaluation of empathy programming, in 2020 we launched a grant program designed to build the capacity of AZA-accredited zoos and aquariums to foster empathy for wildlife. This grant program supports a variety of projects, from innovative new endeavors to the expansion of existing projects. We recognize that empathy practices do not look the same for every organization and applicants know their needs best. We have worked to build an adaptable program that supports projects that are tailored to each given context and audience.
ACE for Wildlife is now two years old, and the first cohort of capacity-building grantees completed their projects in late 2020. As we celebrate these milestones, we are committed to the continued facilitation of ACE for Wildlife and the expansion of the capacity-building granting program. We see these two arms as mutually supporting pathways to increase the ability of our partner organizations to achieve meaningful and lasting empathy-based impacts. With individual capacity building grants, we support organizations to build skills, programming, and knowledge. Championing ACE for Wildlife, we are building connections for peers to learn and grow together. Through this two-pronged approach, we are excited to see how the growth of these 20 organizations can push the informal education field forward.
The Future
With the help of our partners, Woodland Park Zoo continues to deepen our understanding of fostering empathy for animals, and we have maintained the use of the Empathy Bridge across our institution. As we have moved to virtual programming in response to the pandemic, empathy and emotional connection have become more important than ever. The future of our empathy initiatives lives in sector-wide capacity-building and knowledge-sharing. This network-based approach allows us to integrate culturally responsive approaches to building empathy-informed relationships between our diverse audiences and wildlife.
When we teach our staff about empathy, we explain that empathy is a tool, but it is neither rigid nor the only tool available to us. It's a piece of the puzzle alongside our animal care, exhibit design, and inclusive guest experiences. As a tool, empathy is flexible, can be adapted to different audiences, and can be used in culturally responsive and informed ways. As we connect guests to our mission, empathy is a powerful motivator to encourage people to make conservation a priority in their lives. As museums and cultural organizations rethink the relationships between our missions and our communities, empathy is more important than ever for bridging that connection.