My husband is a registered nurse, so his impact in our current reality is immediate and tangible. He has been working with patients since the beginning of the pandemic, and now is teaching nursing students to administer the vaccine. But for me, as the Director of Education at the Natural History Museums of Los Angeles County (NHMLAC)—which include the Natural History Museum (NHM) in Exposition Park, La Brea Tar Pits in Mid-Wilshire, and the William S. Hart Museum in Newhall—it's easy to feel powerless in the face of major societal upheaval, learning loss, and the digital divide. Still, as a parent of a first grader learning at home, I see the need, now more than ever, for informal learning organizations to support formal classroom instruction in new, inventive ways: To bring science, culture, and critical thinking into students' homes. To approach our work with an asset-based mindset. To emphasize the opportunities that virtual learning presents. And to bring joy, connection, or even just a change of pace, to students in this time of isolation and struggle.
Back in March 2020, after our museum closed to the public, my team and I immediately began experimenting with virtual program engagement. We stayed in very close communication with our Teacher Advisory Council (TAC), a group of nine teachers who work with our team and come from varied backgrounds, schools, and grade levels taught. We always approach our work with teachers from a place of listening and learning from them. It's not useful to assume we know what they need, and this has never been more true than in the moment of the school closures due to COVID-19. So, we hosted focus groups with the TAC, sent out surveys to our extensive mailing list, and got as much information in real time as possible. From all these avenues, we heard from teachers that they were most interested in live virtual programs led by museum educators, so we continued our efforts to adapt our in-person educator-facilitated programs into a virtual meeting format.
Fast forward to the present, almost a year later, and our team of museum educators and program coordinators is offering a robust menu of daily school programs for all ages, covering content from archaeology, marine science, paleontology, and ecosystems. In addition to the topics, the format also varies, including single-classroom programs (with cameras on!), webinars that accommodate up to one thousand participants, and a multi-visit program that sees the same students several times, with online engagement via the communication platform Padlet in between synchronous sessions.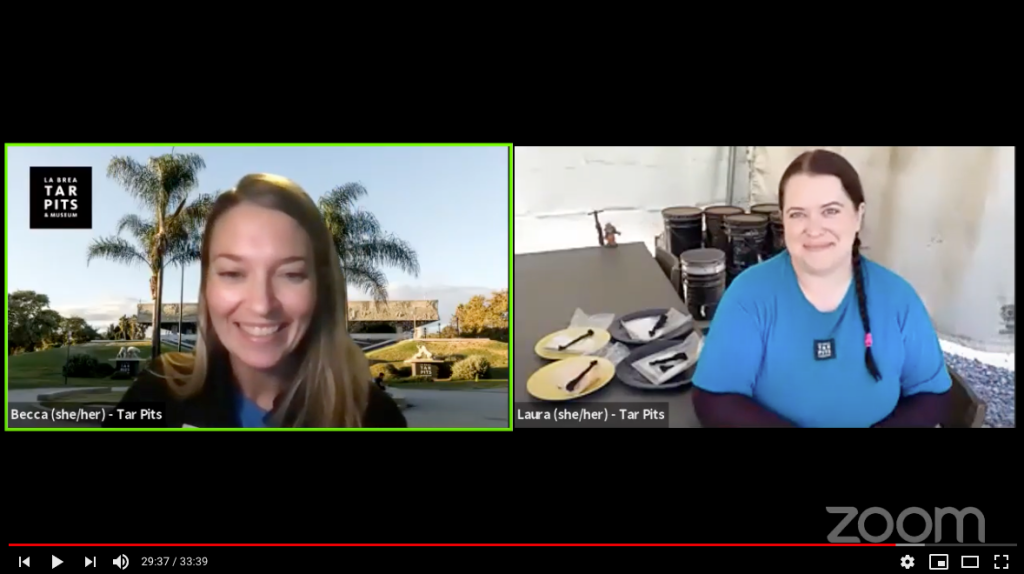 With every program we've designed, we have a common goal. We want students to feel connected to our staff and our collections, leaving our virtual programs more excited than when they arrived. In our classroom-based programs, we do a virtual "walkthrough" of museum galleries, searching out the exhibits we'll be learning about that day. ("Do we see a saber-toothed cat in this gallery? Not yet? Let's keep looking!") In one of our webinars, students of all ages get to meet our live animals up close, going behind the scenes into our insectary to encounter a molting wolf spider or into the enclosure of Petey the Opossum to watch how he plays, eats, and locomotes. In our "Meet your Museum" webinar series for middle and high school students, we focus on the career paths of our museum curators, scientists, and collection managers, with an emphasis on women in STEM, while at the same time allowing students to virtually venture into our massive collection storage areas, seeing things that aren't on display in the galleries.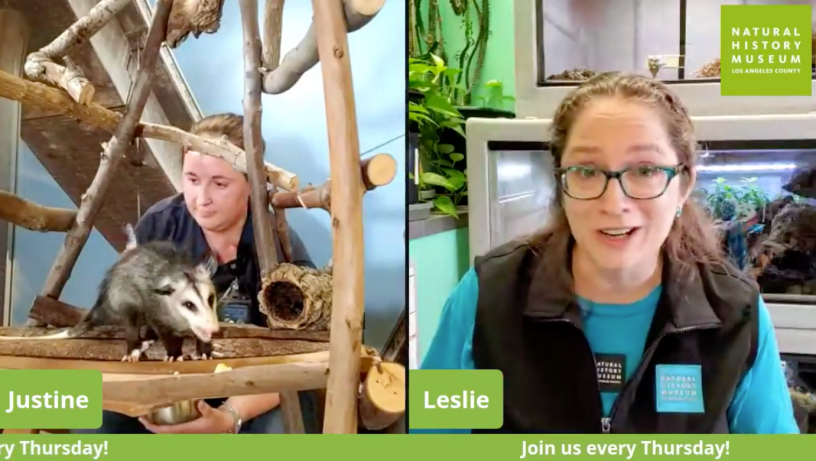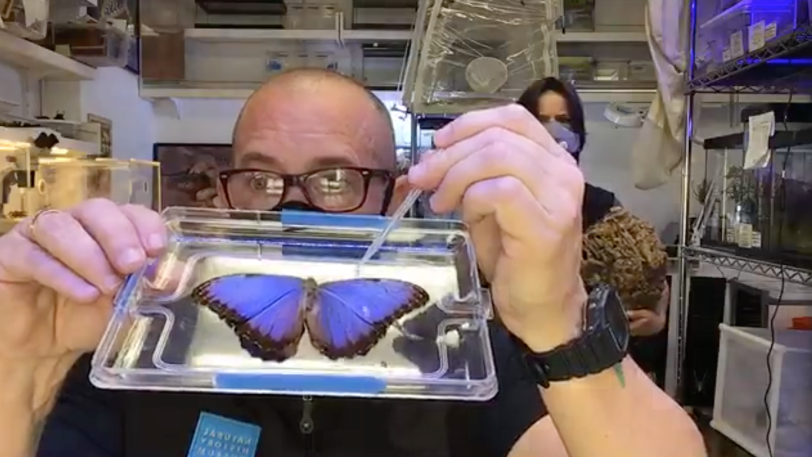 Skip over related stories to continue reading article
Seizing the opportunity to take the camera into spaces that are normally inaccessible to our student visitors was particularly important to us. But perhaps equally as important is the desire that students are active participants in the programs, not passive recipients of information on the other side of the screen. In order to make this a reality, we've developed a staffing structure that supports active communication between the students, museum education staff, and guest speakers (even in our webinar formats without cameras on to see students' faces). One to two people monitor the chat, which typically comes directly from the students, and populate a shareable document with any questions that come in, which the museum educators can then pose to the presenter. Ideally, the staffer can include the student's first name along with the question, bringing a deeper sense of connection to the exchange. With recordings of these educational programs available on YouTube, teachers can use these live sessions in perpetuity.
As we developed what has become our new suite of virtual programs, serving pre-K through twelfth grade students and their teachers, we also found virtual adaptations for two more intimate and specific programs: our partnership with a local school campus, James A. Foshay Learning Center, and our Marine Science Teen Internship for high school students in the Boyle Heights neighborhood of East Los Angeles.
We've been working with Foshay Middle School for over four years in a variety of capacities, including multi-visit field trips, parent workshops, and family nights. When we moved into a virtual learning landscape, my partner teacher and I stayed in close contact and began discussing how to continue the relationship through this difficult time. Just as the idea to take virtual programs behind the scenes made perfect sense, so did the idea to lean into the museum's focus on urban nature research. Over the past seven years, NHMLAC has been conducting biological field research at NHM's three-acre Nature Gardens, as well as in backyards of willing participants throughout Los Angeles County. In school and teacher programs, we have encouraged teachers and students to join us in this research by observing the natural world in their own neighborhoods and documenting their findings on the platform iNaturalist. Due to the stay-at-home orders put in place during COVID-19, now seemed an optimal time to amplify this opportunity, because students are stuck at home and needing access to local nature more than ever.
Given this, my partner teacher and I began to plan a series of teacher workshops introducing iNaturalist and Community Science, as well Visual Thinking Strategies, another way to engage students in close looking and critical thinking. We also planned for a student assembly and virtual family night.
We held four teacher workshops with the middle and high school science and math teachers co-led by my partner teacher and myself, supported by colleagues from the school and teacher programs team and from NHMLAC's Community Science department. We felt that it was unrealistic to introduce concepts and tools such as iNaturalist and Visual Thinking Strategies without ongoing support to teachers, so our workshops were designed to continually revisit these new ideas and methodologies to increase the likelihood of implementation with students.
To connect with the students directly, we planned an assembly-style webinar, using the techniques we've been learning since the beginning of the pandemic. We wanted to focus on spiders as a fun way to connect to Halloween and also introduce a new community science project studying black and brown widow spiders. We divided the time between a live animal presentation on spiders and a brief talk with our museum herpetologist and co-director of NHMLAC's Urban Nature Research Center. We were unsure what attendance would look like for this webinar, so we were pleasantly surprised to have over 550 students log on—and stay for the entire hour-long program. In order to gauge participation in all of our webinar style offerings, we monitor the chat box closely, watching for connections between the student comments and the content presented, as well as the type and complexity of the questions they ask. In this particular program, we were pleased to see attitudinal change around the student's perception of spiders—from "Gross! And creepy" to "Woah! Cool!" This was one of our affective goals for the programs, and we were excited to see some change in just one presentation.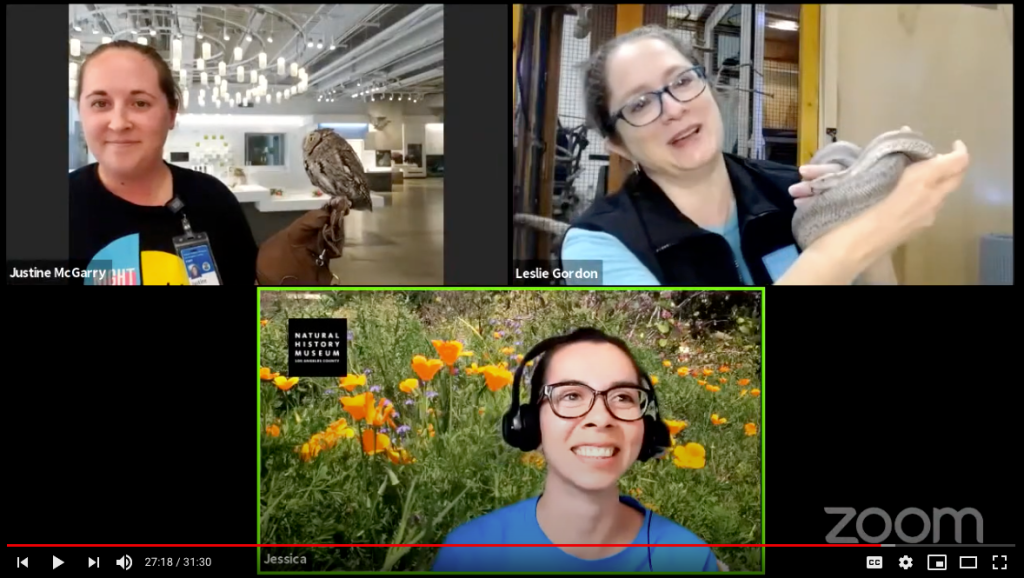 The final program I'd like to highlight is NHM's Marine Science Teen Internship, which recruits ten high school students from three local high schools in Los Angeles. Throughout the internship, students develop a marine science education program and facilitate the experience (this year digitally) with L.A. County residents. The students begin as unpaid interns in their spring semester and become paid museum employees over the summer. The goals of this internship are manifold, but among the most important is to expose the students to a variety of museum career paths. Despite the abrupt move to an all-virtual format, we were able to preserve this aspect of the internship, introducing the interns to over thirty museum employees across departments. In addition to these existing components, the virtual format of this year's internship provided teens with unexpected benefits as well: a new community during quarantine, opportunities to learn how to speak up on virtual conference calls, and new digital and video skills. We heard from the teens that although many of them didn't know each other prior to the internship, they became among the most important people to each other during this time of early stay-at-home orders. The benefits went beyond just social support, as the confidence students gained over Zoom throughout the internship translated into their school work, allowing them to more fully participate in virtual high school.
As we continue to navigate the COVID-19 pandemic, we are examining the benefits of virtual programming to determine what we should keep virtual even when in-person programming is safe to resume. One important benefit we've seen from the preliminary data is that the percentage of Title 1 students participating has increased 20 percent (from 60 percent to 80 percent) during the first semester of virtual programs. This suggests that having programs online may be increasing access for students who would otherwise not be able to visit the museum in person. Because of indicators like these, my team and I are considering a model where teachers can choose from in-person or virtual school programs going forward, depending on what better meets their needs.
The lessons learned during this year have been powerful and meaningful to our team of museum education practitioners— removing physical barriers, encouraging emotional engagement, re-emphasizing our institutional initiatives that support safe, local nature exploration, and much more. While our team looks to better times ahead, we will hold onto the new opportunities we've discovered along the way.