This post is an advertorial written by a company that serves the museum field. The views, opinions, and positions expressed by the authors and those providing comments are theirs alone and do not necessarily reflect the views, opinions, or positions of AAM or its employees.
---
How has COVID-19 affected booking trends for museums and attractions? This is the question at the forefront of the tourism industry's collective mind as venues around the world start reopening and travel restrictions start lifting.
In March 2021, Tiqets conducted a survey with more than seven thousand participants in France, Italy, the Netherlands, Spain, the UK, and the US about their tourism choices post-COVID. The results showed a readiness to return to museums and attractions, and interesting insights into how booking habits might change.
Top 5 Takeaways from Tiqets' New Survey
1. Nearly 70 percent of consumers plan to visit museums and attractions within the first month of reopening.
The vast majority of consumers showed great enthusiasm about returning to museums and attractions. In fact, just over a third of respondents said they planned to visit museums and attractions in the first week of reopening, and a mere 7 percent said they planned to visit within the first year of reopening.
In the US, where some states are further along in their reopening, this enthusiasm around returning to tourism has turned into action. "Almost 60 percent of US respondents to our survey plan to visit museums and attractions within the first month of reopening—and in the states that have already reopened, we've seen that demand turn into visits for the museums and attractions we work with," said Daniel Hackett, Regional Director for the US.
How to ride the trend: Make sure you take full advantage of this enthusiasm and target local visitors before appealing to international tourists. With travel restrictions still in place and a general wariness around making ambitious travel plans, local visitors should be your number one target market.
2. Over 70 percent plan to book their visits to museums and attractions online.
Half of the respondents to the survey said they typically book tickets to museums and attractions through the venue's website, and 24 percent said they typically book through third-party websites.
This trend is likely to stick, especially when you take into account the growing preference for cancellable bookings. Simply put: more people are searching for things to do online and booking them when they find them.
How to ride the trend: If you don't already have online booking available on your website, it might be time to look into getting a booking engine. If you already have online booking enabled on your site, make sure you're partnered up with the right OTAs, like Tiqets, to broaden your reach.
3. Free cancellation is the most important booking consideration for 46 percent of consumers.
When it came to booking considerations: 46 percent of respondents were most concerned with being able to cancel bookings free of charge, 16 percent said they'd be more concerned with checking what was open in the destination they planned to visit, and 12 percent cared about capacity limitations and being able to book tickets in advance.
Tiqets Regional Director Paolo Fatone pointed out that while many people are eager to travel and embrace tourism again, they are inclined to be more cautious. Citing the results from Tiqets' Italian consumer survey, he said that "the important things for Italians will be flexibility (free cancellation policies), responsible tourism (avoiding overcrowded places), and safety (respecting the security covid protocols)."
How to ride the trend: It's clear that features like flexible booking and safety measures on-site will remain important to consumers. Make sure you're ready to reopen responsibly with this checklist.
4. Historical sites are in for a good summer.
When asked which venues they were most excited to visit post-COVID, 30 percent of consumers cited historical sites as their top choice, 25 percent said museums and galleries, 18 percent said nature attractions, 14 percent said theme parks, 10 percent said sightseeing activities, and 2 percent said attractions like observation decks and stadiums.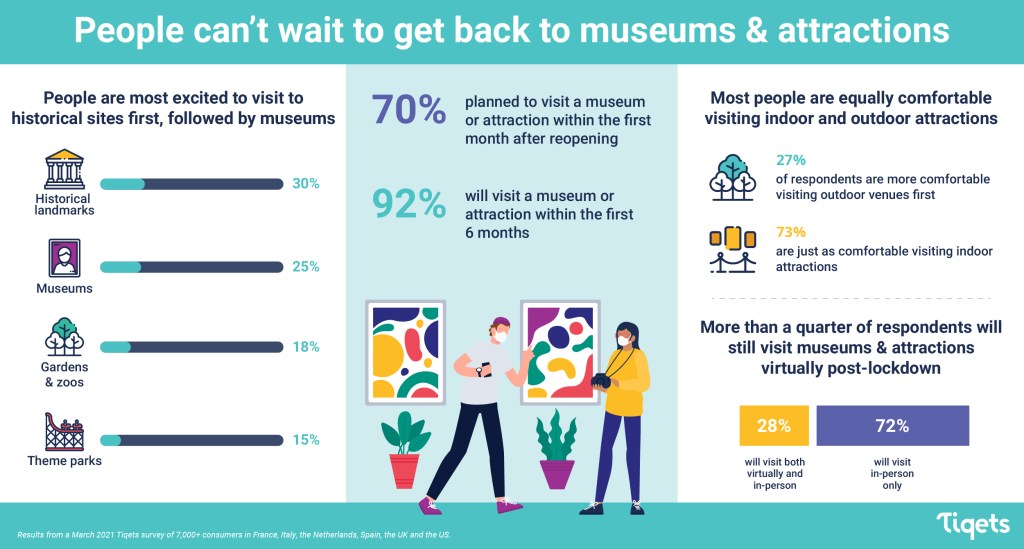 5. Indoor venues will be just as popular as outdoor venues—for most people.
With 66 percent of respondents saying they plan to visit both indoor and outdoor venues when they reopen, it looks as though consumers are not daunted by the COVID-era indoor versus outdoor concerns—which is great news for indoor museums and attractions.
"We all know that indoor museums and galleries were hit hard over the past twelve months with consumers favoring outdoor activities, so it is encouraging to see that more than 60 percent of UK respondents are comfortable visiting both indoor and outdoor venues when they reopen," said Alexis Peppis, Tiqets Regional Manager for the UK.
How to ride the trend: If your venue is indoors one, make it more appealing to those who are wary of the indoors by allaying their concerns: highlight any hygiene and safety measures you have in place and offer free cancellation to make it a lighter booking commitment.
There's no doubt about it: consumers are excited to re-enter the world of travel and culture and we're looking forward to having them back. Make sure you're prepared for a big summer comeback with these innovative tourism strategies to entice visitors back through your doors.